Once again, we are celebrating the progression of our people - this month even NINE at once! Congratulations to Nick Withers, Jannika Spreemann, Paulo Huppertz, Jana Strobl, Fabian Frohloff, Roy Grocock, Marie Lampe, Christine Tan and Marius Kau from our global offices on their well-deserved promotions!
As part of our ongoing commitment to progressing lives in the global community, this means we'll be proudly planting 900 more trees in global locations, one hundred for each person in a country of their choosing.
Nick Withers


Massive congratulations to Nick Withers from Amoria Bond's Content Team, who has been promoted to Group Content Manager!
Nick joined us just under 12 months ago, and since then he has been instrumental in transforming our content strategy. He played a major role in delivering our new website, has developed our Group content strategy and delivery plan which he and his team have consistently over-delivered, AND he personally churns out an incredible amount of high-value add content, marketing resources and social posts for the group.

As Natasha Crump, People and ESG Director, shared: "To top it off, Nick is an absolute pleasure to work with which reflects in the regular PROFES votes he receives from colleagues… the perfect combo for a Group Content Manager!"

Nick has chosen to plant his 100 promotion trees in Indonesia.

Jannika Spreemann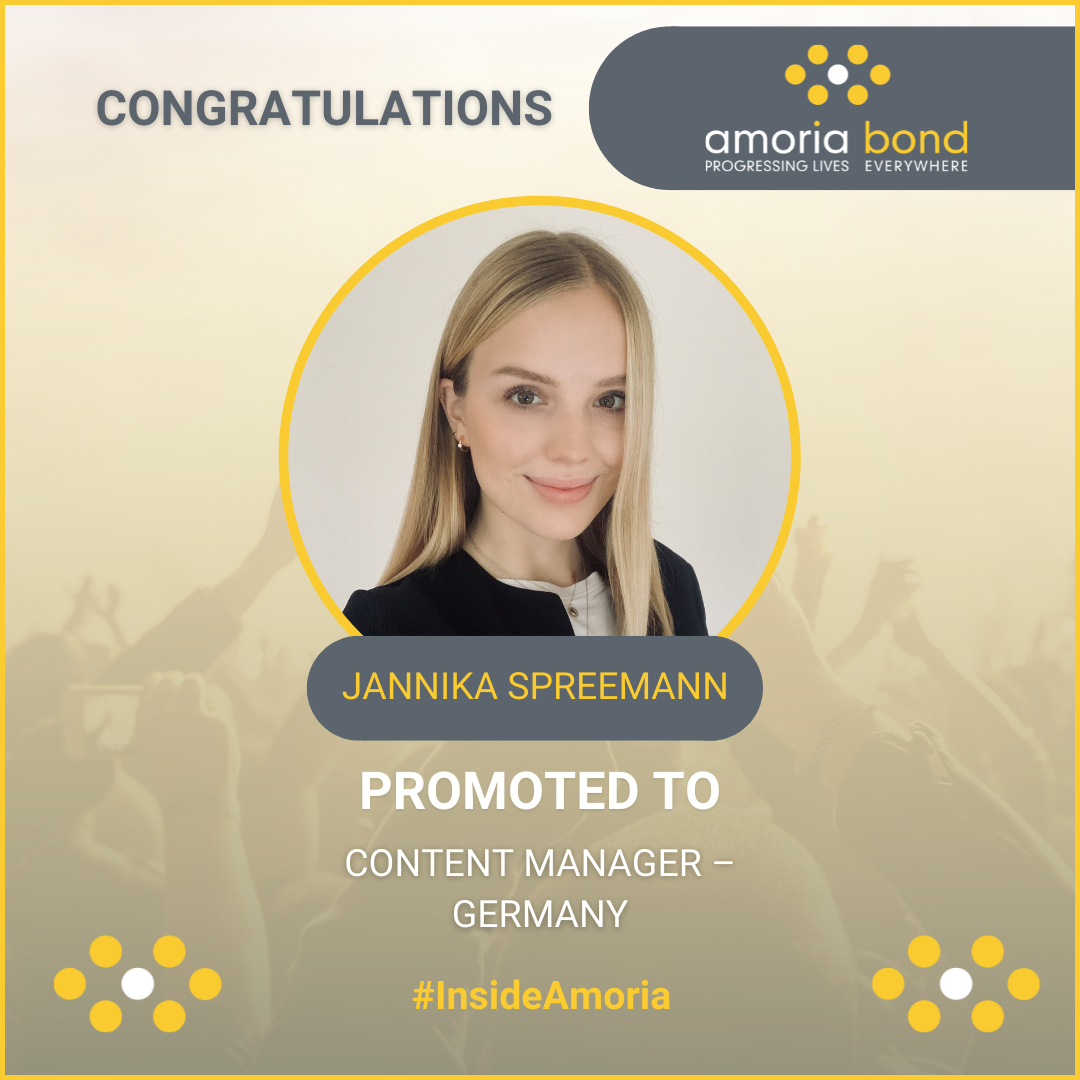 Sticking with the content team, huge congratulations to Jannika Spreemann on her promotion to Content Manager - Germany!
This is an incredibly well-deserved story of rapid progression, and reflects the hard work, impact and great attitude of Jannika, who has achieved fantastic personal development and results within just 9 months of joining us in her first full-time job! She's delivered a massive amount of content for both Cologne and the wider group.

Natasha Crump commented: "Jannika is meticulous about her work, always willing to give new things a go, is super supportive of me and the wider Content Team, really open to feedback and proactive about developing her skills and progressing her career. Huge congratulations Jannika – you are an absolute joy to work with and I look forward to seeing your continued progression!

Jannika has also chosen to plant her 100 promotion trees in Indonesia.

Paulo Huppertz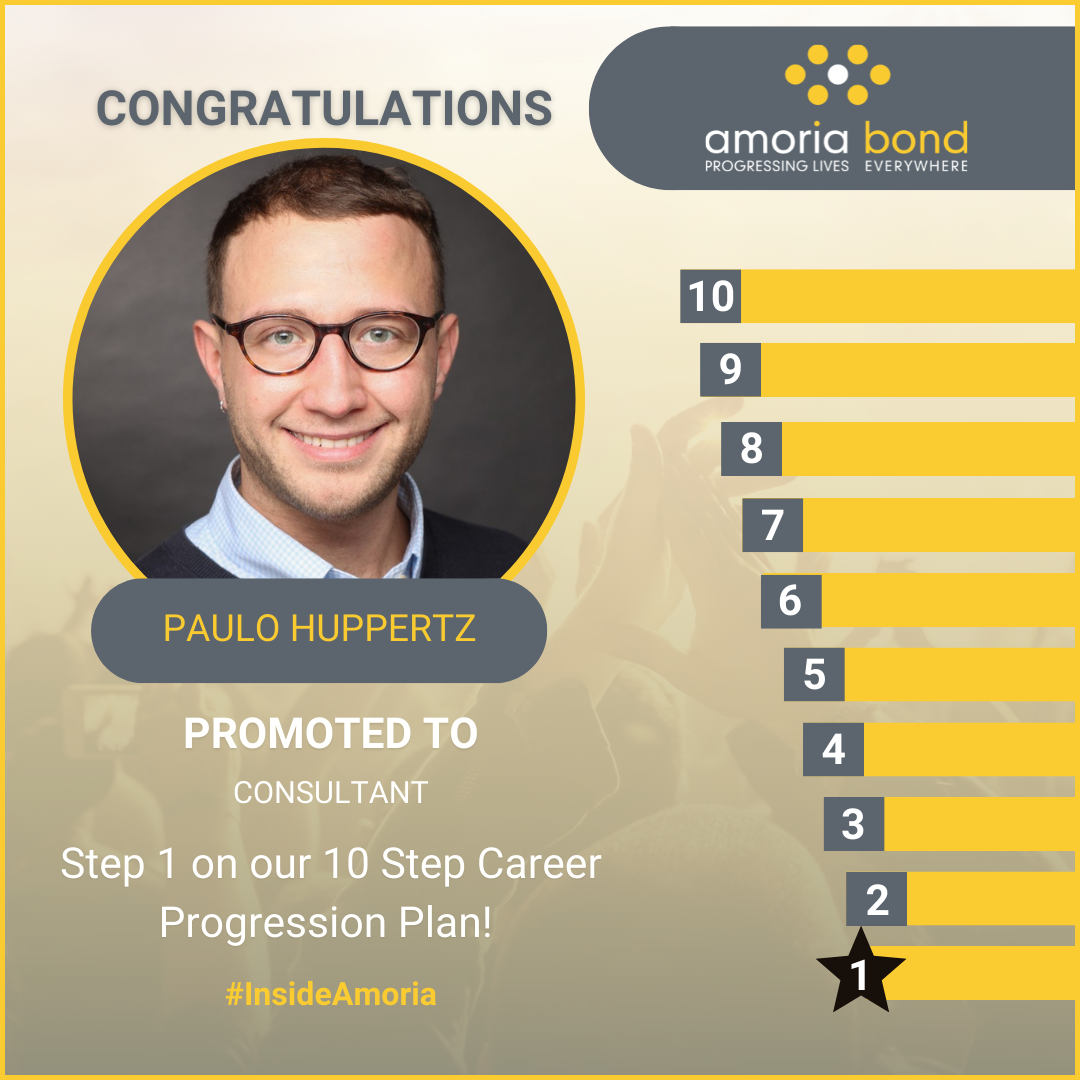 We are also very pleased to announce that Paulo Huppertz has been promoted to consultant - which means he has reached level 1 of our "10-steps to the top" model, having only joined the team in January this year.
In addition to his great dedication, he is always positive, fun and enthusiastic, which is a great asset in his meetings to build relationships with clients and candidates.

His supervisor Mariano Mei said, "I'm really happy to have you on our SAP team and can't wait for the next chapters we'll write together!"

Paulo has chosen to plant his 100 promotion trees in Africa.
Jana Strobl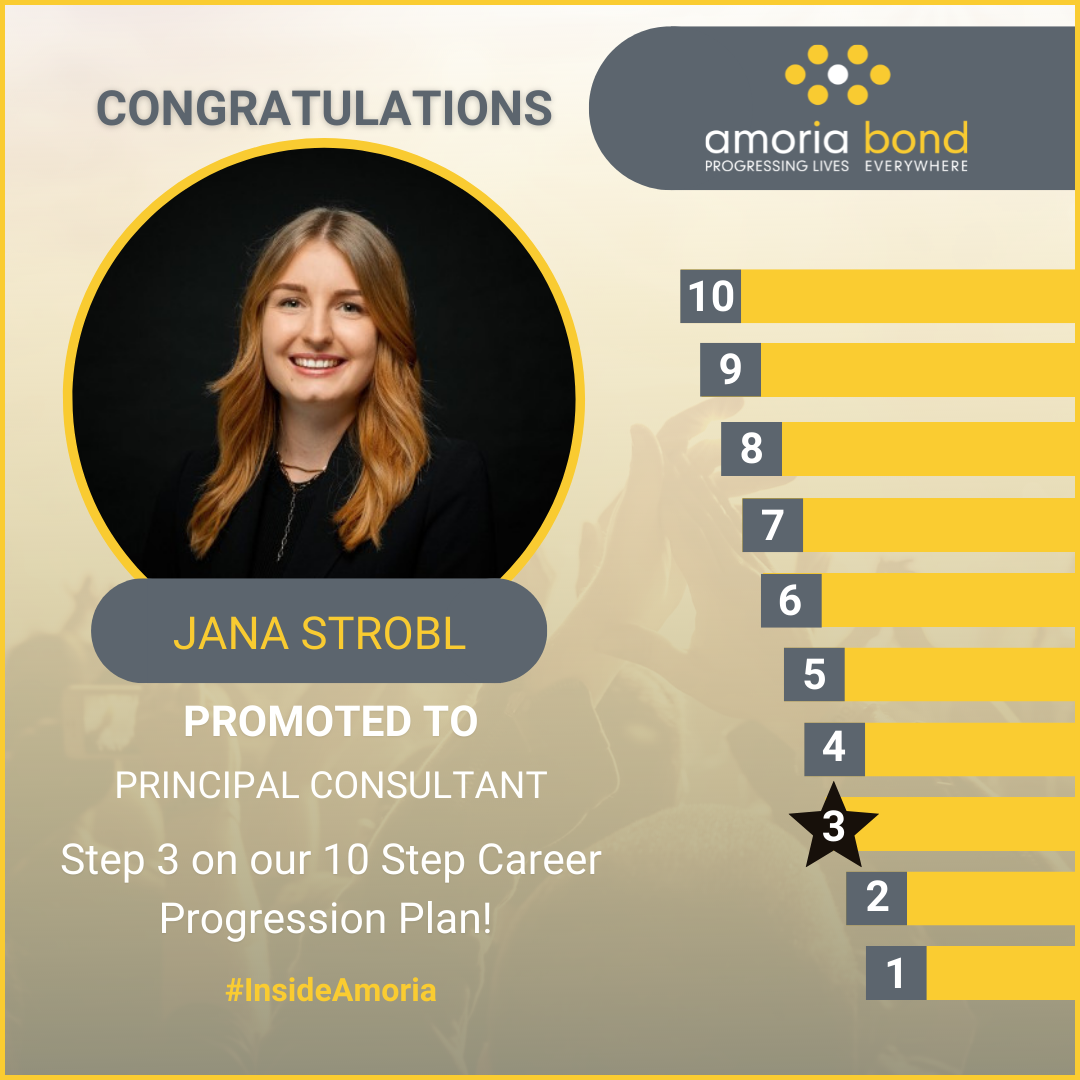 Congratulations to Jana Strobl who has been promoted to Principal Consultant - only six months after her promotion to Senior!
Jana not only convinces with her incredibly positive attitude and strength; she also consistently shows good results in the business. Her "never give up" mentality and team spirit are also two more points that make her irreplaceable in Matthias Günther's team.
Jana has chosen to plant her 100 trees in Peru.
Congratulations on reaching step 3 on our promotion ladder, Jana!
Fabian Frohloff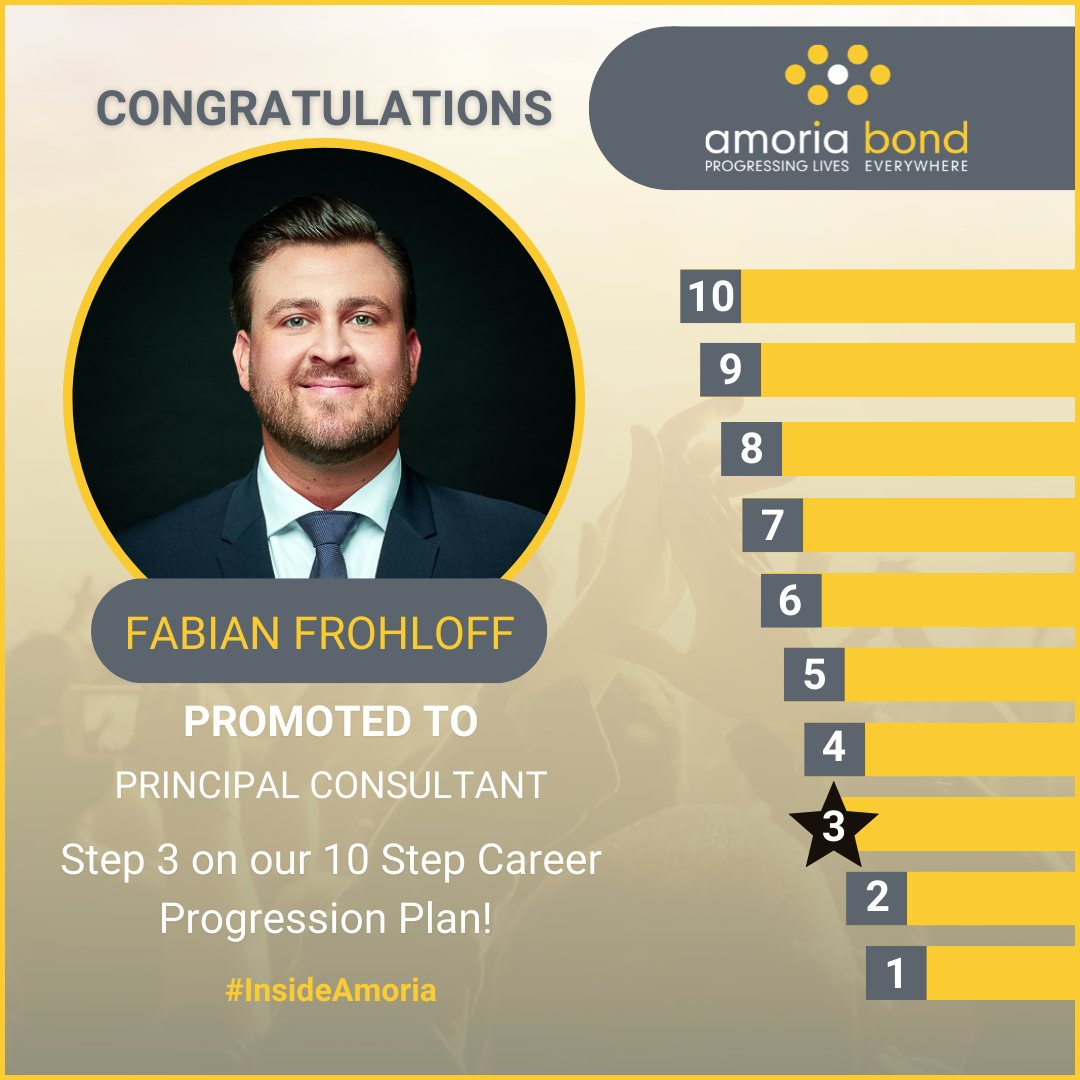 Massive congratulations to Fabian Frohloff, who has also climbed up to step 3 and is now a Principal Consultant.
Although Fabian faced obstacles at the beginning of his career, had to build up a new market completely on his own and develop new skills, he always showed the right behaviour to be successful in this job. He was and is always full of energy, sees the glass half full, never gives up and is willing to go the extra mile for the company, the job and himself if necessary. He has become one of the main players in the Cologne office, where he is our ambassador for D&I as well as part of the cultural committee. As you can see, he not only does his job, but is an essential part of the team, the office and the culture in general at Amoria Bond! He's chosen to plant his trees in Kenya.
Well deserved, Fabi!
Roy Grocock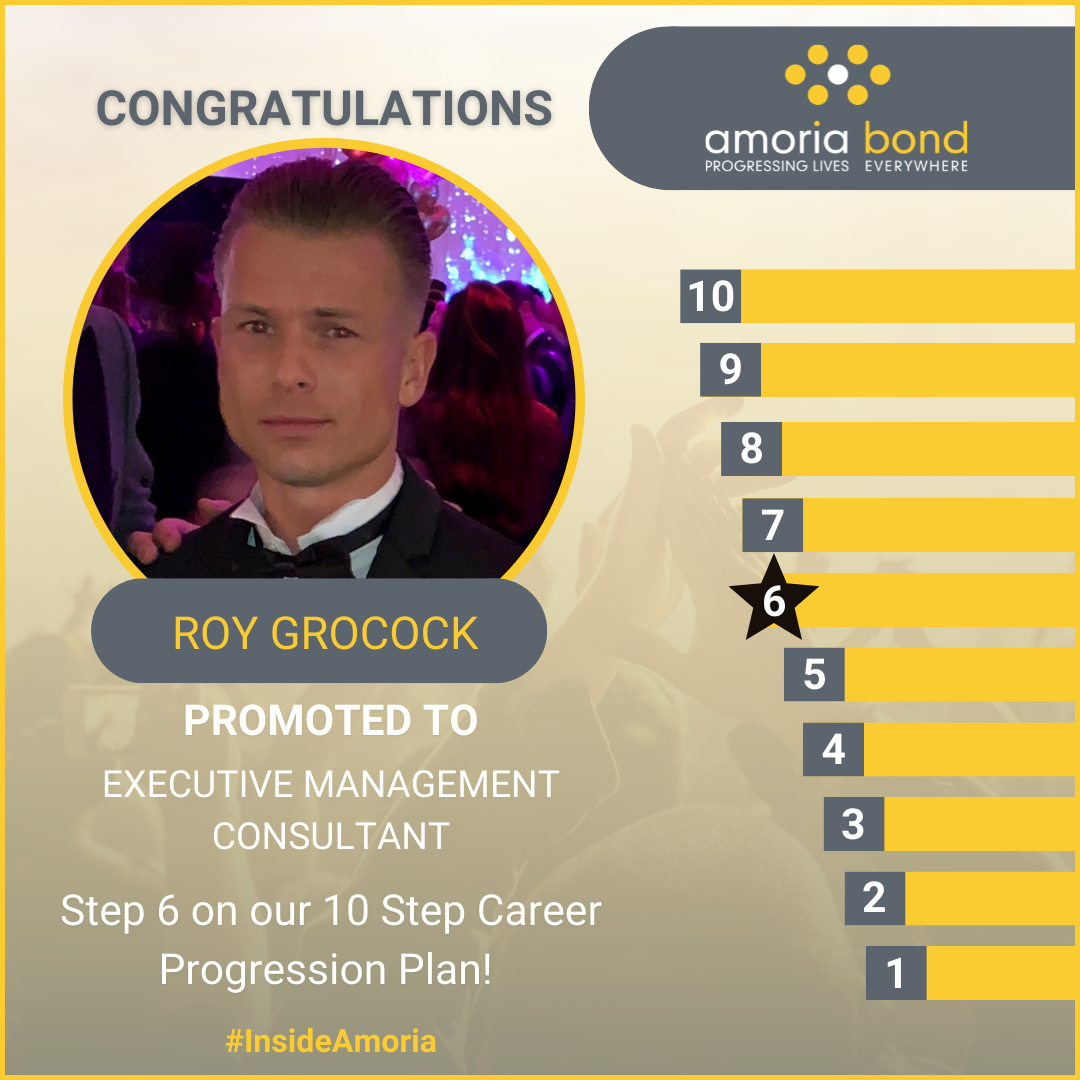 It's fair to say that Roy had an amazing time setting new records - all while building his own team. It wasn't long ago that Roy was celebrating his last promotion to Lead Consultant and taking management of the largest sub-team in the Amsterdam office. Now his success in the role has allowed him to move up to the next step.
His manager Daan said, "Anyone in a leadership position knows that the combination of managing a team and being responsible for running your own business is the toughest job in recruitment! That makes his tenure so far an incredible achievement!"
"The best thing is that his team copies this method and the people working with Roy are successful and fast: Wouter, Celia, Karoline, for example, have all done business in their first months."
Well done Roy, keep up the good work!
Christine Tan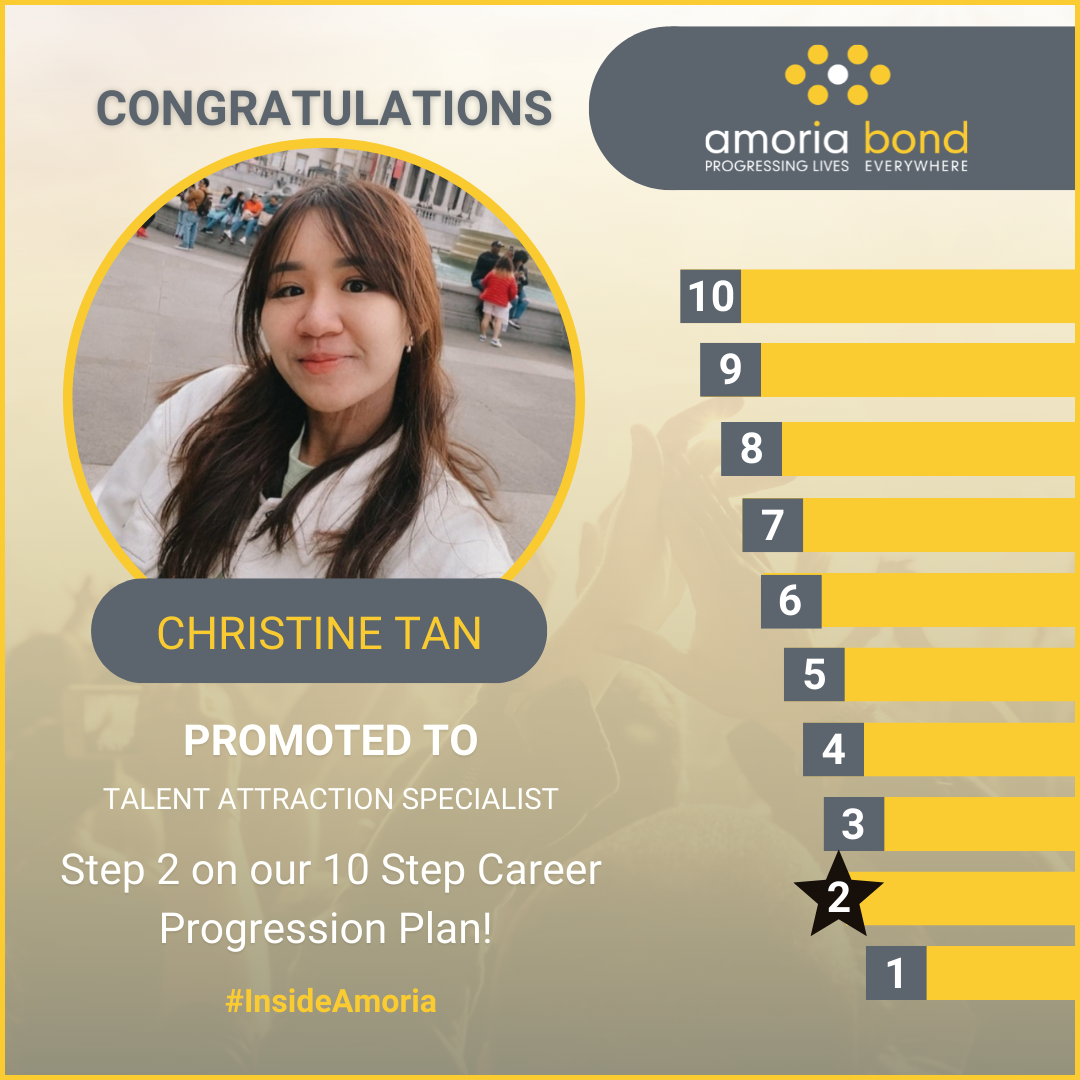 Congratulations also to Christine Tan who was promoted to Talent Attraction Specialist after only joining us in March this year!

Her manager Jenny said, "She came to us with so much enthusiasm, but I'm sure she won't mind me saying that she definitely felt out of her comfort zone at first, but she still threw herself headfirst into her role!"
"She also has the added challenge of having a manager in a completely different time zone, but she and I are very grateful for the support she has received from the team in Singapore.
"Christine has a fantastic attitude and what always stands out to me is her eagerness to learn and her inquisitive nature - always asking questions, always wanting to learn and improve. "
Marius Kau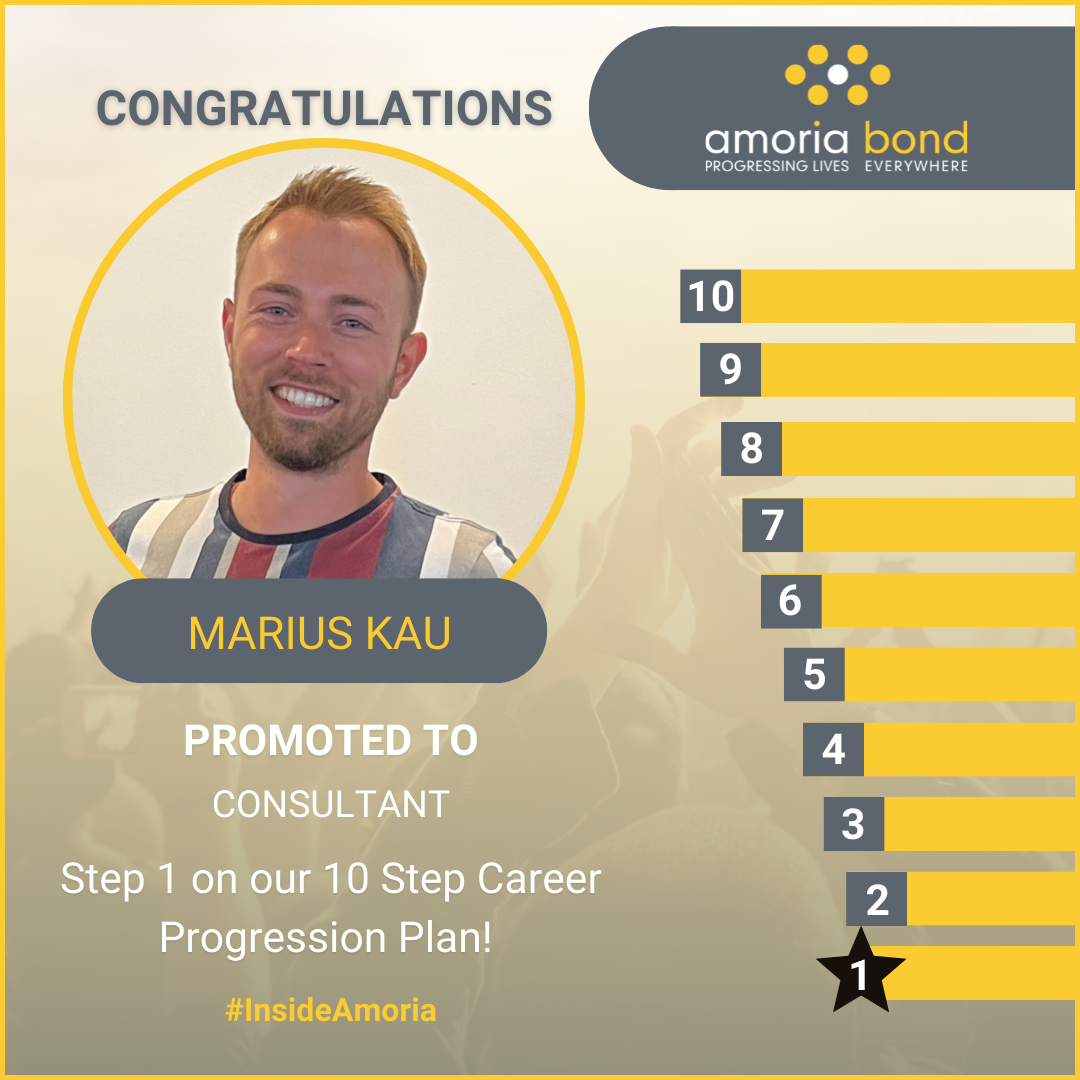 Congratulations to Marius Kau, who was promoted to consultant this week!
Marius never turns down an opportunity to place a candidate. He always takes assignments seriously and gives 120% instead of 100% to ensure he delivers the right CVs with urgency.
His drive and motivation to achieve his goals led him to go the extra mile and find niche candidates to place.
His manager Basma added: "He is currently helping a Ukrainian freelancer to start his first project in Germany. The freelancer does not speak German very well. Marius qualified the candidate using Google Translator and was able to convince the clients to take the candidate."
"I'm glad to have you in my team and I'm looking forward to your next promotion."
Marie Lampe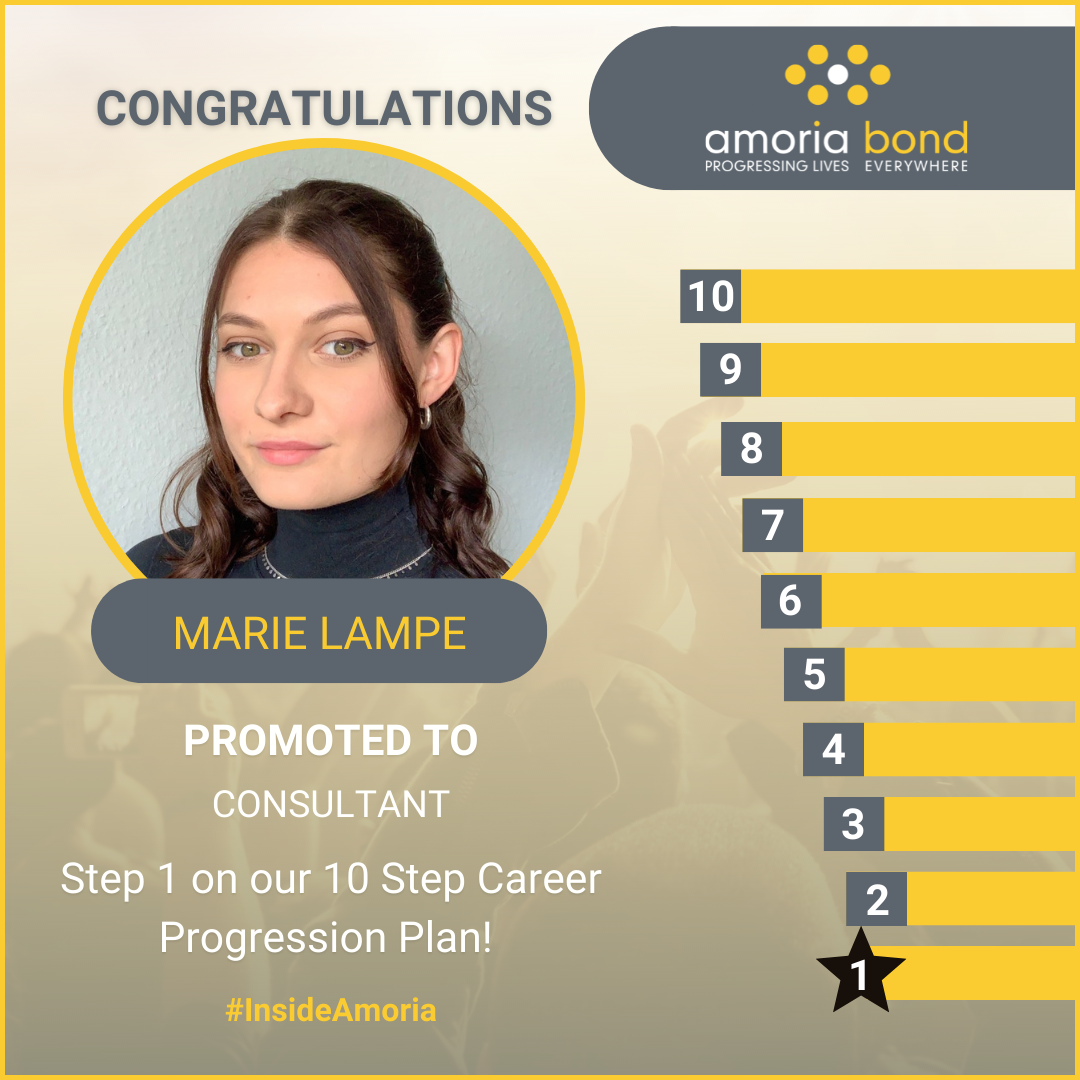 Last but not least: congratulations to Marie Lampe, who was also promoted to Consultant this week!
Marie started in the Amsterdam "Embassador team" (Embedded, Hardware, Electronics - West Germany) in January 2022 and has already put up some great numbers.
In addition to her hard skills, she shows up with a great personality and is always there to help or lighten the mood.
Her manager Jan added: "I'm really excited to have you on the team and let's keep rocking!"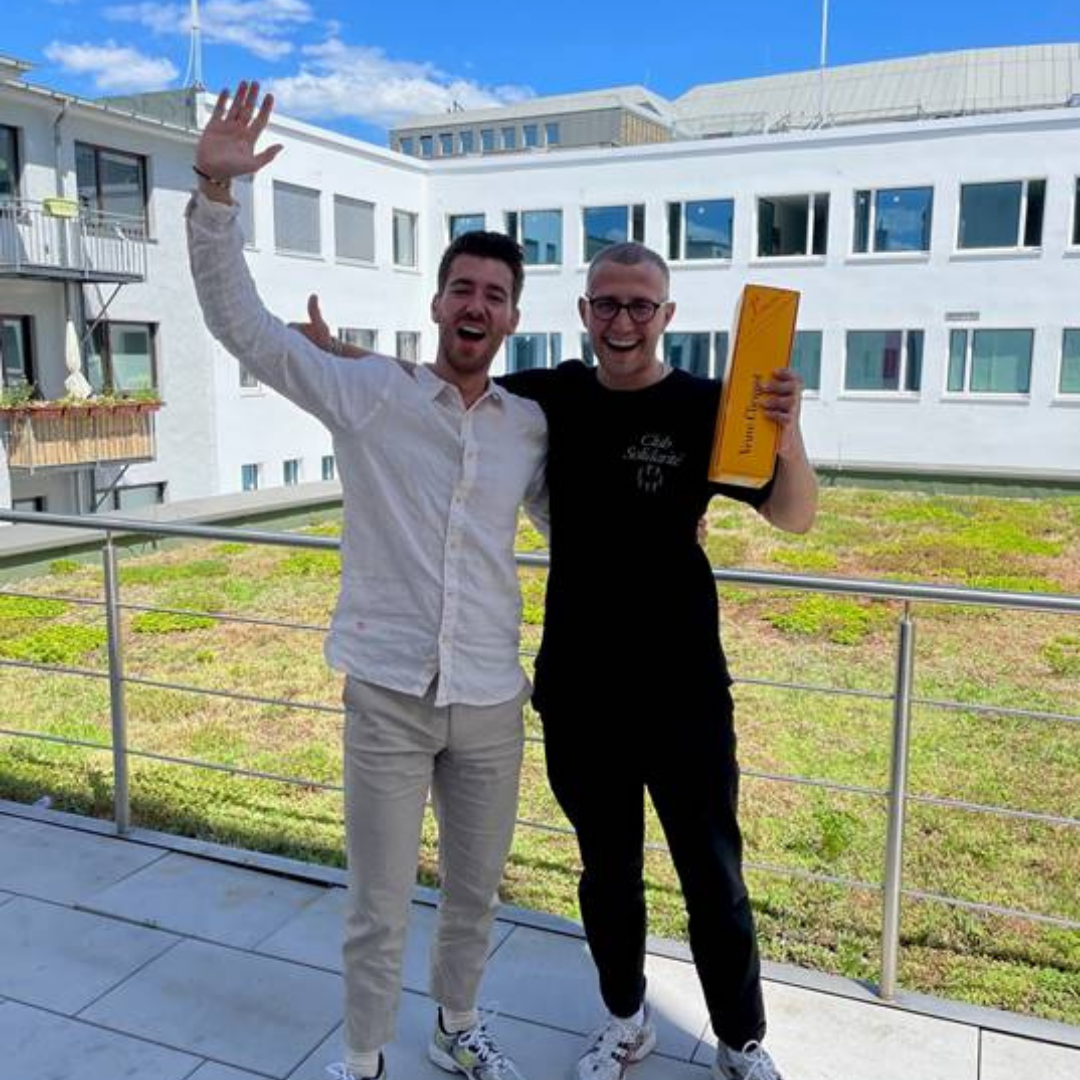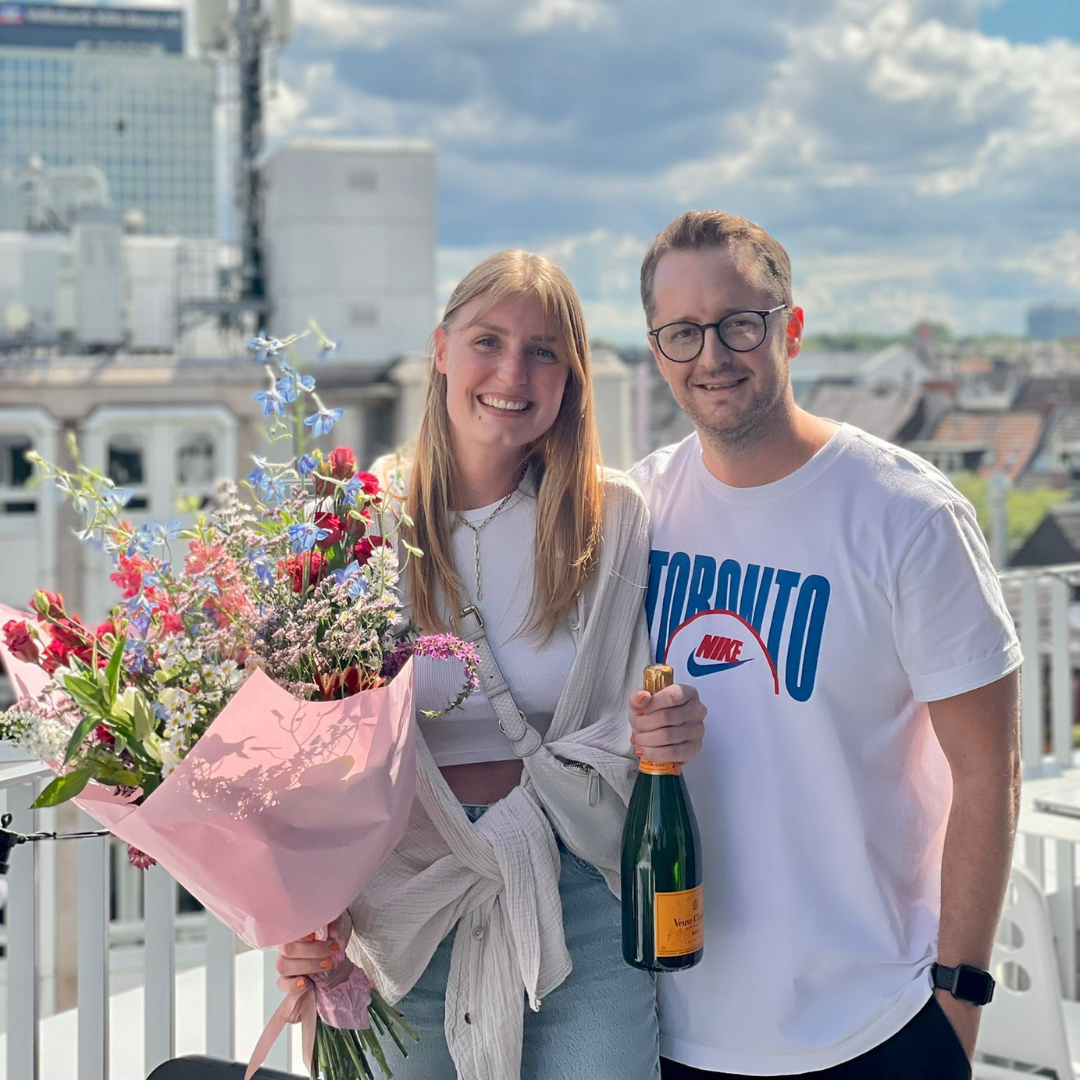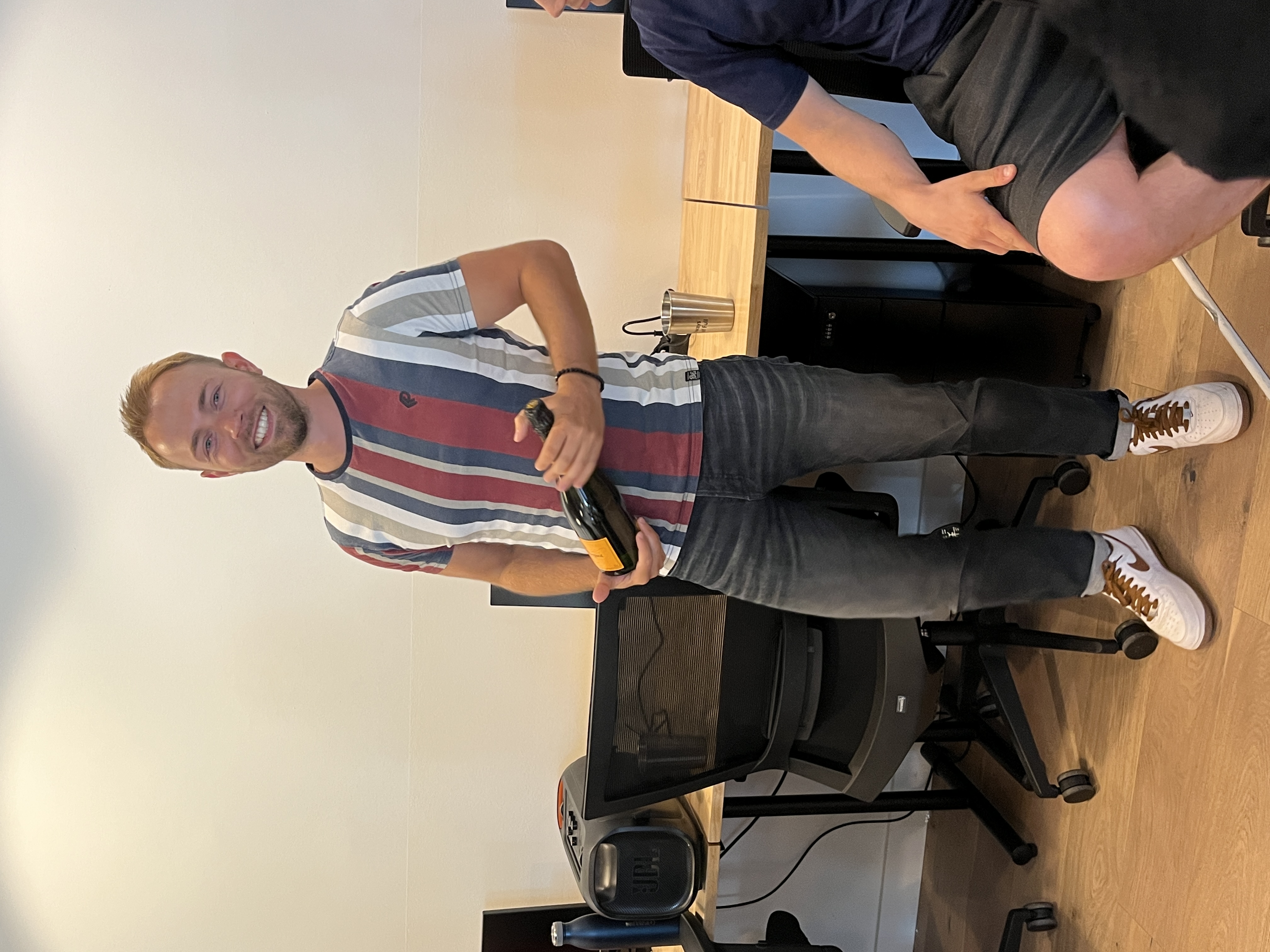 Think you've got what it takes to climb the ten steps to the top? To enjoy great benefits and incentives like lunch clubs, international trips (next stop Milan!), uncapped commissions, award-winning training and clear progression paths, join Amoria Bond today. Go here to find out about our latest opportunities in Manchester, Amsterdam or Cologne.