Top tech talent is being poached at an unprecedented rate by the big brands like Amazon and Meta, plus the rapidly increasing number of start-ups - making it difficult and frustrating for companies outside the industry to find the skilled techies they desperately need.
So what can you do to find and attract great technology candidates?
We asked Daan Fokkema, Associate Director Technology at Amoria Bond, for his top tips that can help you overcome your talent gaps and secure the best tech professionals.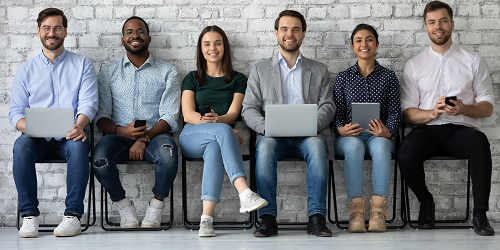 1. Align your employer brand with employee expectations
There are a number of things offered by the larger tech brands and startups that many tech candidates take for granted in the modern job market, so it's essential that you are able to align your company brand and culture with that. Things that are considered basic requirements can include, for example, a strong corporate mission and purpose, competitive salary and benefits packages, and a track record of investing in training and career development opportunities.
2. Embrace transparent and accountable tech leadership
Leaders of strong Technology companies tend to be willing to communicate directly with employees. They act quickly and decisively and are accountable for actual results. For example, Slack, the maker of enterprise communication and collaboration software, has created an internal chat channel #exec-ama ("ask me anything"). Employees can ask the management team anything and, of course, vice versa, so there is complete transparency at every level.
Leading professionals are more likely to prefer a company where they feel their work has an impact. If employees feel that leadership is responsive and accountable, they are more likely to stay where they are.
3. Create a culture of coaching and development
Another factor that makes for an appealing company culture is quality coaching for employees. Millennials and Gen Z in particular value this kind of investment, but it's also crucial for "growing" talented Technology professionals who have the right skills but not necessarily the experience.
However, a culture of coaching and development opportunities not only attracts ideal candidates but also helps with onboarding and provides strong encouragement for employees from diverse backgrounds. HubSpot, for example, has moved from annual performance reviews to "social performance management". This allows employees to receive continuous and immediate feedback from almost everyone in the company, which contributes to the continuous development of their skills.
4. Demonstrate your commitment to diversity and inclusion
An influential diversity and inclusion (D&I) strategy can help companies attract skilled workers, as it has become an important factor in the decision-making process of job applicants. In a Beqom survey of 1,000 employed adults last year, 48% said they would consider moving to another company if it had a sophisticated D&I strategy. And aside from candidate preferences, a well-implemented D&I strategy opens up the candidate pool and gives a company more scope to find great talent.
It has been shown that an objective skills test, rather than relying on past experience and credentials, also improves diversity in the company. For example, more and more companies are finding great candidates for software development by seeking out applicants with coding bootcamp certificates and highly rated coding work samples on GitHub - regardless of whether the candidate has a degree in computer science from a prestigious university. This approach opens up more opportunities for underrepresented candidates and expands the company's talent funnel.
5. Expand your candidate pool
We've already seen significant growth in the past couple of years where, despite the devastating impact of the Coronavirus pandemic on the job market, some companies have still been able to build rather than reduce headcount. Meta, for example, announced plans to hire 10,000 additional people in product and engineering, and Amazon are hoping for even more. Tech start-ups around the world have also continued to increase their software engineering and development staff by up to 60%.

This adds up to a vast number of new technology jobs being created, with massive opportunities for professionals in that area. So how do these companies find enough people for these roles?
The trend is to expand their candidate pool by focusing on a broader range of skills that are important for the role. Companies that are growing their headcount have realised that it's crucial to focus on certain soft skills that are crucial for a successful career - such as teamwork, stress management, ambition or self-confidence - than only on specialist technical ability. Of course, soft skills can't be the only measure - a certain level of tech knowledge will always be necessary - but an employee with the right soft skills and a willing attitude can always be taught specific technical know-how on the job or through training programmes.
So when looking for technology professionals, it's important not to just focus on the technical roles they've already held. That's why we train our recruiters to remove unconscious bias and encourage them to consider objective criteria and must-have qualities for a job so they can look to the broader candidate pool and find future technology experts.
How can Amoria Bond help you hire tech talent?

What else can you do if you are in urgent need of Technology professionals? Use the expertise and value of an experienced recruitment consultancy.
Through our extensive global network of technology professionals, our proven search methodology and our international client base, Amoria Bond can help you quickly find the most suitable candidates.
However, our job is not just about placement: we work with you to understand your specific requirements and offer specialised recruitment services that encompass much more than headhunting. We cover the full cycle needed for your new technology hire from market and competitor analysis to optimising the entire recruitment process.
Ultimately, all these aspects will shorten your recruitment time, reduce your recruitment costs, and improve the overall quality of the process. So don't hesitate, contact our consultants today to learn more about our Best Service.