Congratulations to Anneloes Roest on being named our most PROFES colleague for May!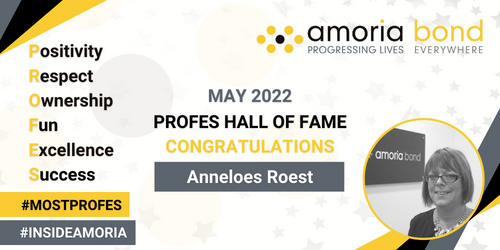 Each month we celebrate one person who has best represented our PROFES values: Positivity, Respect, Ownership, Fun, Excellence and Success; as voted for by Amoria Bond Group employees.
This month our teams recognised the exceptional work that Anna has done within our Group Services operations since re-joining the business just a few months ago. She's worked around the clock to deal with a number of difficult queries and bring the BV ledger up to date. And she's been a huge support to both her team and the wider sales teams, which allows us to create a better experience for all our clients and candidates.
As CFO Fiona Gleeson says, "[Anneloes] takes ownership of any queries on her accounts and is very proactive in dealing with them promptly. The volume of work she has covered in such a short space of time has been exceptional and has most definitely exceeded our expectations."
Congratulations Anneloes!
Rookie of the month
Each month we always recognise a great performance from people who have only joined the business within the last six months. This month the winner in the UK is Jack O'Regan and for our European offices is Marie Lampe!
Both Jack and Marie have delivered great results this week while also getting stuck into the #InsideAmoria Culture and embracing our PROFES values.
By being named PROFES of the month and Rookie of the month, Anneloes, Jack and Marie have all earned a spot on our next lunch club where they'll enjoy world-class food and drinks in one of Manchester and Amsterdam's finest restaurants.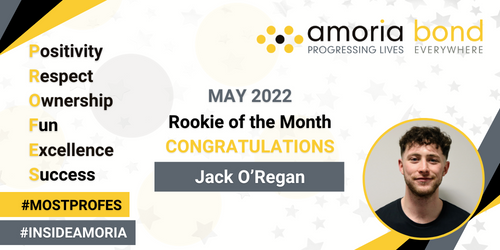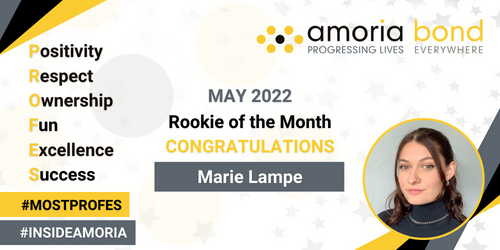 Do you have the PROFES attitude that suits our amazing, inclusive culture #InsideAmoria? Learn more about what it's like to work here or apply today to our latest positions in Manchester, Amsterdam or Cologne.