Every month Amoria Bond staff vote for the person who best represents our PROFES values: Positivity, Respect, Ownership, Fun, Excellence, Success. For the past few months, one name has regularly appeared among the nominations so we are delighted that she can finally take the PROFES Of The Month prize and enjoy a place on next month's Lunch Club. Congratulations to Jannika Spreemann!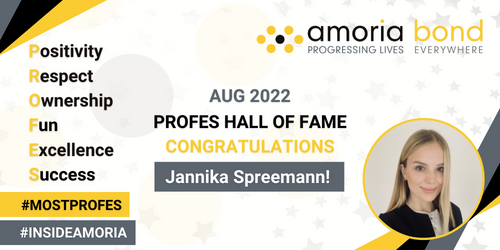 Jannika is our Content Manager in Cologne, working across our website and social media channels to create articles, podcasts, videos, graphics and much more amazing content in both German and English. Within just nine months of joining Amoria Bond, she earned her first promotion, and on top of all that she is also a great role model of all things PROFES.

In the words of one of her nominators:

"She is always super positive, dependable and happy to help out or take on any task given to her. She consistently delivers loads, but is never ruffled by anything and makes the job look easy!"

Jannika has taken ownership of and delivered a number of Group and Board-sponsored projects outside of her normal role and remit - usually at short notice and with urgent deadlines which she consistently delivers to a high quality on time. Her willingness to try new things, roll her sleeves up, and help colleagues is constant and to be commended, and her discretion and integrity are second to none.

It would be easy not to notice the additional discretionary effort and time Jannika puts into her job because of her proactive, can-do approach, reliable delivery, and positive attitude and demeanour. Basically all round brilliant contribution, high performance and super PROFES!

Congratulations Jannika – enjoy lunch club!


Be part of the best recruitment company to work for
Do you have the PROFES attitude that suits our amazing, inclusive culture #InsideAmoria?
Learn more
about what it's like to work here or
apply today
to our latest positions in Manchester, Amsterdam or Cologne.