Amoria Bond has recently announced another three promotions within the organisation, highlighting the achievements and progression stories of three outstanding employees. These promotions showcase our commitment to recognising and rewarding top talent and providing opportunities for career growth within the business!
Massive congratulations to Alina Ferrante, Ossian Bakker and Rachel Beecham!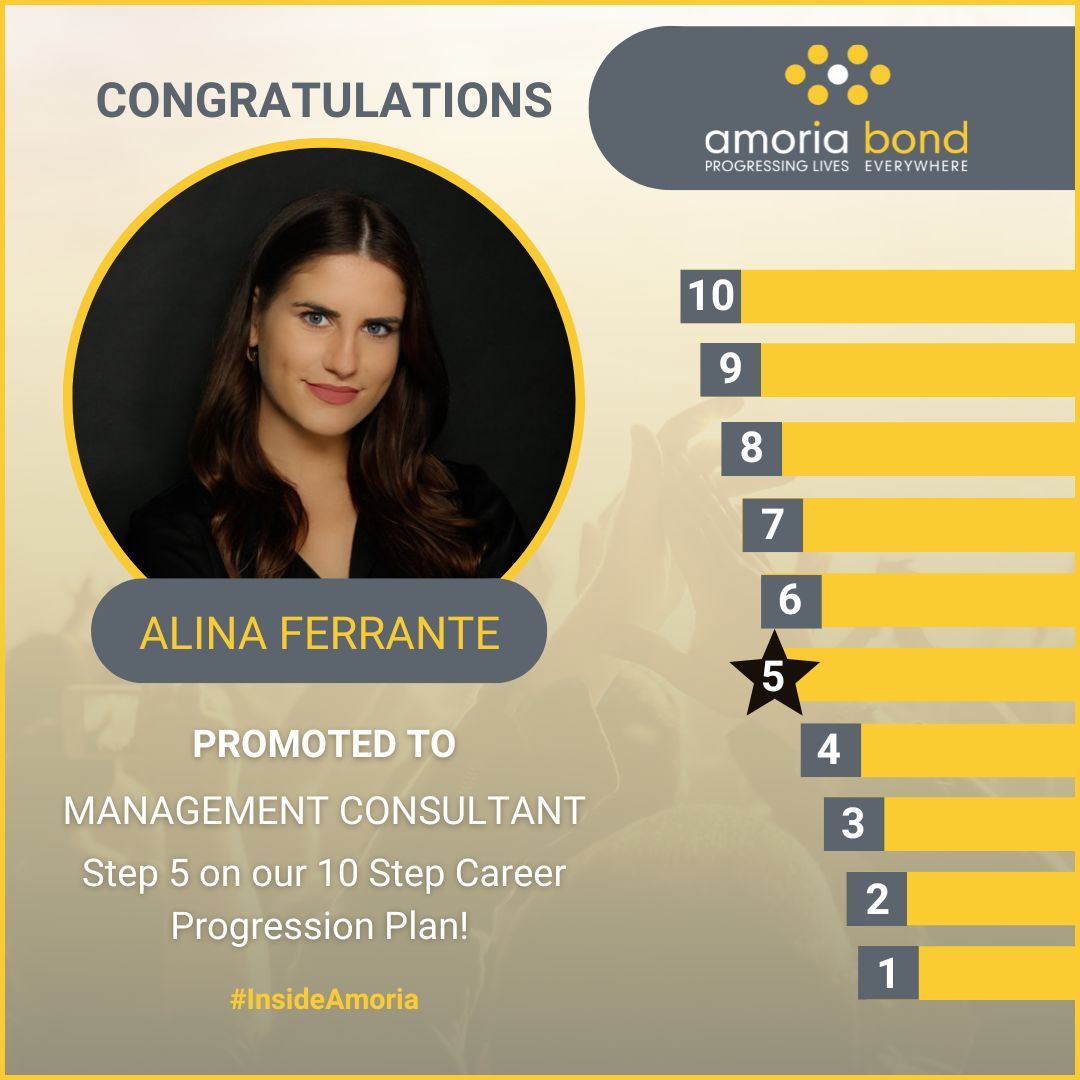 Alina Ferrante
Last week on Friday, Alina Ferrante has been promoted to Management Consultant. As her manager Christof Schäfer shared with us at the Cologne Lunch Club, Alina has faced every up and down that comes with the recruitment industry in the last four years she has been with us. Despite the challenges, Alina has consistently achieved her KPIs and CSFs, while also managing a team of four people. Her business acumen is exceptional, and she is constantly seeking out ways to improve processes and stay ahead of new trends. Alina has hit all her targets and won several new clients by MSAs, and her excellent work has been confirmed by numerous client testimonials. Congratulations, Alina!
Ossian Bakker
Furthermore, Ossian Bakker has been promoted to Group Head of Contracts and Compliance. Ossian has been with Amoria Bond since September 2017 and has been managing the Contracts and Compliance team for some time. He is known for his ability to handle multiple tasks and find commercial solutions to problems. In addition to managing the team and our wide variety of contracts, Ossian is also responsible for reviewing and renewing our group insurance policies and collating the group risk register. Keep up the great work, Ossian!
Rachel Beecham
Finally, Rachel Beecham has been promoted to Senior Accounts Analyst. She has been with the business since January 2015 and has been instrumental in producing both the management accounts and the financial accounts. She has an excellent understanding of the operational side of the business, and her knowledge of the systems and processes is second to none. Rachel takes pride in her work and always delivers to deadlines. She is always available to help colleagues and has been holding more formal training sessions to help colleagues understand processes in more detail. Congratulations, Rachel!
Find your role in recruitment and progress your life
If you're interested in joining our team of talented and hard-working professionals, we invite you to check out our career page and apply for one of our open positions. We're always looking for new recruiting talent to help us grow and progress!