In this article, Johannes Morgen, Associate Director, responsible for the placement of freelancers in the Advanced Engineering sector, shares everything you need to know about the situation surrounding cyber security in the automotive sector: the latest developments, what challenges and opportunities they hold and how to get hold of the right professionals and managers in this field.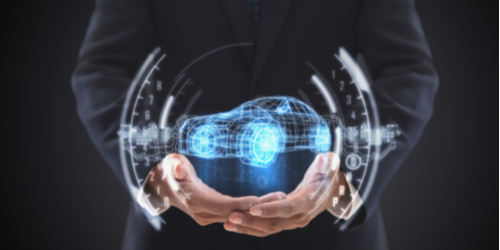 The automotive and mobility sector is undergoing a major transformation: connectivity, autonomous driving and shared mobility are just some of the developments impacting the landscape of automotive companies.

As a result, cyber security is increasingly becoming part of the entire vehicle lifecycle and back-end systems. After all, the growing dependence on technology poses risks as well as opportunities, and every additional communication interface and component is a potential point of attack for cyber criminals. Even safety features, such as autonomously controlled vehicles and electronically controlled braking functions, represent particularly dangerous attack surfaces if disabled or taken over. And yet as the risks rise, we find ourselves looking at a skills shortage in 2022 that threatens cyber security in 85% of all companies.

The importance of cyber security for the automotive industry
So how did this need for cyber security come about? The development of the "connected car" has certainly contributed massively. It has now reached the global mass market: every well-known car manufacturer now offers technical solutions for their vehicles, some of which enable the vehicle to be connected to the global data network as standard, others on demand. This connection enables the manufacturer to collect and evaluate, for example, driver data, road and traffic information as well as information on the condition of the vehicle (tyre pressure, events, malfunctions, etc.) for various purposes.

However, increasing connectivity also means more and more code, and this can be compromised in a wide variety of ways. Modern cars contain up to 150 electronic control units and about 100 million lines of code, which is expected to triple by 2030.

So the potential for damage from cyberattacks on smart cars is enormous. It is not just a matter of avoiding corporate fines of hundreds of millions of euros and vehicle recalls in the millions - it is important to consider the horror scenarios of large-scale attacks such as the simultaneous crippling of electronic brakes in all a manufacturer's vehicles by a hacker attack. Precise and effective security concepts are needed here.

What does cyber security mean for the automotive labour market?
UNECE R 155, a regulation of the Economic Commission for Europe, has defined the requirements for protecting vehicles against cyber-attacks since 2021. A central point is the implementation of a Cyber Security Management System (CSMS) in all companies that put vehicles into circulation. The exciting thing is that this requirement changes the perspective of manufacturers: their development activities now no longer end with the "Start of Production" (SOP). Instead, there is an ongoing obligation to review safety systems over the entire life cycle of a vehicle, including any necessary improvements.

For companies, this goes hand in hand with a growing need for qualified specialists and managers in the field of cyber security who have to take on important tasks in the cyber security field of activity.

Great opportunity for qualified cyber security freelancers
What is currently a challenge for many companies in Germany can now mean a great opportunity for qualified freelancers in the cyber security sector to use their skills and expand their experience even further. Especially in view of the current shortage of skilled workers (as mentioned above, affecting 85% of all companies), all those who have the special qualifications can virtually choose their job!

At the same time, freelancers in particular are a good solution for companies to counteract the shortage of skilled workers. Not only do they usually bring very specialised skills through years of experience in various projects, but they are also the candidates who are the quickest to reach. A solution that my team and I offer on a daily basis.

Are you a freelancer yourself and looking for a new job? Then take a look here for a new challenge - or contact me directly here.

How can you find ideal cyber security specialists?
Are you looking for experts for cyber security projects in the automotive sector? We can help you find a suitable candidate quickly. Every day, we search the market for experienced freelancers - even before our clients actually need them.

However, our job is not just to find and place talented cyber security engineers. We offer specialised recruitment services that encompass much more: From market and competitive analysis to optimising the entire recruitment process, we cover the entire cycle that a new hire requires. Ultimately, all these aspects contribute to reducing your recruitment time, lowering your recruitment costs and improving the overall quality of the process.

So don't hesitate, contact my team and me today to learn more about our specialised recruitment services.

Sources:

https://www2.deloitte.com/de/de/pages/risk/articles/cyber-security-automobilbranche.html
https://www.dqsglobal.com/de-de/blog/automotive-cyber-security-neue-verbindliche-vorschriften
https://www.cyres-consulting.com/un-regulation-no-155-requirements-what-you-need-to-know/
https://t3n.de/news/studie-fachkraeftemangel-cyber-security-1476767/