Nothing is better for progressing your business and employee's lives than providing a workplace where your employees feel validated, respected, and have fair access to the same opportunities. You can achieve that by embracing their identity and culture to promote equity, diversity and inclusion. These subjects are popular topics right now and are very important for your company if you want to succeed in your sector. A happy employee leads to better results, which will lead to happy clients and, ultimately a successful business.
Why is inclusion and diversity important for your business? For starters, a 2020 Glassdoor survey, stated that 3 out of 4 job seekers find a diverse workplace important. And a similar CNBC survey showed that 80% of employees want to work for a company that promotes inclusion and diversity. If the company isn't inclusive and diverse, 50% of all female respondents in a McKinsey survey say they wouldn't take the job. The conclusion is: Investing in inclusion and diversity isn't a luxury, but rather a necessity.
But how do you integrate inclusion and diversity in your company? What initiatives can you take as an employer to progress your business in a multicultural society? Amoria Bond wanted to know what our followers thought, so we ran a small employee survey on how businesss are promoting inclusion and diversity in the workplace.
Sharing insights and ideas for improvement is one of the many initiatives we take to improve our ED&I efforts. Inclusion and diversity are very important topics for us and therefore we take the time to listen to our employees and their needs to feel appreciated at work.
What our followers say about their own workplace inclusivity
What are people looking for in an inclusive workplace? We wanted to know what people really think about the initiatives their workplace provides. So Amoria Bond launched a few polls on LinkedIn to see if employees think their workplace is inclusive and diverse. We also asked a follow-up question on how to improve inclusion and diversity within the company. Basically, we wanted to know the most common areas that companies fail to address and what employees would like to have to feel accepted and appreciated by their employer. Our first question was: How inclusive would you say your workplace culture is? This is how people replied: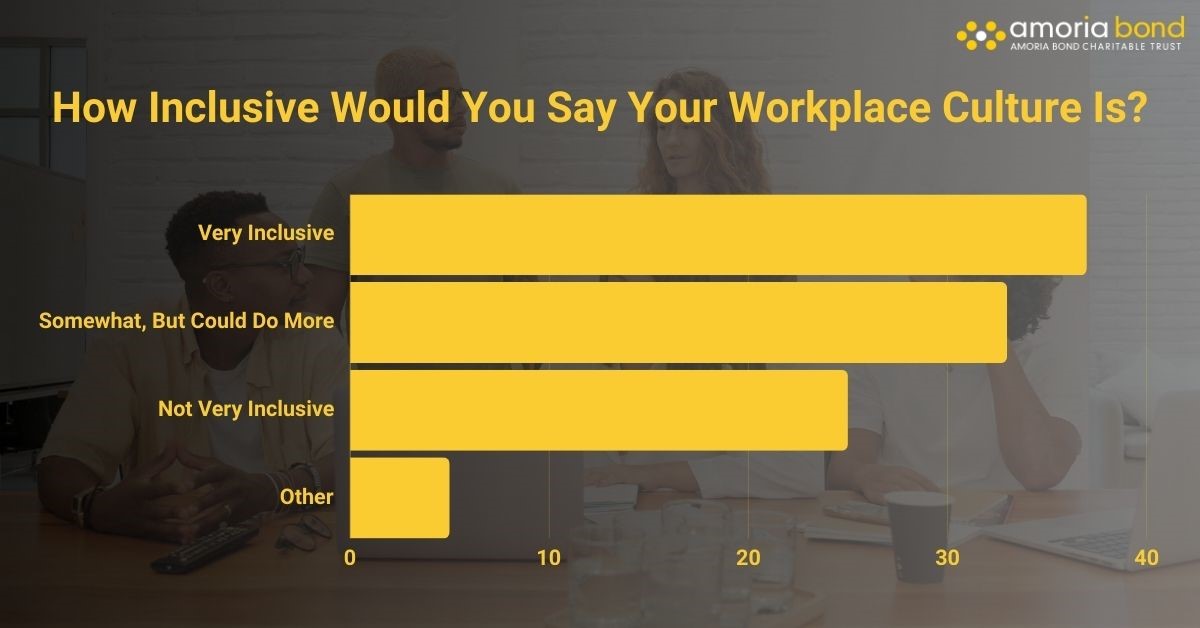 Only 37 percent of people are satisfied that their workplace culture is very inclusive. That means that 63 percent of all users believe that there is room for improvement. Of those, exactly 33 percent said that there is inclusion in the company, but it can be better, while an incredible 25 percent don't think their workplace is very inclusive at all.
Even in the most positive light, two thirds of employees believe their employers should be doing more for inclusivity. But what should those initiatives be? We ran a second poll with some of the more common ideas, to see what employers need to do to have more inclusion and diversity.
So, our next question was: How can your company improve diversity and inclusion? Again, we gave four options in the poll: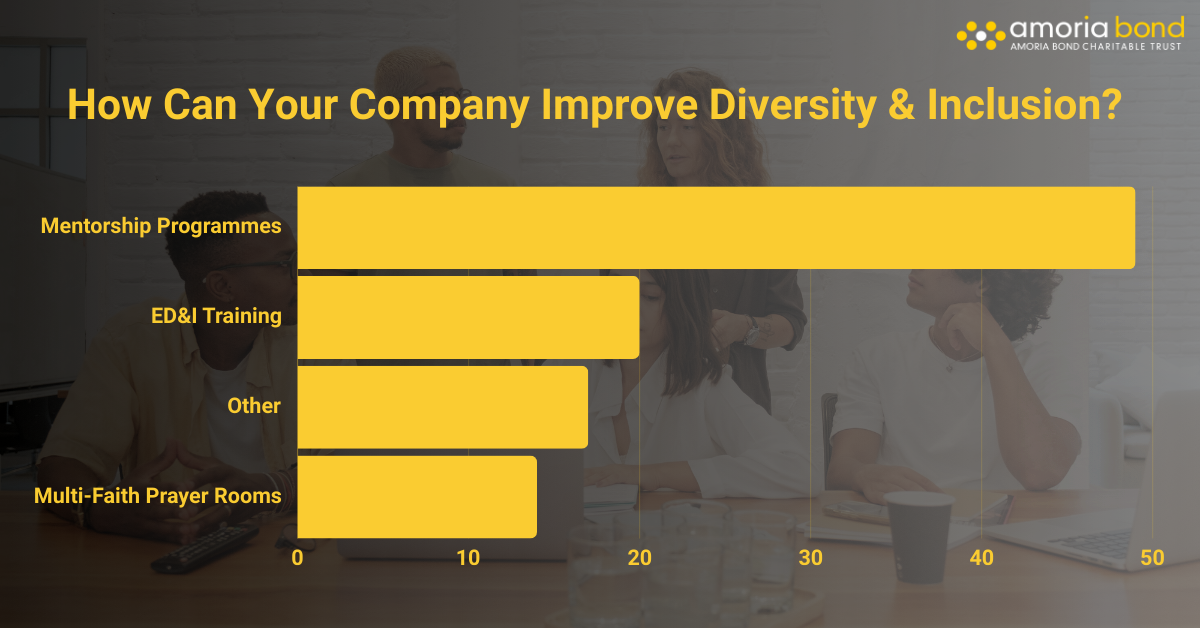 It's obvious that most employees want more mentorships programmes., with almost 50 percent of respondents choosing this option. But that´s not the only popular initiative, every option that we gave, was chosen by numerous people. So it's clear there is no "one fits all" solution and businesses should be looking at multiple areas to provide a truly inclusive workplace. Here's why the options we gave are considered so important, and what other ideas you can begin putting in place.
Mentorship programmes
According to a study of the Olivet Nazarene University in 2019, 76 percent of the 3000 participants think mentors are important, yet only 37 percent have one. The study also showed that people with a mentor are happier with their job than those without a mentor. But what are mentorship programmes? How can you integrate them in the office?
Start at the beginning: What is the goal of the mentorship programme? Do you want to focus on knowledge, networking or social relationships. Depending on your goal, the programme will be different. A mentorship can include check-ups, guidance through projects, social activities, joint projects and one-to-one development support.
If inclusion is your goal then a focus on shared identity or social challenges faced by mentee and mentor can be beneficial – allowing awareness and advice to be shared, problems to be resolved and support given to progress mentees into positions where they too can become mentors to others.
It's also worth remembering that you don't have to limit this to a single goal. Your mentorship programme can both promote inclusion AND develop better internal networking for example.
Once your goal is set, you can start recruiting mentors within the company and match them with mentees. You can match people by many traits including experience, interests or personality. You can also let your employees decide when they already have a preference. However, in a big company it´s better to have a match system or a "grouping" system such as promoting a mentorship programme specifically for women.
The final step is evaluating: how well did the mentorship programme go? Did the participants achieve the goal? You can measure the programme with many tools. Give a classic survey or look at the performance of the mentee and mentor. The important thing is that you monitor the mentorship programme by checking up with the matches every now and then. That way you can change the programme if needed.
We can't emphasise enough how important these programmes are for staff and not only for the newbies. Mentors can work on their leadership and communication skills, while helping someone out. The mentee obviously will benefit from the programme because they get more connections, great advice and integrate better. It´s a win-win situation for the company and its staff.
Multi-faith prayer rooms
Living in a multi-cultural society also leads to different religions within your company. To make sure that everyone feels included and accepted, you can create prayer rooms where people can practice their rituals or meditate. But how do you create those spaces?
Make sure that you choose a room where there is little disturbance. Building a quiet multi-faith prayer room can be challenging, so the room next to the kitchen isn't the best option. It's also important that you create a space where multiple people can fit in. It doesn't have to be the biggest room in the office, but it should be big enough for at least a few people.
Furthermore, the decoration of the room should be inclusive as well. For this part, you can ask employees to help you out. What do they need to exercise their religion? Maybe a comfortable carpet for prayers or pillows would be a nice start. If you have multiple religions within the office, you can also add a timetable on the wall, or an "in use" sign outside to prevent disruption or disturbance.
A multi-faith prayer room is a very good way to show that your company respects all religions, and that people can express their whole identity, not only a part of it. There are other initiatives that you can take to have more religious inclusion. We will list them at the end of the article.
ED&I training
You can always promote inclusion and diversity, but knowledge is the key to wisdom. You can achieve inclusion and diversity by educating your employees on the topic with ED&I training. ED&I training stands for Equity, Diversity & Inclusion training. But don't forget yourself! Leaders should also be aware on how to celebrate equity, inclusion and diversity in the office. You can change the training according to your target audience: staff, board, directors, …
The objective of these trainings is to understand, improve and integrate inclusion, equity and diversity. These trainings help you to understand what racism, inequality and bias means, how to recognise them and how to resolve the issues – including unconscious bias. Your company can learn how to understand staff and treat them with respect. Of course, you already do that, but these trainings take your company work culture to the next level. These trainings give you exact strategies and knowledge that you need to ensure and improve your work culture.
You can hire specialists to organise the trainings in the office or online. Especially if a lot of the employees work remotely, an online session is the best solution. Just remember that ED&I Training is an investment in your company and people. Happy people lead to a happy company.
Other
17 percent of the respondents indicated that they would like to have other initiatives in the workplace. We have listed a few options you can integrate into the work culture to improve and motivate inclusion and diversity:
Equal pay initiative

Blind screenings

Training programme for new employees

Socio-economic assistance (cafeteria, doctor, remote work…)

Gender-neutral language

Trust person in the company

Open communication with HR, leaders and colleagues

Team bonding activities

Religious holiday swap

Health and wellness workshops

Office adjustments to the needs of the employees

Mental health assistance

Flexible time schedule

Enhanced Parental leave

Transport reimbursement

Educational workshops
What does Amoria Bond do?
We at Amoria Bond always live by our goal to Progress Lives Everywhere and that goal starts within the company. We want to make employees feel accepted and appreciated for their work and allow them to be their authentic selves at all times without fear of recrimination or prejudice. Therefore, we find it very important to include every race, religion, sex and culture. There are many things we do at our global offices to make them a safe space for everyone.
For starters we have a multi-faith prayer room and a religious holiday swap initiative. Another initiative to ensure inclusion are culture evenings where we celebrate the cuisines of other countries. But there is always room for improvement, so we have set up employee-led culture and D&I committees who feed back on initiatives and launch educational programmes and fun events that promote inclusion among our people. Inclusion advocates in the office also contribute ideas to further improve inclusion and diversity.
ASCEND is a mentorship programme targeted towards women to help them progress their career. Women can attend various events, training, coaching and 121 mentoring. Our goal is to attract, retain and progress more women in Amoria Group. All women should get motivation to boost their career, regardless of seniority, tenure or role.
We're also members of Programme One, an industry-wide programme designed to remove barriers and attract, retain and progress more black recruiters through employee mentoring and companywide training.
Our internal L&D team workshops, ED&I webinars and training sessions by our supported by various external guest speakers. If these trainings aren't enough, employees can reach out to our Inclusion Advocates with new suggestions.
We encourage everyone to have their say, ensuring our ED&I approach comes from the ground up and is truly inclusive of everyone's experiences, backgrounds and beliefs. We're not perfect but we're making improvements every day and we strive to do so in a transparent way, as reflected in our regular Diversity Dimensions surveys and reports.
Besides cultural and religious inclusion, we ensure that everyone gets the same opportunities to grow. Our clear progression plan gives every employee the same chances for promotion and professional and personal growth. We also stimulate education by providing support for trainings, books and workshops.
You can learn more about our various ED&I activities and our ongoing journey to create a diverse and inclusive workplace where everyone has the opportunity to thrive on our ED&I page.
Work with Amoria Bond to improve your ED&I
If you are looking to hire new staff and need support throughout your recruitment process and improving your ED&I strategy, don't hesitate to contact us. We will be happy to tell you more about our specialised recruitment services and how we can help you further improve your procedures.