Part of our commitment to Progressing Lives Everywhere includes the lives and careers of our own people, which is why we love to recognise and celebrate every promotion that gets made within the business.
It's a delight every month to be able to showcase multiple people who have hit their targets, progressed their lives and moved up our ten steps to the top. And this month we have another 5 promotions to celebrate. Massive congratulations to Artur Ament, Jake Hesham, Marius Kau, Rena Bahadori and Marc Broda!!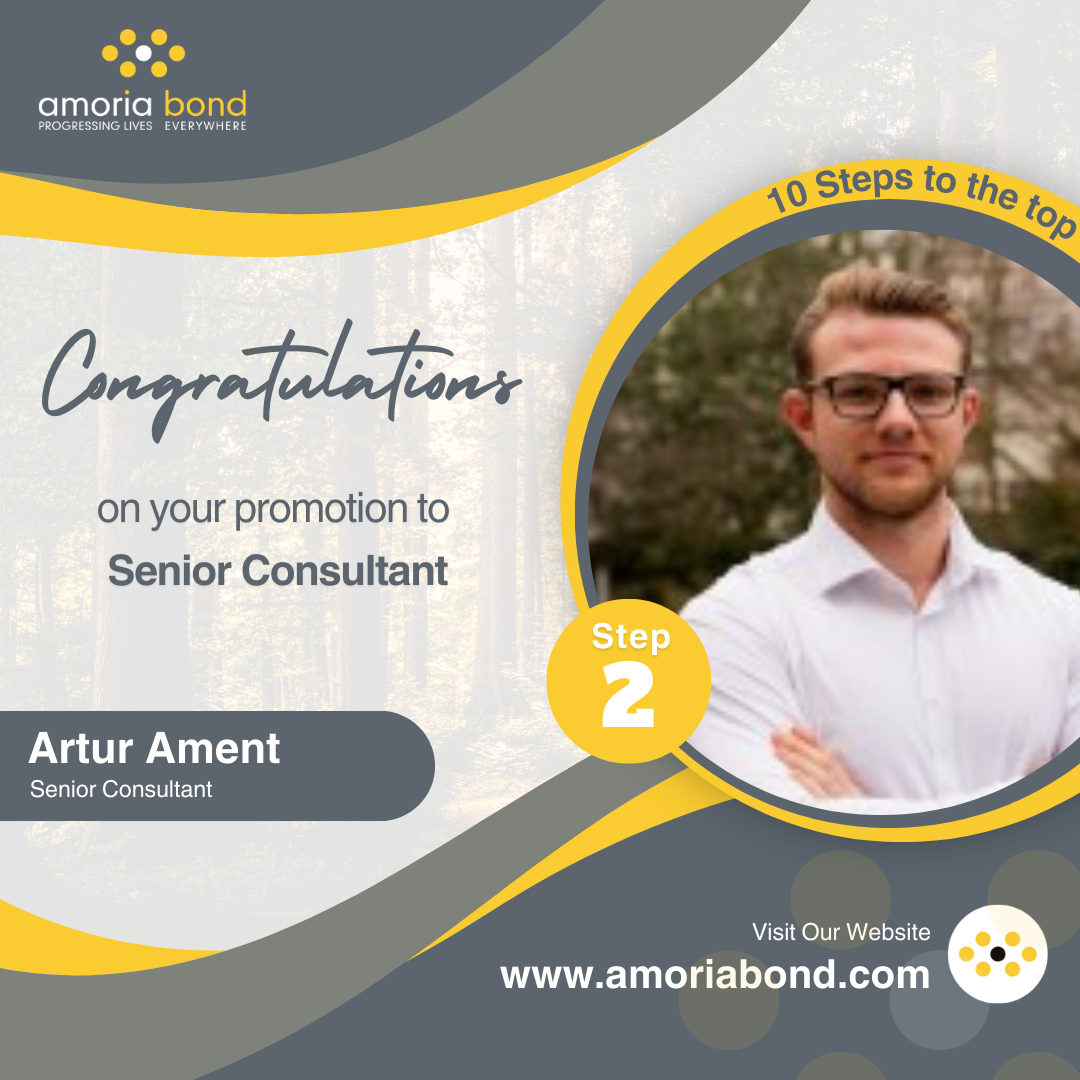 Artur Ament - Senior Consultant
Having only just started in Amoria Bond's Embedded, Hardware & Electronics team in October last year, Artur has quickly proved himself by setting ambitious goals and going all in to hit them.
The result has been some seriously great successes that have inspired others in the Cologne office to follow his lead. Artur is always ready to help whenever someone has a question and improves our processes, coming up with new routes to market by himself.
Artur's manager, Senior Principal Consultant Jan Stracke, commented:
"What can we learn from Artur's "work progression": Set ambitious goals, follow them and go all in!
What can we learn from Artur's "personal progression": You can succeed with a more quiet attitude and JFDI
Artur, it is a pleasure to have you in the team, and I am here to serve you to reach many more goals of yours."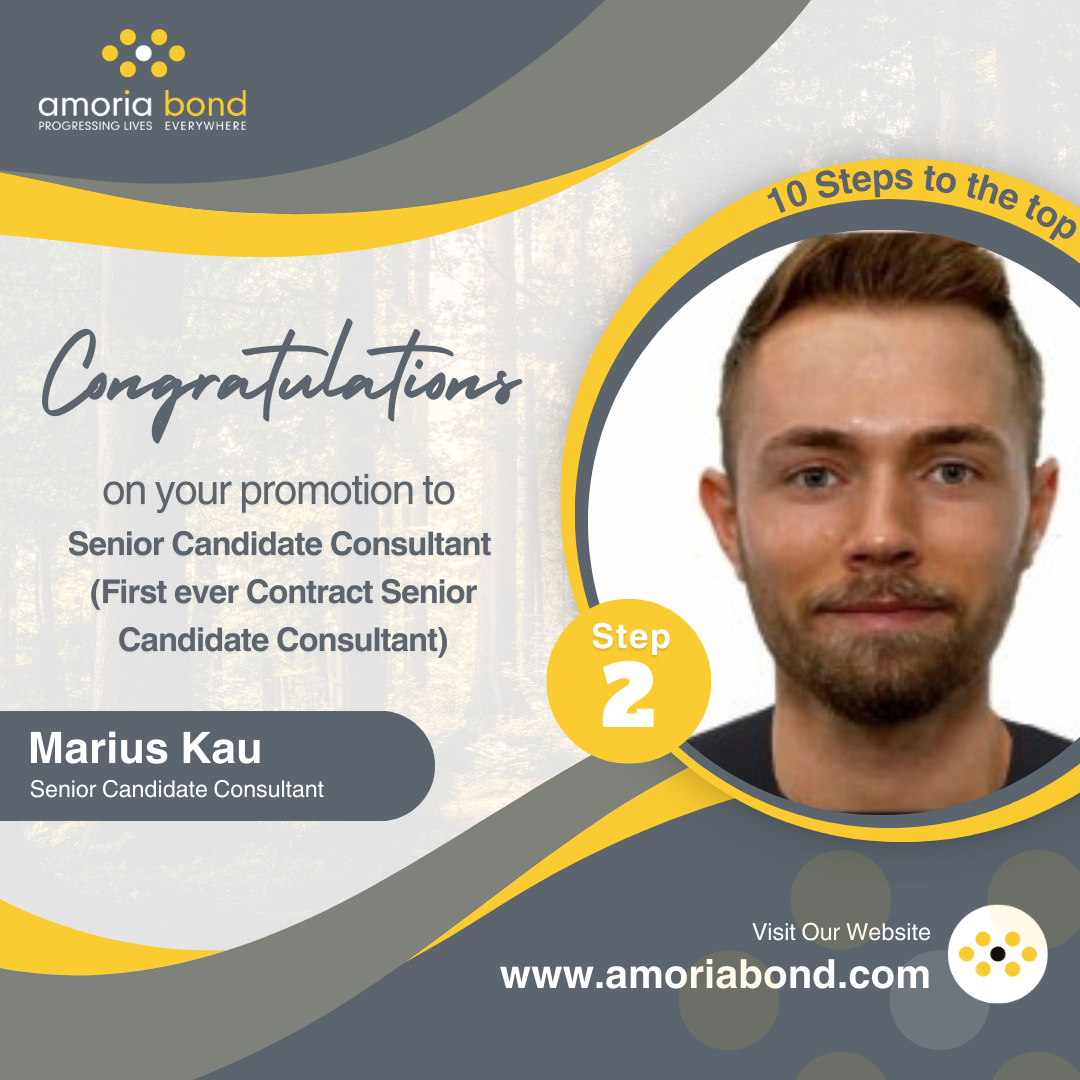 Marius Kau - Senior Consultant
Marius worked in a 360 role for a year before switching to a 180 role in March 2023 where he quickly recognised his strengths and the fun he was having working just with candidates.
Since that time he's gone from strength to strength, honing his skills in finding the best person for every role and supporting his candidates with best service, while also delivering valuable market information to the rest of the contract team.
His manager, Lead Consultant Basma Shamoun, said:
"With Marius, I really recognised the passion in this role. He doesn't just look for a candidate, he turns on his detective skills when it comes to very difficult jobs. We sometimes wonder where he gets them from 😃 But I can say that he never leaves a live job without fitting CVs.
I'm very happy and proud to see you now growing personally and professionally! Thank you for your support and passion."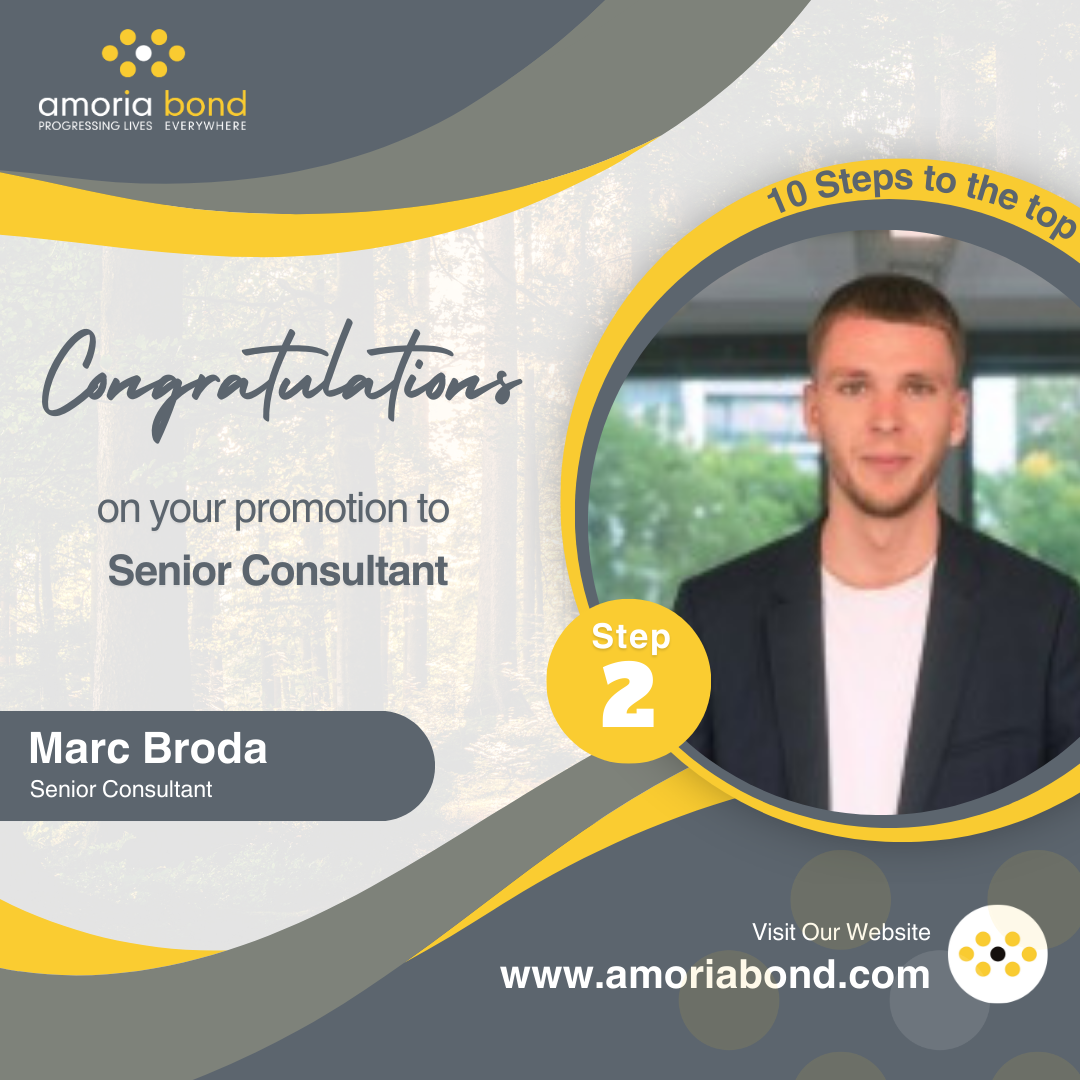 Marc Broda - Senior Consultant
Shortly before setting off on his first company sales conference in Barcelona, Marc was promoted to Senior Consultant, after only 9 months with the company.
His commitment to delivering on his targets has created consistent strong results, and his support for his team helped lead to his first promotion in March, his success in winning Most PROFES in July and now his second promotion just five months after the first.
His manager, Senior Principal Consultant Fabian Frohloff, called Marc "better, faster, more successful than others" and said:
"He keeps pushing and does everything you need to do to become successful. In addition, he supports me with exclusive jobs when things have to be done quickly and helps in the team when I cannot.
After the consultant promotion in March, I now congratulate you on the senior title Marc!"
Rena Bahadori - Learning & Development Lead
Rena joined us in April 2014 as a Sales Support; she was one of our first hires in the German market, relocating to Manchester for 3 months to help build the market before moving to Cologne to help us launch our first German office.
In the following 9 years she achieved 7 promotions, reaching Principal Consultant before moving to an L&D role to share her expertise with others. She has developed and improved her skill set across a multitude of areas, undertaking a university course in Systemic Coaching and Change Management alongside her full time role, with the objective of further developing her skills and being able to support the progression of our people.
Managing Director Matthew Roebuck commented:
"Rena has been an integral part of the German growth journey so far, she is loyal, dedicated, hard working, goes the extra mile and wants to learn - all key characteristics of high performers.
Thank you Rena for your support so far - looking forward to celebrating the 10 year milestone next May.
Jake Hesham - Consultant
Jake joined Amoria Bond in September 2022 and from day one jumped head first into learning the art of recruitment, immediately taking ownership over his own learning and development, constantly striving to improve and better himself.
Applying what he learned didn't take long to show results, with initial successes building to some record-breaking placements in June and July this year. Jake's manager, Principal Consultant Ben Wilkinson, commented:
"Aside from his admirable work ethic he's also a nice guy to be around, he gets on well with everyone, is always around to offer support to those who need it, and I've heard he's also got lightening pace and a deadly eye for goal when it comes to the recruitment football!
Jake, it's a pleasure to have you on my team and if you keep up these record-breaking fees I'll be reporting into you soon mate!"
Progressing Lives Everywhere
We're proud to provide a culture that celebrates progression and gives people the opportunities, training and support they need to fulfil their potential and take the next step in their recruitment careers.
Find out how you can be part of our award-winning culture and work your own way up our 10 steps to the top from trainee to director.