The outlook for the wider field of advanced engineering is bright. The field currently accounts for around 18% of UK employment, whilst analysts estimate that a further 200,000 skilled professionals will be required to take up careers in engineering by 2024. From renewable energy to aerospace and the automotive industry, labour statisticians anticipate that mechanical engineering jobs and electrical engineering jobs will grow faster than the average for most other occupations.
As a result of this state of affairs, finding talent for advanced engineering jobs is becoming increasingly difficult. Connecting with candidates, reading through application materials and CVs, interviewing, and managing offers all take time away from organisations, resulting in an opportunity cost before you've even started to onboard and train your new hires. This is where the services of an advanced engineering recruitment agency can come in.
In this guide, we'll explore the benefits of using an advanced engineering recruitment agency, highlighting five advantages that business leaders and hiring managers can leverage. From sector expertise to cost-effectiveness, whether you're recruiting for mechanical engineering jobs, electrical engineering jobs, or business functions that blend several areas of practice, you'll soon learn that utilising the services of an engineering recruitment agency can help to ensure your continued success.
How An Engineering Recruitment Firm Supports Hiring Exercises
An advanced engineering recruitment agency provides direct hire and permanent staffing solutions that help your business to fill positions with expert STEM professionals. Alongside this, they'll also typically provide an executive search service, meaning that you'll be able to discover leaders and senior staff with ease—and since they're wholly dedicated to the task, recruitment consultants supporting careers in engineering will be able to avoid costly poor hires by ensuring cultural and competency fit.
With the average cost of a mis-hire at this level of seniority ranging from £13,000 to £188,000, it's crucial that the first hiring exercise finds the right candidate for the vacant role.
So, what is it exactly that an engineering recruitment agency brings to the table, and how can you make sure you get the most out of your partnership with one?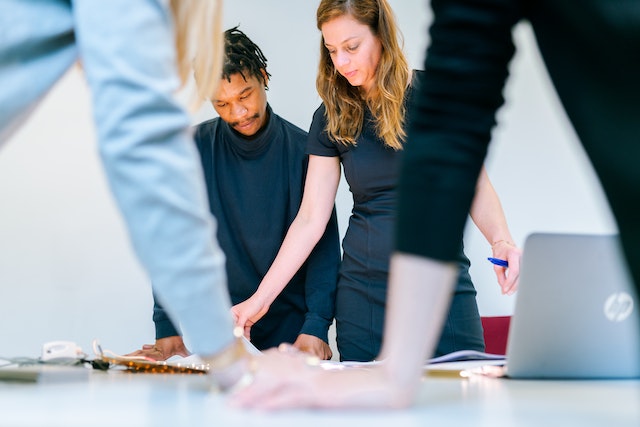 1. Expertise and Niche Understanding
Engineering recruitment consultancies will possess specialised staffing teams that conduct in-depth research into the market conditions, competitive levels of pay, and talent landscape for advanced engineering roles. These recruiters often focus on specific sub-sectors within the industry, meaning that there's likely to be a consultant that can solve your specific hiring issue and draw upon their niche networks.
Likewise, recruiters have extensive experience in dealing with those looking to enhance their careers in engineering. They'll have seen every type of candidate you can think of, so you can be confident that potential hires will have been narrowed down from a larger candidate pool before they're passed along to you, increasing the likelihood of an ideal recruit making their way into your vacant position.
Advanced engineering trends move quickly, meaning it can be difficult to balance trying to achieve business goals while trying to keep up with the latest technologies and best practices that candidates will present in their application materials and conversations with interviewers. They'll be able to offer expert guidance throughout the hiring process, from creating up-to-date and enticing job descriptions to negotiating complex hiring laws, competitive salaries and benefits.
2. Access to an Extensive Talent Pool
From partnerships with globally-recognised universities to a database of active and passive professionals, the consultants working for an advanced engineering recruitment agency will have dedicated time and effort to seeking out talent for engineering roles at all levels of the hierarchy.
As experts in all forms of advanced engineering, from industrial automation and manufacturing to mechanical engineering jobs and electrical engineering jobs, recruitment agencies will be able to assess the talent landscape surrounding your business, enabling you to understand whether you'll have to begin searching further afield.
This is especially important when you're recruiting for a specialised role which may mean local candidates lack the technical skills or experience to meet the requirements of the role. Recruitment consultants hiring for careers in engineering will often have a global reach, given the ways in which their candidates will move around the world to follow their increasingly-specialised occupations.
3. Streamlined Recruitment Processes
From project solutions providing volume staffing to executive search, partnering with an engineering recruitment agency allows you to outsource as much or as little of the hiring exercise as you need.
Whether you require someone to handle the initial application and shortlisting phase, or you're looking for a talent provider that can cover the recruitment drive from start to finish and further support candidate onboarding, an advanced engineering recruitment agency reduces time-to-hire and ensures that you can focus on your business objectives.
Reducing time-to-hire below three weeks can cut the cost of recruitment by 50%, so leveraging the large pool of pre-screened candidates that agencies bring to the equation can provide significant benefits beyond simply expediting the hiring exercise.
Similarly, consultants will be able to work closely with your business to ascertain issues in the recruitment funnel, allowing your hiring managers to focus on improving areas that act as roadblocks. With access to their screening and assessment tools, you'll be able to rapidly evaluate potential hires' skills, experience, and cultural fit, reducing the time and effort required to invite the right candidates to interview.
4. Bespoke, Targeted Approach
Whilst recruitment can be a hands-off exercise for many businesses, by partnering closely with your consultants, you can design a bespoke, targeted approach to hiring which meets your urgent and anticipated needs. An advanced engineering recruitment agency will always aim to improve the overall recruitment process—not only helping to save you time and expense, but also allowing you to build a positive reputation as a respectful and desirable organisation amongst candidates within the field.
Similarly, given the experience that these consultants possess which we explored in our first point, an engineering recruitment agency can help your company to create tailored job descriptions which accurately match the requirements of the role and market your company culture effectively, helping to attract the right people to your vacant positions.
Through in-depth talent mapping and a skills-focused approach, your engineering recruitment partner will be able to identify and track the top talent across the industry, helping them to quickly discover the most qualified candidates as soon as a job opening goes live, reducing the effort required to begin shortlisting and interviewing professionals.
5. Cost-Effectiveness
Through efficient candidate or executive sourcing, niche industry understanding, and specialised hiring expertise, an advanced engineering recruitment agency can save you money when it comes to evaluating, interviewing, and onboarding candidates, no matter the role they'll be doing.
With almost all engineering recruiters having established processes and technologies to streamline their process—such as applicant tracking systems and screening tools—they can quickly identify the applicant that is the best fit for the role.
Many recruiters will offer cost-effective pricing models and flat rates to give business leaders an opportunity to try their services for an entry-level position, for instance, before retaining them as a long-term talent partner. This allows you to be certain that the engineering recruitment agency you've tasked with your hiring needs provides good value for money and reduces the overall expense of hiring and training new recruits.
Alongside this, by utilising their expertise to market your organisation, values, and internal culture effectively, your advanced engineering recruitment partner can reduce the risk of staff turnover or bad hires, particularly if that employee decides to engage in litigation. An engineering recruitment agency will work closely with you to ensure that all hiring follows established guidelines and legislation, giving you peace of mind and enabling you to continue achieving your goals.
Should You Work With An Advanced Engineering Recruitment Agency?
An engineering recruitment agency can take as much or as little control over the hiring process as you need, enabling you to focus on ongoing projects and deadlines without splitting your attention between running your business and evaluating, interviewing, and onboarding successful candidates. Their expertise leads to a better quality of hire and a faster time-to-hire for even the most complex of roles.
Whether you're recruiting for mechanical engineering jobs or electrical engineering jobs, manufacturing roles or automation positions, you'll be able to leverage the skills of your talent partner to reduce the time and effort required to properly source recruits, particularly at the senior and executive level.
Whilst there are still some misconceptions that recruitment agencies are expensive, in reality, when we consider the resources and personnel which are utilising during the hiring process—and the aforementioned cost of a bad hire—it can often be the case that consultants save a business money and energy which can be reinvested into other areas, such as learning and development or materials and equipment, which can improve the morale for existing staff and reduce turnover, too.
If you're interested in learning more about hiring advanced engineering or STEM candidates, see our recent guide to Why Summer is the Best Time to Hire in STEM for deeper insights from our expert recruiters.
Partnering with an advanced engineering recruitment agency can provide your business with a strategic advantage in the increasingly competitive STEM talent market. As the demand for skilled professionals in mechanical engineering jobs, electrical engineering jobs, and other careers in engineering continues to rise, these agencies offer a comprehensive, bespoke solution to your talent acquisition challenges.
Their expertise, deep understanding of niche sectors, and access to an extensive talent pool makes engineering recruitment consultants invaluable resources for hiring managers and business leaders seeking top-tier talent.
By streamlining recruitment processes and adopting a tailored approach, organisations can save time and the associated costs of hiring, whilst ensuring the highest quality candidates are put forward for advanced engineering positions. Collaborating with an engineering recruitment agency not only allows companies to focus on core objectives, but also enhances their reputation amongst jobseekers, driving success in this rapidly evolving industry.


We're A Specialist Advanced Engineering Recruitment Agency
At Amoria Bond, we're dedicated to championing the potential for engineering to advance lives everywhere. Our consultants are all experts in hiring for advanced engineering roles, supporting businesses as they search for candidates at all levels of seniority. Whether you're searching for a new leader or require high-volume staffing for a new project, contact us for a discussion of your requirements.