Attracting and retaining workers is the challenge that all businesses face, no matter what industry you work in – whether it's STEM sectors like technology & engineering, or recruitment & consultancy like Amoria Bond. Part of overcoming that challenge is to create a compelling employer brand, and the best way to understand that is to follow the latest candidate trends within your own industry & region,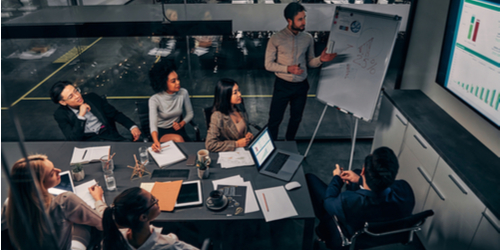 Those trends will differ massively across industries and even roles. We recruit professionals across multiple industries in technology & advanced engineering, so we can see all the time the different expectations and requirements that people have. There is no single answer, but there are insights you can draw out from global trends that you can try to apply to your own business, industry or job vacancies.
What can we learn from global talent trends?
In a post-pandemic, digital-first, increasingly global economic world, we can learn a lot by looking at different talent migration trends across countries. No matter what industry you work in, or the specific needs you have, there is a benefit of taking the wider view - seeing the forest not the trees - of cross-sector, global talent competitiveness.
This is why resources like the Global Talent Competitiveness Index (GTCI) are valuable tools that are often overlooked by businesses. This annual whitepaper looks at the competitiveness of hiring in all industries by country, ranking each. At face value, seeing where the country you operate in ranks can read like pub quiz trivia – an interesting fact with no real-world practical benefit. But by looking deeper in to the data we can draw insights on what is impacting talent competitiveness on a global scale and apply those lessons for an individual business.
Take two of the fastest rising countries ranked by the GTCI last year: China and Indonesia. Neither are particularly near the top of the rankings yet, but each have climbed significantly over the last few years (China rising 12 places from 49th to 37th in the country rankings between 2018 and 2021, Indonesia rising 16 places from 86th to 70th). Both countries achieved this by increasing their scores in almost all of the six pillars measured by the GTCI (Enable, Attract, Grow, Retain, Vocational & Technical Skills, Global Knowledge Skills), but most significantly in the areas of Vocational & Technical Skills. This effectively shows the increase in working people with relevant skills – with scores weighted between the working population with secondary education, technical qualifications or other skilled training, against the country's economic and labour productivity.
In practical terms, it's a measure of how many more people in those countries are entering the workforce with relevant skills for the general marketplace, compared with just a few years ago. And how that stacks up against other countries.
For businesses – particularly in areas like engineering where trained, qualified, compliant professionals are a necessity - this kind of data can support your long-term hiring strategies Wherever your next project is located, you need to know how to approach candidate sourcing in those regions and what challenges that can present. How this region stacks against others – where it scores in areas like availability of vocational and technical skills should tell you how much you can rely on local workers or look at recruiting further afield.
Of course, with a specialist recruitment company like Amoria Bond on your side, that's something you can worry about less – relying on the expertise and global knowledge of our industry-leading recruitment professionals to find you the best talent, no matter where in the world your project is based.
These are just two examples of countries that are increasing their talent competitiveness, but what about those that rise above the others? The top three ranked countries in the GTCI haven't changed since 2016 - Switzerland, Singapore and the USA. The only country to fall out of the top 10 in that time is the UK - dropping from 7th to 11th place, with The Netherlands joining at position 6.
What is highlighted in this report in general is that the gap between the most talent-competitive countries and those that don't make the top-ranked places is widening.
"The policy implication is clear: stakeholders should take steps to ensure that the underlying dimensions of talent competitiveness are strengthened, especially for countries and those segments of the population already under pressure,"
Why is this relevant? Because those underlying dimensions can be reflected in the actions of a business as they are by a country. It's no coincidence that the top two countries, Switzerland and Singapore, are two countries known as leaders in sustainable, ambitious, societal initiatives from green economy development to digital trade, with the intention of future-proofing their economies.
We can recognise those same intents among the most successful employers - delivering positive, sustainable change, embracing new technologies and supporting employees will help you attract and retain the best talent. Elements like diversity & inclusion initiatives, employee wellbeing, net-zero planning and other factors that go beyond your day-to-day operations, are now essential ways to prove to potential employees that your business is one worth investing their time in.
Digital immigration of talent: adapting to a changed world
The biggest change in global talent trends in recent times is obvious to us all. But the impact of the pandemic will be long-lasting. Businesses everywhere adapted quickly in the early days of lockdown, but there are still many failing to implement these into long-term plans. Take remote-working, for example. A recent report by Terminal revealed that less than 1 in 3 businesses in HR and engineering had a long-term strategy for remote working, with 53% of leaders reporting spending more time planning the company Christmas party than their remote work future.
Of course not all jobs can be done remotely – most engineering jobs will always require someone on site. But there are plenty of back-office, support jobs that can now expect a more hybrid work pattern. The simple reality is that if people have adapted to working a certain way through the pandemic – many of them want to keep elements of those processes in place, making collaborative digital tools that allow people to work and communicate remotely are a necessity.
But more than that, the tools and process capabilities that allow these changes, can create opportunities for businesses to widen their hiring scope. "Digital immigration" is a phrase you can expect to hear a lot over the coming years as businesses with eyes on long-term remote working strategies begin uncovering the vast potential that comes with hiring beyond your immediate geographical region.
As well as collaborative tools, changes such as standardised cloud platforms and time zone alignment are strategies being implemented to allow businesses to seek skilled professionals from a global marketplace. HR and legal departments will have to embrace remote-optimisation to account for workers operating in multiple regions. Of course there are challenges to this which is why accounting for overcoming these is an important early step in any long term talent attraction strategy.
Whatever your business, digital immigration will affect at least some of the roles you have available. And if these positions can be offered on a global basis, you need to know where in the world the most relevant talent can be found, and what you need to do to attract and retain them.
Which brings us right back to the GTCI.
While knowing where countries rank in terms of talent competitiveness may have been largely academic to all but the largest global corporations, now it is essential knowledge for any business. Where are the most skilled workers? How are they being supported locally? What does the competition look like? And what do you need to offer to attract and retain them?
These are the questions you will find yourself asking in the coming years, so get the answers ready for them today.
How can Amoria Bond help?
Amoria Bond's specialist recruitment professionals work with industry leaders and professionals across global Technology and Advanced Engineering sectors, gaining expertise in everything that's going on within these industries – especially what new candidates are looking for in different roles.
We can not only help you locate the best professionals for every job from our global network, but we can advise you on how to create an engaging employer brand so that those professionals want to work for you and feel supported through their work to stay with you through the long-term.
Get in touch with our teams today for expert hiring advice and to secure the best people for the most niche roles, anywhere in the world.