As one of the most well-known Technology companies in the world, there's a lot we can learn from Spotify as an employer brand. Amoria Bond's European Division Director, Jorn Klaver, looks at how Spotify have created a new working business model that appeals to the best Technology professionals, and how you can implement it in your own business.

What is the Spotify model?
The rapid growth of digitalisation will continue to pose major challenges for many companies in a wide range of industries in 2022. Keeping up with the changing conditions of the market is pushing many into adopting new business models – an inevitable result of oversaturation and demand for high-value, low-cost digital products. One of the most prevalent is a method intended to drive a specific, agile service offering that minimises additional demands on the organisation: the Spotify model.
As the name suggests, this model was first implemented by the Swedish music streaming company Spotify. They invented an organisational structure which allows several teams of a company to develop individual branches of a product. Though each team acts independently, they still work together to produce an optimal final product. The application of different agile methods in this form has since become a single organisational model.
The Spotify model's ever-increasing popularity with companies inside and outside the tech industry is mainly due to the fact that it has a completely different structure from traditional matrix organisations. Here, the focus is not on the functions of individual departments, such as IT or Marketing, but on developing new, innovative products and services.
How is the Spotify model structured?
The Spotify model comprises so-called Squads, Tribes, Chapters and Guilds: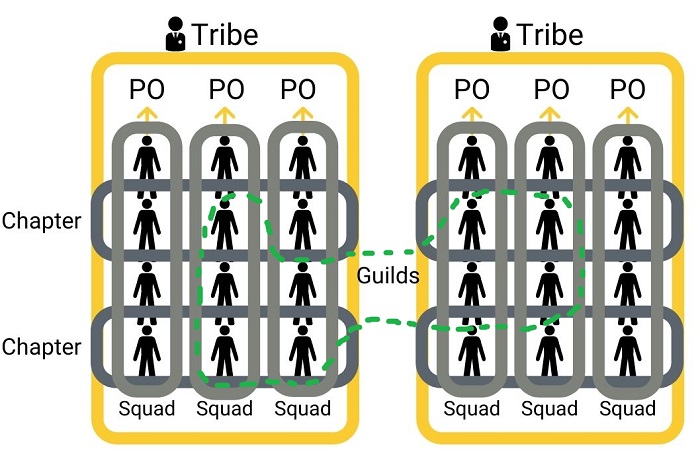 Squads
The self-organising Squads function as the basis of the Spotify model and can be compared to a mini start-up: each includes a multidisciplinary team featuring the best expertise needed for the development of the product. Since the Squad is self-directing, it does not need a team leader – instead all squads are run by the Product Owner who designs the roadmap that visualises the strategic course of the organisation. A so-called Agile Coach helps the respective Squads to identify and overcome any obstacles.
Tribes
Within the Spotify model, Tribes describe a group of Squads that work on the same or related products. Unlike Squads, Tribes have a leader who ensures that an optimal working environment for the Squads prevails. Meetings are held regularly to keep the members of the Tribe teams informed about each other's work.
Chapters and Guilds
Since all professionals with the same expertise are divided into different multidisciplinary Squads, there are Chapters and Guilds in which they come together. A Chapter is made up of Tribe members with the same expertise; for example you may have a tribe consisting of web developers from each squad. The Chapter leadership, often a Senior Technology Lead, organises regular meetings to talk about specific experiences, new knowledge or challenges in the field. They also guide staff in their development and acquisition of new skills.
Finally, there are the Guilds: these are very similar to Chapters. However, while Chapters are tied to a Tribe, Guilds cover the entire organisation.
Why should you adopt the Spotify model in your organisation?
One of the biggest strengths and reasons for adopting the Spotify model is that it allows employees with different knowledge and skills to work independently to their strengths, for the benefit of the same product. The inclusion of Chapters and Guilds helps them share and develop the product within their areas of expertise.
The teams within the Spotify model are therefore given a lot of autonomy, so that they are able to make their own decisions and organise themselves as they see fit. This not only promotes trust and transparency, but also collaboration and experimentation, which ultimately leads to a better product.
Another benefit of the Spotify model is time saving, especially through less bureaucracy: by organising themselves autonomously, teams can work faster and more purposefully, bypassing many formal processes when sharing information.
Finally, an agile offering is a characteristic recognised in attractive employer brands within the modern working world. Qualified technology professionals are attracted to companies that can offer them room for manoeuvre and self-organisation. If you want to ensure your brand is seen as a forward-thinking, modern workplace that benefits tech professionals, this is a strong model to consider.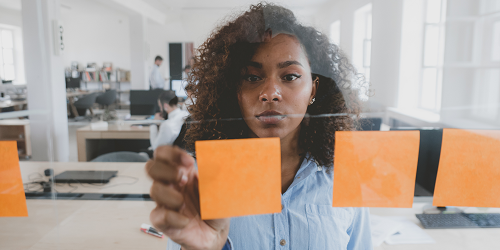 How do you find Technology professionals to successfully implement the Spotify model?
The Spotify model is an attractive proposition to professionals once it's in place, but as a starting point you need to ensure you're able to find Technology professionals who are able to work in an agile way. So how can you secure Product Owners, Tribe or Chapter Managers or general specialists and managers who have experience with an agile organisation and can lead your new structure?
As a specialised recruitment consultancy, Amoria Bond can help you find the right Technology candidates needed to successfully implement the Spotify model.
Our global network includes technology professionals at all levels with experience in the most niche specialisms. And we support you in the development of a new structure by going beyond pure placement: we work with you to understand the specific goals you're reaching towards and offer specialised services ranging from market and competitor analysis to optimisation of the entire recruitment process. As such we cover the full cycle that recruiting new agile Technology professionals may take!
Contact my team and me today to get the best possible advice on agile Technology professionals - or click here for more information on our extensive services.