In celebration of International Women's Day 2022 and the spirit of this year's theme: #BreakTheBias, Amoria Bond's Diversity & Inclusion Committee are leading with positivity by providing resources to help our colleagues and followers to learn and overcome all kinds of stereotypes. The committee, led by Pat Mserembo, Lisa Garner, Helen Cassin and Simon Fearn, has curated a list of recommended books, e-books, audiobooks and podcasts centred around the theme.

Amoria Bond employees can purchase any of the books for free through their monthly book club allowance -a benefit that is available to anyone working within the Group.
And before we get into the list, don't forget to register for our very own LinkedIn Live panel event on 10th March at 2 pm GMT with Amy Steel, Natasha Crump, Fiona Gleeson, Alina Ferrante, Jenny Walsh and Anne Bien, with Gary Elden OBE, who will be showcasing why recruitment, staffing and consulting are brilliant careers for women and why gender diversity is essential for sustained growth in our sector. REGISTER FOR THE EVENT HERE: https://www.linkedin.com/feed/update/urn:li:activity:6903006503549444096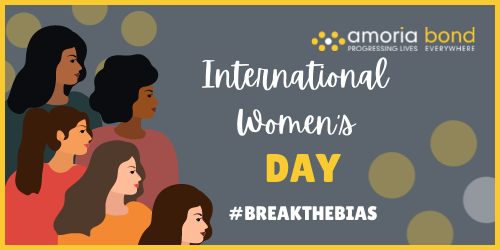 Here are our committee's recommendations:
Books
From Cleopatra to Mindy Kaling, and Aretha Franklin to Emma Watson – each with her own incredible story of how she created life-changing opportunities for herself and the world – you'll get to know these capable queens of empires and courageous icons of entertainment. Also included are profiles of gutsy teenagers who are out there rocking the world right now and personal aspirations from today's young women.
Women in Science: 50 Fearless Pioneers Who Changed the World
The extraordinary women profiled include well-known figures like the physicist and chemist Marie Curie, as well as lesser-known pioneers such as Katherine Johnson, the African-American mathematician who calculated the trajectory of the Apollo 11 mission to the moon.
Why Has Nobody Told Me This Before?
Written in short, bite-sized entries, you can turn straight to the section you need depending on the challenge you're facing - and immediately find the appropriate tools to help with . . .
Managing anxiety, dealing with criticism, Battling low mood, Building self-confidence, Finding motivation and Learning to forgive yourself.
How Women Rise: Break the 12 Habits Holding You Back
Do you hesitate about putting forward ideas? Are you reluctant to claim credit for your achievements? Do you find it difficult to get the support you need from your boss or the recognition you deserve from your colleagues?
If your answer to any of these is 'Yes', How Women Rise will help get you back on track. Inspiring and practical by turns, it identifies 12 common habits that can prove an obstacle to future success and tells you how to overcome them. In the process, it points the way to a career that will satisfy your ambitions and help you make the difference you want to make in the world.
I am a Wonder Woman: Inspiring activities to try. Incredible women to discover
With quirky artwork to bring each story to life, readers can travel the globe and discover remarkable women from across the world, from every kind of profession, with every kind of talent. From American aviator Amelia Earhart and Danish spy Brita Tott, to the Polish physicist Marie Curie and Mexican activist Eufrosina Cruz.
Rise of the Girl – Jo Wimble-Groves
Successful entrepreneur, blogger and mum, Jo Wimble-Groves, identifies the seven most common issues holding girls back from reaching their full potential - including poor self-esteem, peer pressure and fear of failure. With Jo's guided conversation starters and inspiring accounts from successful personalities, you will empower your daughters to face the challenges of childhood and prepare them for an amazing adulthood, as tomorrow's dreamers, doers and entrepreneurs.
Hear Jo on our very own Progressing Lives Everywhere podcast: https://www.amoriabond.com/en/insights/podcast/progressing-lives-through-inspiring-the-next-generation-in-stem-with-jo-wimble-groves-1/
Over the past decade the need for practical leadership skills has grown dramatically in both the private and public sectors. Outstanding leadership has become established as a key requirement for managers at all levels. Managers in organisations of all sizes are also expected to be effective leaders and performance-focused coaches.
Videos and Podcasts
10 Talks By Women That Everyone Should Watch
From colour bravery to healthcare to gender violence and more - these ten TED talks deliver insight into some of the biggest topics facing women today.
https://www.ted.com/playlists/192/10_talks_by_women_that_everyon
10 Vital TED Talks For International Women's Day
Curated by Tangiarenee.com for International Women's Day, these other 10 TED talks centre around positivity and inspiration from women who have overcome so much to be successful.
https://www.tangiarenee.com/10-vital-ted-talks-international-womens-day/
Nicky Lowe Wisdom For Working Mums:
Podcaster, entrepreneur, accredited executive coach and working mum Nicky Lowe is leading a new approach for working mums by providing advice, information and inspiration for anyone trying to balance the expectations of motherhood with the desire to progress their careers and personal goals. Listen to her full podcast series here: https://wisdomforworkingmums.co.uk/podcasts/
You can also hear Nicky talk about her own experience and advice on Amoria Bond's Progressing Lives Everywhere podcast.
Marina Franklin hosts this podcast in which she discusses topics of the day with other women of colour.
https://open.spotify.com/show/5CEsbjoTosOmWmA59PnbXV?go=1&sp_cid=5f786b36bd737f6c96833a495d0a3f18&utm_source=embed_player_p&utm_medium=desktop&nd=1
The Broad: Women, the workplace and success
Tackling "the things everyone's thinking about, but we don't talk about", The Broad Experience is a podcast that centres around the issues facing women in the workplace.
https://www.thebroadexperience.com/
Former first lady Michelle Obama brings her own wisdom and insightful questioning towards her guests in a podcast series that spans politics, health, friendship, the pandemic, work, marriage and more.
https://open.spotify.com/show/71mvGXupfKcmO6jlmOJQTP