The social media world is awash with the colour of a million company logos reimagined in rainbow hues for the month of June. Workplaces everywhere are showing their Pride, collectively representing the progressive shift towards greater inclusivity in global workplaces.

But as it becomes more common to fly the rainbow flag, it's also important to be clear about why your company is celebrating Pride.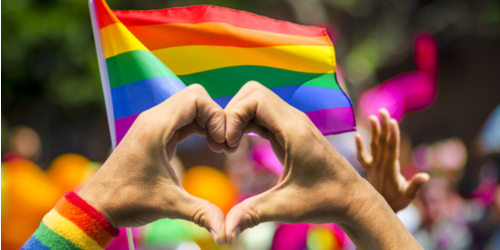 We've written previously about the trap of rainbow-washing and why it's important not to forget your commitment to the LGBTQ+ community as soon as Pride month is over. Changing your company logo simply isn't enough, companies in favour of diversity & inclusion need to take meaningful, lasting action.
It's the sort of thing that's getting increasingly noticed, with younger people in particular more likely to call out brands for performative acts of recognition rather than proving that they're doing more work, year-round to support the LGBTQ+ community and end workplace discrimination.
If you are celebrating Pride then, it has to be meaningful. But why is it important for companies to recognise and celebrate Pride month to begin with?
To normalise behaviour
For every company waving a rainbow flag on social media, there are still many more conducting biased hiring practices, ignoring workplace discrimination towards LGBTQ+ staff and taking little to no action to improve inclusivity. That's not to say it's all deliberate - in so many cases this can stem from unconscious bias or a simple lack of awareness. And that can stem from outdated ideas of workplace cultures and hiring processes.
By celebrating pride in a way that actively promotes your inclusivity commitments and meaningful actions, you can contribute towards normalising a different kind of workplace culture. One that is open to everyone, that shines a light on these unconscious biases and increases awareness of damaging practices.
Amoria Bond does this by always being open about our D&I commitments and holding great events centred around calendar events like Pride Month. Our rainbow logo stays in place from June until the end of August, in recognition of Manchester Pride Weekend - an important event in our home city.
That's in addition to decorating our whole office for Pride month, holding fun events like our Pride-themed sales day and live DJ sets and hosting open discussion forums centred on LGBTQ+ awareness for all our employees.
We share our events on our website and social media channels not to get recognition but to celebrate the activities we're holding and role modelling behaviour that we'd like to see across the industry.
To give acknowledgement
It's important to recognise the contributions of LGBTQ+ employees to your business. In a world when these voices are still too often silenced or ignored, celebrating their achievements publicly can make a huge difference.
It's estimated that one in five LGBTQ+ employees in the UK does not feel comfortable enough to be out in the workplace. By acknowledging those employees who are part of these communities, you're demonstrating that your workplace is a safe space for everyone to be their authentic selves.
No one should have to hide who they are to get by at work, so recognise those that are making a difference to your business in a way that is visible to anyone who may be hiding their true selves.
To educate
Pride month is a great time to share learnings about the LGBTQ+ community that others may not have had the opportunity to be aware of. The best way to overcome any kind of discrimination is through education - dispelling myths, increasing awareness and showing people how they too can make a difference.
But you can't just sit everyone down and lecture them. This is a great time to get creative and find ways to share your knowledge with the wider world.
At Amoria Bond we have a number of internal and external educational initiatives around Pride month, all led by our internal Diversity & Inclusion committee. This committee has put together materials and videos we share across our social media profiles, and leaflets with LGBTQ+ and Pride facts that they've distributed through the office. This will all culminate in a Pride themed pub quiz for all our employees, giving everyone a fun incentive to take in that knowledge.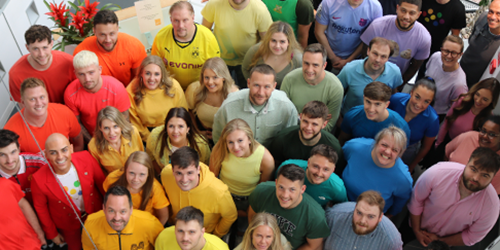 To reach out to the community
We touched on this in "acknowledgement" above, but it's worth highlighting again that there are still many people in the LGBTQ+ community who are afraid to come out - not just at work but in daily life.
By showing your allyship, by openly celebrating events like pride and LGBTQ+ rights, you send a signal to those people that it is ok to be themselves in your office, when dealing with your workers, when engaging with your services.
When a company is silent, that silence becomes the message. It suggests the company is not open to listening, not open to change, not open to anything that might deviate from the long-established culture. Even if that's not the case, even if a company considers themselves open and inclusive, if you're not talking about it then people won't know about it.
And what's more, if you have diversity initiatives and inclusive hiring practices in place, but you're not open about it - there's no accountability.
At Amoria Bond we wear our D&I initiatives on our sleeves. We're open about everything we do, we promote the importance of diversity regularly and we release an annual diversity & inclusion report showing the impact that our strategies make, our strengths and weaknesses, our success and our failures. We make these public so we can hold ourselves accountable and so that we can prove that the steps we take aren't just talk, they're genuine.
And internally we continue to work to make this an open, accessible workplace for everyone with open forums and discussion sessions on LGBTQ+ issues led by our diversity and inclusion committee, which any of our employees can join to listen, share and offer support in a friendly, safe space.
To have fun
One of the greatest things about Pride celebrations is how fun they are. From the tragic beginnings of the first pride protests after the Stonewall riots, to the violence, hatred and oppression that still goes on in neighbourhoods, communities and countries around the world, the LGBTQ+ community has felt immense suffering. And yet through Pride we fight back with love, music and celebration.
Yes it's a serious topic and it needs to be treated seriously. But sometimes the best way to win people over is with fun and if you're doing that as a business you can bring more attention and do more to normalise, educate, acknowledge and reach out.
From our pub quiz to our live DJ sets to our prize-laden sales day, Pride month at Amoria Bond is all about fun, and our office has never looked better than when it's fully decorated in rainbow flags and Pride posters. Fun is one of our values so it's something we take seriously in our offices, so we make sure that our Pride celebrations create a great experience for everyone.
Whatever kind of business you're in, it's important to recognise events like Pride month and create inclusive, visible and meaningful messages. Show that your business is aware of the challenges, show that you're taking steps to improve inclusion and show that you support the LGBTQ+ community. Then fly the flag.
If you're hiring and want to ensure access to a diverse pool of talent, led by a company that is dedicated to upholding its D&I commitments, get in touch with Amoria Bond today.