Amoria Group are delighted to be shortlisted for not one, not two, but THREE Talint Partners TIARA Recruitment Awards for 2023!

This year we're finalists for:
Growth Recruitment Company Of The Year
International Recruitment Company Of The Year
Best Recruitment Company To Work For (£100m+)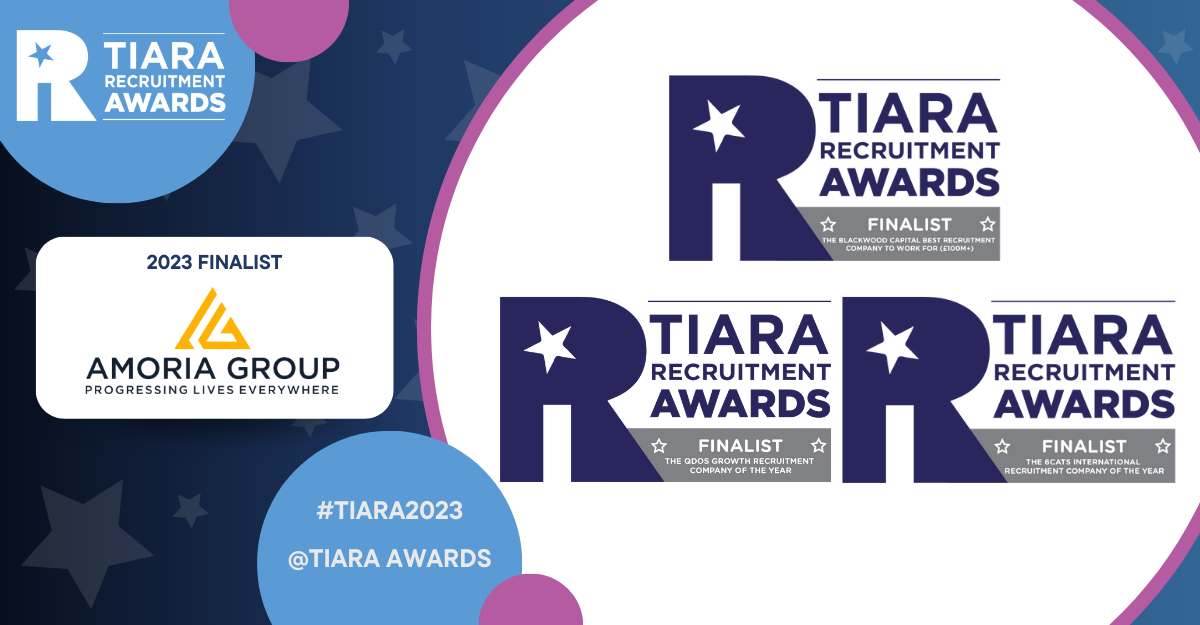 Chief People and ESG Officer Natasha Crump commented: "This is the first time we've ever been shortlisted as 'Amoria Group', which is really exciting and reflects our collective strength! The range of categories we've shortlisted for is also a testament to what makes us so special as a business.
Fingers crossed for October 18th, when the winners will be revealed!"

Last year we were delighted to be Highly Commended for Best Recruitment Company To Work For, having brought home the award in 2021 and 2020.
This year with positive responses from our ED&I survey (100% of our people said "Amoria Group is committed to Equity, Diversity and Inclusion"), the introduction of our new bespoke learning & development portal, our refreshed people policies and our ongoing commitments to delivering a fun and inclusive workplace culture, we think we've got the strongest argument for being the Best Recruitment Company To Work For that we ever have.
99% of employees say they enjoy working here - that tells us everything.
We were also shortlisted for International Company Of The Year, which reflects our established and growing reputation for Best Service across the globe in our specialist markets, with a worldwide network of engineering professionals available to our clients through our recruitment and consulting teams in the UK, Germany, The Netherlands, Singapore, Vietnam, Malaysia and the USA.
And for the first time ever, we were shortlisted for the first time for Growth Recruitment Company Of The Year, which is a significant endorsement of the expansion we've achieved in 2022 and 2023 (including new offices in Dallas and Vietnam, relocation to bigger offices in Cologne, imminent move to bigger offices in Amsterdam and expansion of our Manchester HQ) as well as recognition of our operating resilience and the credibility and strength of our strategy for successful continued growth.
Plus, it recognises the 2023 official launch of Amoria Group, bringing together our existing Amoria Bond and Coalesce Management Consulting brands under one hybrid professional services business that offers clients the benefits of both.
Learn more about what we've been up to so far in 2023 in the below video.
The Tiara Recruitment Awards 2023 will be announced on the 18th of October, and we're looking forward to seeing the results!

Be part of our award-winning culture
Join our award-winning specialist recruitment teams. Find out all about our inclusive, fun culture, the benefits of working with us and the latest opportunities for progressing your own life and career #InsideAmoria.