As we make the Fast 50 list for the eighth time, it's clear that nothing can slow Amoria Bond down.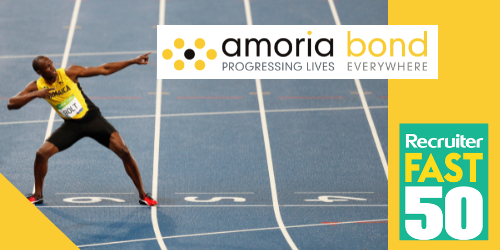 For the fourth year running - and eighth time overall - Amoria Bond has been featured in the Recruiter Fast 50 list of the fastest-growing, privately owned recruitment companies in the UK!

Getting featured repeatedly in lists like the Fast 50 is a great way to boost our collective drive to pursue our ambitious GROWTH strategy. Our determination to become the best service-driven consultancy and staffing group in global STEM markets and to remain the best recruitment company to work for has been the foundation of this strategy - which has so far been proved successful by our sustained year on year international growth.

We have scaled up not just quickly but dramatically: we are now the 12th largest recruiter on the Fast 50 list, sitting proudly amongst some exceptional and ambitious UK companies.

This annual list is prepared by Clearwater International on behalf of The Recruiter magazine and takes into account the growth rate in revenue of UK businesses over the three most recent annual reporting periods.

But our growth has been so much more than just revenue. We've expanded our international presence and increased our headcount in all of our global offices, following the strategy set out in our ongoing GROWTH plans. These plans will see us continue to create new opportunities for recruiters and an increased service capability for our clients and candidates through a range of initiatives, including opening three new international offices in 2022.

We're continuing to increase the capabilities and development of each of our recruiters through our world-class learning & development provision and our commitment to providing progression opportunities for everyone. Through this, we can continue to ensure that our teams are motivated and capable of delivering the very best service to all our clients, helping us achieve even faster sustainable growth.

If you want to join one of the fastest-growing companies in the UK and take advantage of our global opportunities, exceptional personal development strategies and award-winning workplace culture - why not join our team? Search our latest vacancies today.