Why is it so hard to find cyber security professionals? Cologne-based principal consultant Basma Shamoun is experienced in finding external specialists to provide cyber security within the automotive, industrial automation and future mobility sectors – areas in which cyber security these days plays a major role. She's well aware of the shortage of cyber security professionals in the advanced engineering sector and offers her thoughts on the importance of finding the right people, and why there is such a big opportunity for anyone with relevant experience to take advantage of the need for contract professionals.
Cyber security jobs in advanced engineering have been increasing steadily: from Cyber Security Engineers for Embedded Systems to Cyber Security Product Owners to Cyber Security Software Developers, the complexity and variety of roles available has yet to peak.
The demand for professionals in this area is particularly high in 2021 - but finding the right candidate is difficult. According to a study by Trend Micro, more than half of German companies (56%) lacked the necessary IT security experts in 2019. This is a serious problem for companies in advanced engineering, as the number of security incidents is also increasing, and one incident can result in damages worth millions. Especially in the automotive sector, IT security vulnerabilities are tricky, as we'll explore further below.
Why are cyber security professionals so difficult to find?
First of all, the shortage of cyber security specialists in the field of advanced engineering can be explained by the fact that the required talents must have a lot of skills and experience, much of which must be focused on very specialised areas. A degree in a technical field, e.g. IT or electrical engineering, is usually essential just as a starting point. In addition, good knowledge of programming languages such as C, C++ or Java is usually required, coupled with skills in relevant security technologies. And that's before you get into all the field-specific experience that's needed to work in automotive, industrial automation or other sub-sectors of advanced engineering.
But training, knowledge and experience are only one part of the puzzle. In the global marketplace, where international applicants are needed in order to keep up with global competition, cultural factors like language barriers can contribute to the acute shortage of skilled workers in the cyber security sector. Even if the most talented engineer or the most experienced developer meets all the desired requirements - if he or she does not speak the corporate language, working together is unfortunately often considered too difficult.
Another reason for the lack of cyber security talent is that there are often too few further training measures available within the companies themselves. Often, there is a lack of only a few skills that could be built up with the help of appropriate further training in the form of external or web-based seminars or in-house training. But the lack of provision of such training makes it almost impossible for lateral entrants to progress, despite great interest and relevant expertise.
Why is the shortage of skilled workers in the cyber security sector such a serious problem?
The problem with the current situation is obvious: the lack of cybersecurity professionals affects companies' security level and leads to potential threats. Cybercriminals can take huge amounts of data from companies using relatively simple tactics that could be avoided with processes put in by a knowledgeable professional. The automotive industry, where vehicles are now often software-based and feature a high level of connectivity, is a particularly open target for cybercriminal attacks. Protecting against these is an operational effort that many companies are finding difficult or impossible to manage due to a lack of experts.
And it is not only the companies at risk. If hackers use interfaces to manipulate a networked car and can thus remotely control brakes and steering, for example, this is a serious safety problem that affects the general public. Here, the urgent need for skilled personnel in the cyber security sector of the automotive industry becomes particularly clear.
Another problem against the backdrop of the shortage of skilled workers is that in the era of remote working, corporate data can be accessed more easily via file-sharing services and cloud services: exposing companies to even more risks. The pandemic-related shutdown economy has therefore seen a massive growth in cybercrime.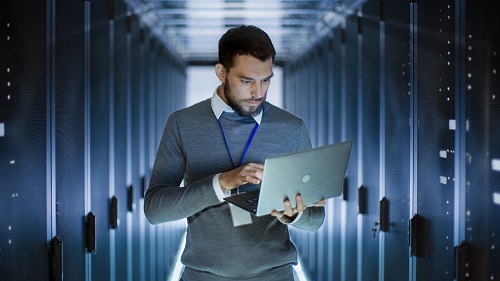 How freelancers can benefit from the opportunity this provides
What is currently a challenge for many companies across Germany can mean a great opportunity for qualified professionals to use their skills, broaden their experience and progress their careers even further. Anyone who has a relevant qualification for advanced cyber security positions can virtually choose their job: they are a rare resource that is very well paid – particularly in areas like the automotive industry.
Freelancers in particular are a great solution for companies to counteract the shortage of skilled workers. They usually not only bring very specialised skills through years of experience in various projects but are also the candidates who can be reached at the shortest notice. This is why my team and I offer this as a great solution to our clients on a daily basis.
Are you a freelancer yourself and looking for a new opportunity? Then take a look here for interesting challenges.
How can you find ideal candidates with our help?
If you're in need of a cyber security expert to work within the advanced engineering sector, my team can help you.
Every day, we search the market for experienced freelancers - even before our clients actually need them. Our job is not just to find and placed professionals. Our specialist recruitment service offers much more: from market and competitor analysis to optimising the entire recruitment process; we cover the entire cycle that a new hire requires.
In the end, all these aspects contribute to shortening your recruitment time, reducing your recruitment costs and improving the overall quality of the process.
Even in a skills short, high demand, difficult to fulfil area like cyber security for advanced engineering jobs, Amoria Bond is the team you can trust to find you a specialist professional quickly.
So don't hesitate and contact us today to learn more about our specialist recruitment services.