We are just six weeks into 2023 - it may not seem a lot, but at Amoria Bond that's plenty of time to make an impact, hit some targets and set up your next progression. And that's exactly what Giuseppe Baldi, Helen Cassin and Sam Ntatalikas have done! Congratulations to all!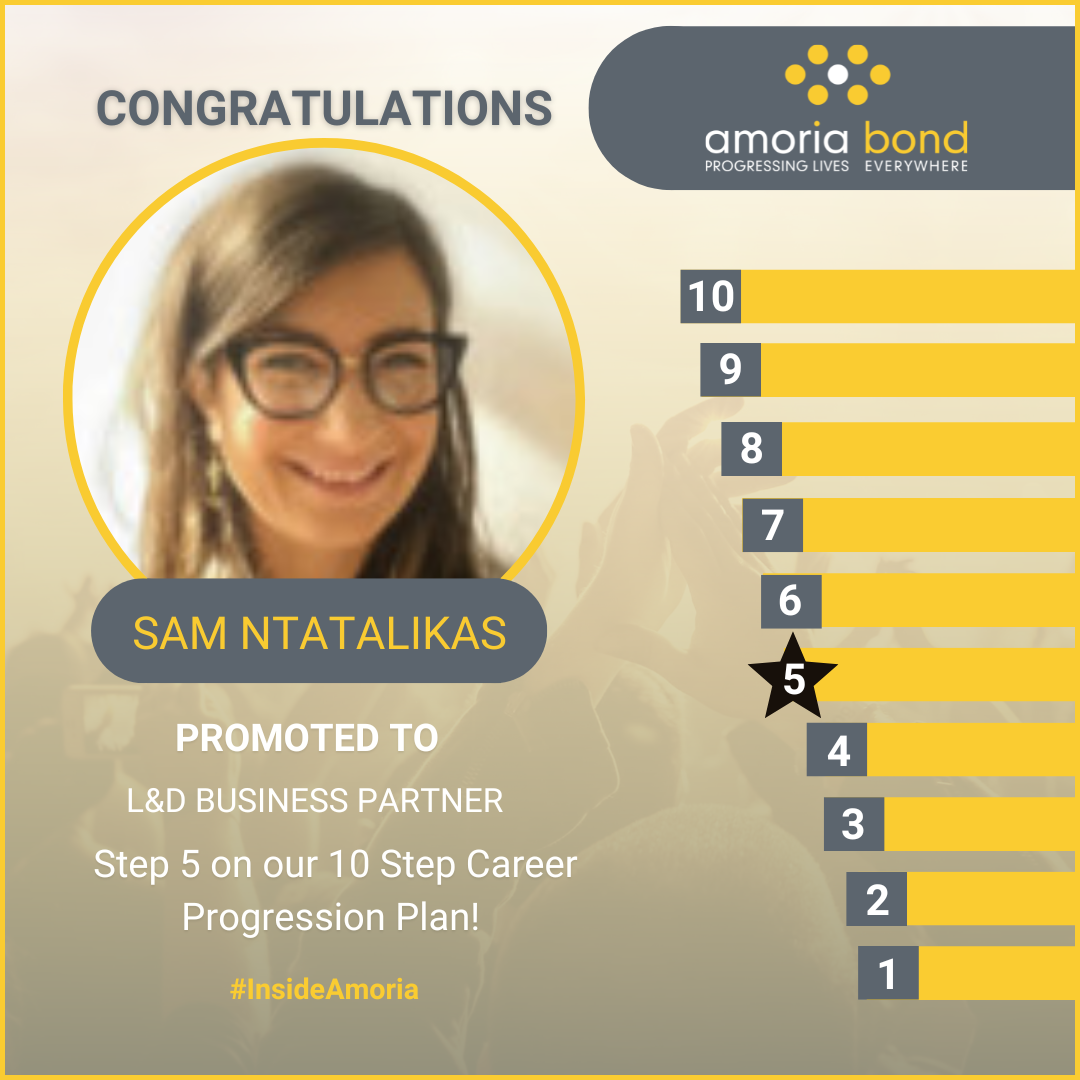 Sam Ntatalikas - L&D Business Partner
Having only joined the business in July, initially working just 2 days a week remotely from Greece, Sam's impact on our leaders and managers in the UK and APAC was immediately visible. With their impact growing quickly, Sam soon excelled and increased their time and remit within the business following a move back to Manchester, taking a lead within the L&D team to launch our new Group LMS.

Their skills and experience in creating, curating and delivering amazing content has been invaluable to us in building the new platform, creating an enhanced New Starter Learner Journey in collaboration with our global L&D team, and curating bespoke learner playlists within the new platform for colleagues at all levels of experience, tenure and progression in our business globally including ED&I, Management & Leadership, and Mindset & Resilience.

With that, Sam was promoted to L&D Business Partner - becoming the first person to ever hold this role in our business!

Chief People & ESG Office Natasha Crump commented: "Sam is tenacious and delivery focused, plus she's an awesome L&D content creator and coach! Feedback from colleagues Sam has coached and trained so far has been unanimously positive – citing tangible progression towards both personal and professional goals.

"I am delighted Sam has agreed to step up substantively into her new hybrid role as L&D BP, which will see her split her time between continuing to coach our UK and APAC leaders and managers, plus taking ownership of the LMS for the Group to continuously develop and improve the content and learner journeys.
"Congratulations Sam!"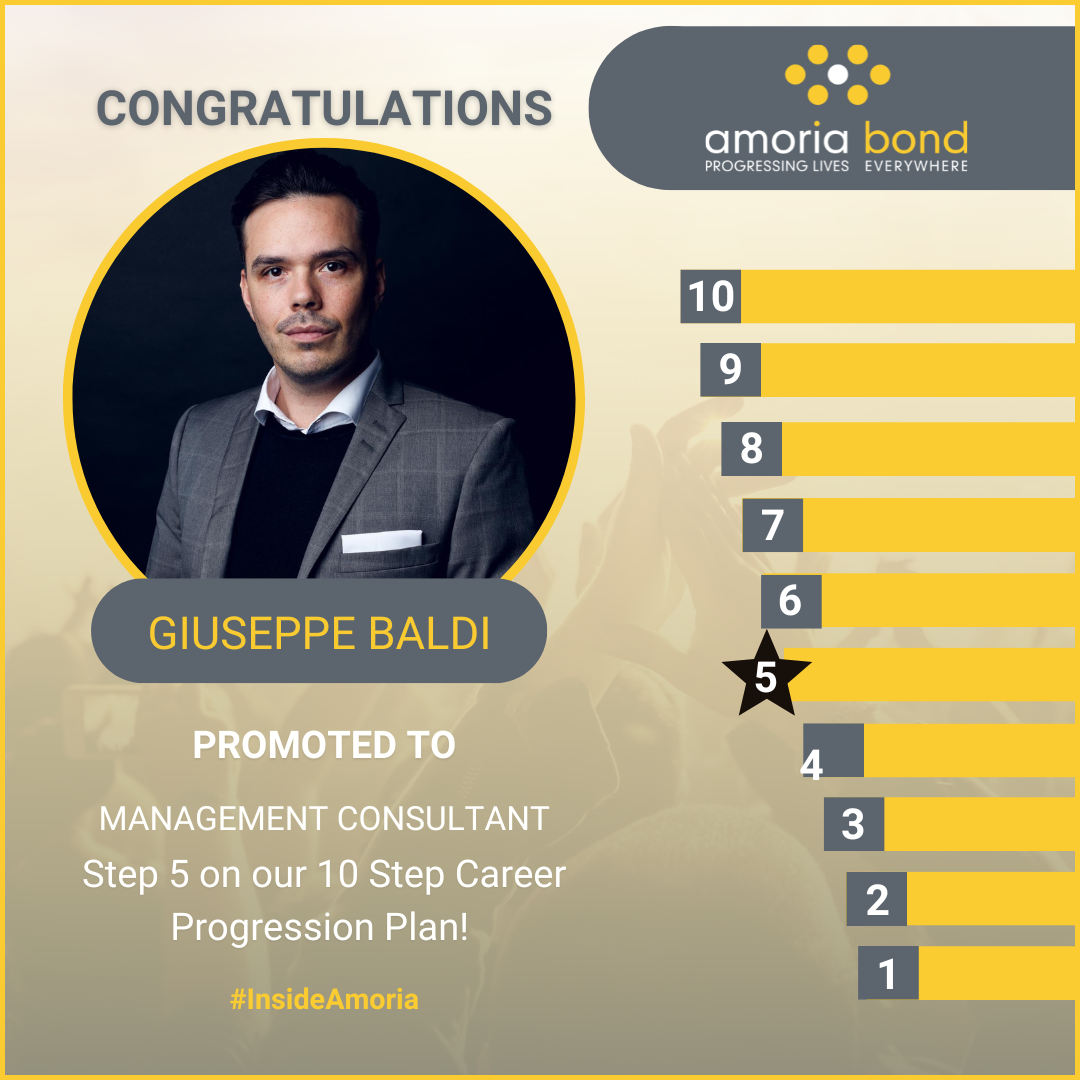 Giuseppe Baldi - Management Consultant
Just 8 months after Giuseppe was promoted to Senior Principal Consultant, and only two months after welcoming a third child to his family, Giuseppe still shows no sign of slowing down, with an incredible work ethic that has seen him deliver huge amounts of business and a high level of service to his clients - with several positive client testimonials all speaking highly of him.
He continues to help out, bringing Italian passion and energy to providing training sessions and day to day support within the team. He's also stepped up researching external training opportunities in areas he wants to strengthen, going the extra mile to ensure we're best placed to continue delivering the best service.
Jorn Klaver, Director, commented "Well Done again mate, pleasure to have you on board and looking forward to more!"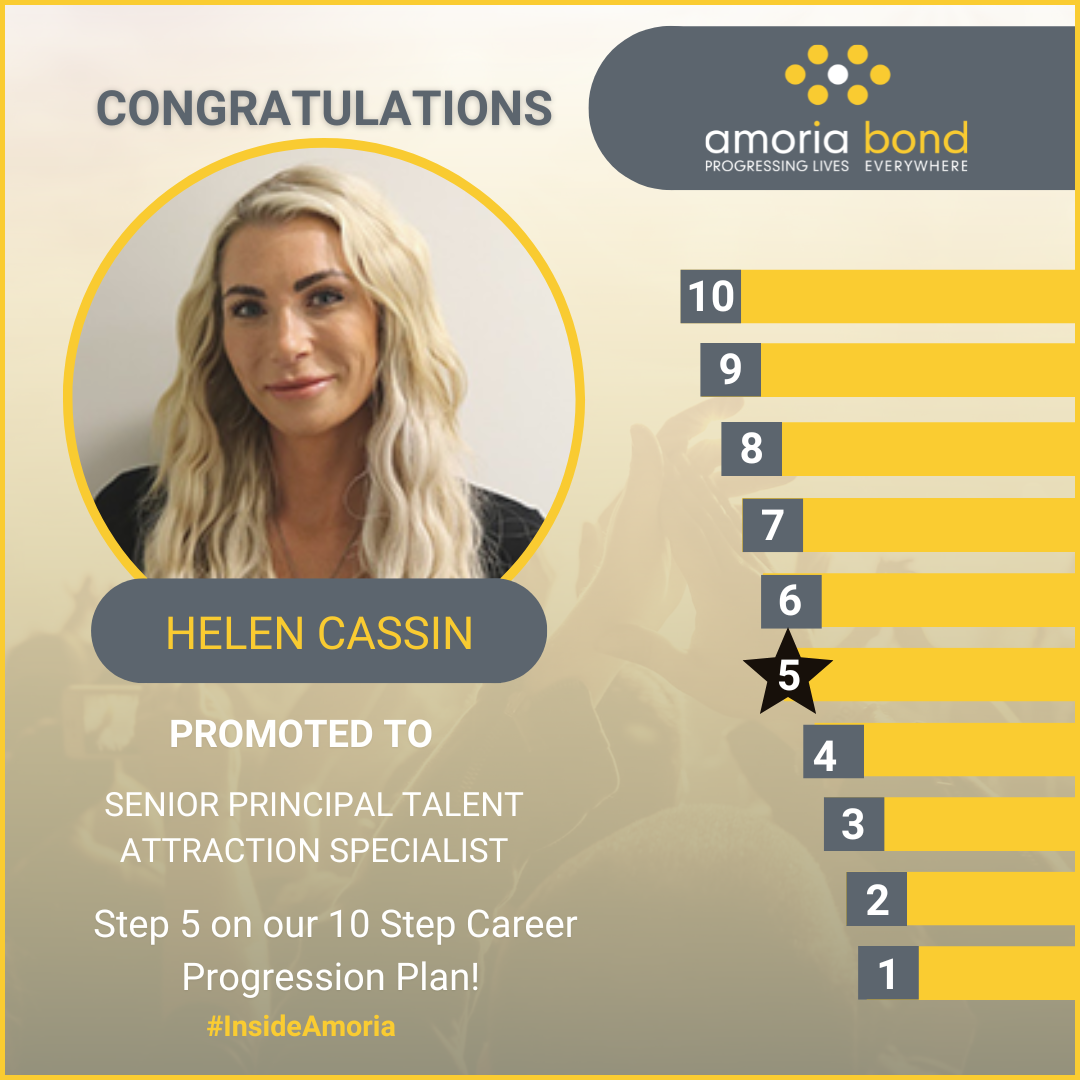 Helen Cassin - Senior Principal Talent Attraction Specialist
It was only 6 months ago that Helen was promoted to Principal TA specialist and since then she's absolutely smashed her promotion target, 3 months ahead of expectations!
Having brought in 21 new faces to the business, Helen's record in helping Amoria Group grow would be enough - but she also does so much more. She has been instrumental in improving our hiring and onboarding process, she has been a massive ambassador of personal branding and has seen a huge uptake in her engagement on socials and really sets a fantastic example for the whole TA Group across the business.
She also takes on a huge amount of responsibility within our UK Diversity & Inclusion committee - regularly chairing meetings and taking a lead on initiatives like D&I-themed quiz nights, DJ events, Pride celebrations and more.
Helen's success and hard work were recognised at the end of last year, winning both the local and groupwide awards for TA of the year – and deservedly so!
Regional Talent Attraction Manager Jenny Walsh said, "Helen is a huge part of our business and our culture here, she radiates PROFES, is incredibly hardworking and is immensely talented at what she does.
So I am thrilled to have promoted her to Senior Principal Talent Attraction Specialist! Congratulations Helen!"
Progress Your Life
Be part of a culture that celebrates and provides opportunities for progression in your career. Join Amoria Bond today and you could be rising through our 10 steps to the top - taking you from trainee to Board Director in just 10 steps.
Find out how - check out our latest opportunities.