Once again we can proudly announce multiple progressions within Amoria Bond, with 4 people from our offices in Manchester, Amsterdam and Cologne getting promoted in recent weeks, each moving up our
10 steps to the top progression plan
and each getting
100 trees planted
in a global location of their choice!
Congratulations to Helen Cassin, Tobias Zwadlo, Franziska Koch and Federico Bianchi!
Helen joined Amoria Bond just nine months ago, but since then has completely refreshed Manchester's internal Talent Attraction team with her positive energy and her infectious smile. She came in never having done internal recruitment before but approached it with a real can-do attitude and she has shown everybody what is possible from a TA perspective.
Bringing new people into the business is an important part of our G.R.O.W.T.H. strategy which makes Helen's job all the more important, and Helen's contribution to the team is no doubt part of the reason we're currently shortlisted for "Best In-House Recruitment Team" at the Recruiter Awards 2022. The feedback from everybody that she has placed and the candidates that she interacts with is always incredibly positive. In fact, a candidate she had interviewed recently said that he'd never felt so welcomed into a business and that she was so helpful to him throughout the process that he knew we were the right business to join.
If you'd also like to feel welcomed into a business with a unique, inclusive workplace culture, get in touch with Helen or take a look at all our recent internal vacancies.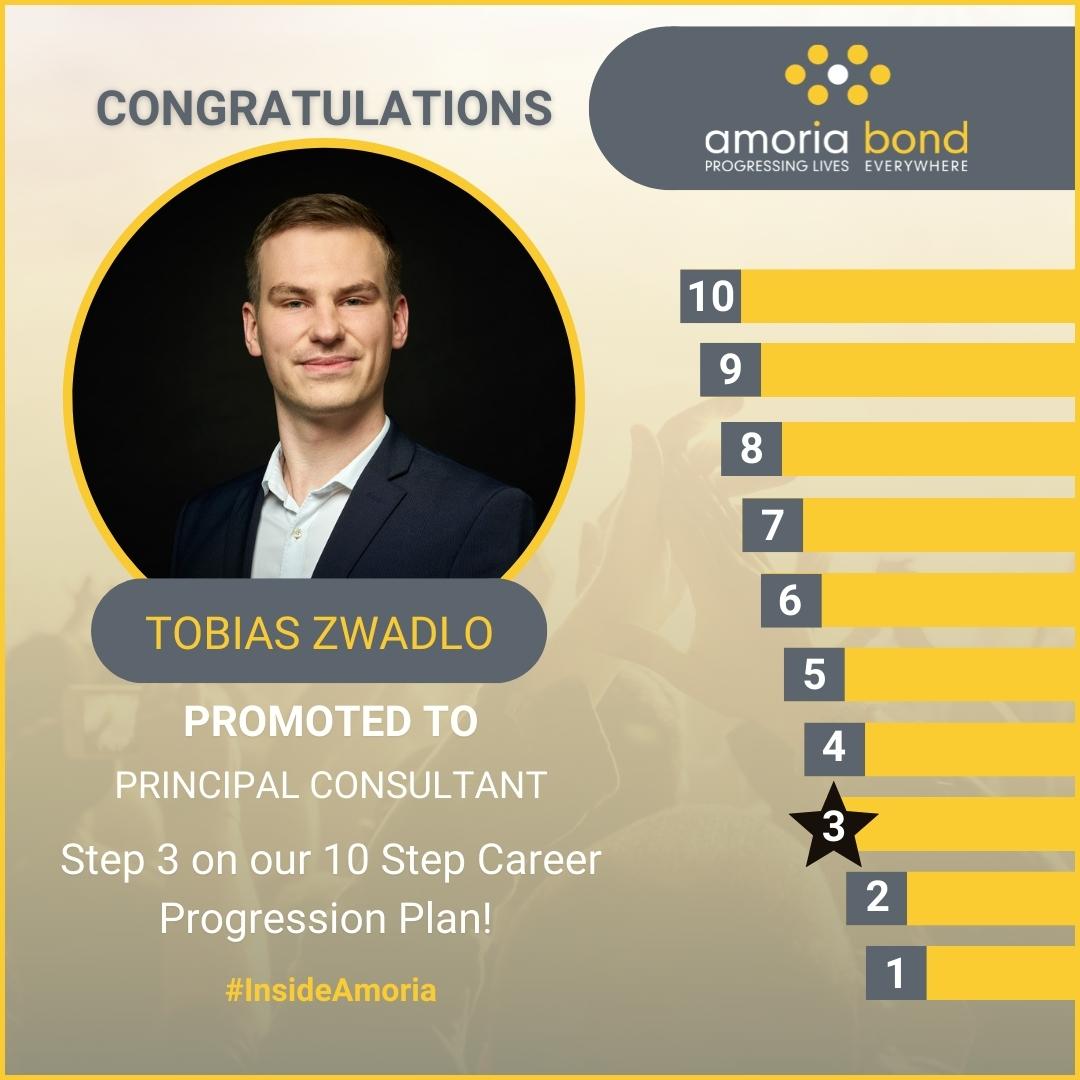 Massive congratulations to Tobias Zwadlo as well, who has reached step 3 on the progression ladder and can call himself Principal Consultant!
Since Tobias joined in January 2021, he has shown diligence, resilience and pure motivation: it is not unusual for him to be one of the last to leave the office - and it is not without reason that he was awarded the internal Best Newcomer 2021 Award.
Climbing three steps in just 1.5 years is impressive - Keep it up, Tobi!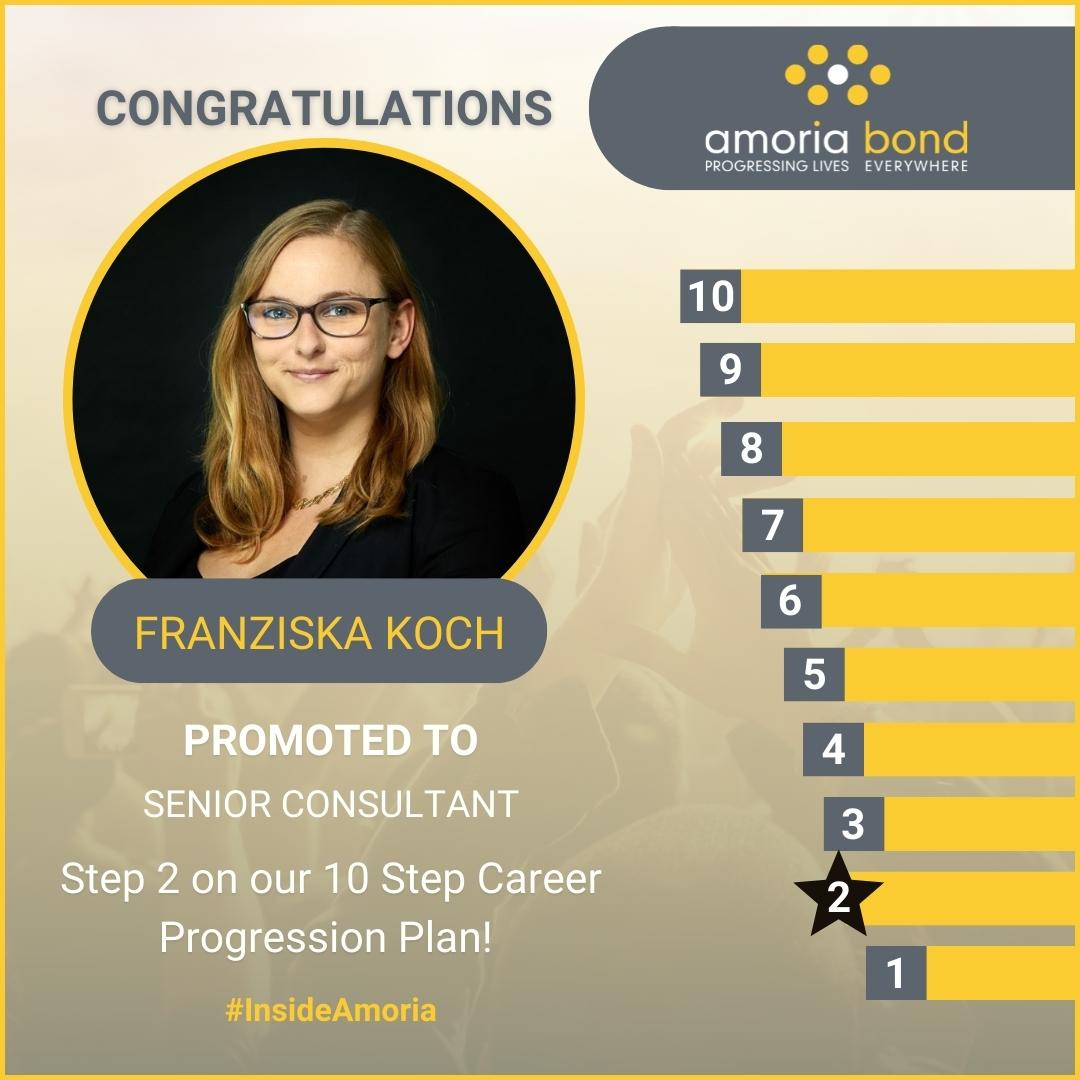 Congratulations to Franziska Koch who has been promoted to Senior Consultant!
After starting 1.5 years ago, her hard work and dedication have now taken her to level 2 of our 10-level promotion plan!
As her team member Basma Shamoun shared, Franzi is not only hardworking, patient and always open for feedback, she is also a great help to the whole team and supports where she can. "You can rely on her and she has shown the behaviour of a senior for a long time. She is a lot of fun to work with and we appreciate her sense of humour in the team!"
Well done, Franzi!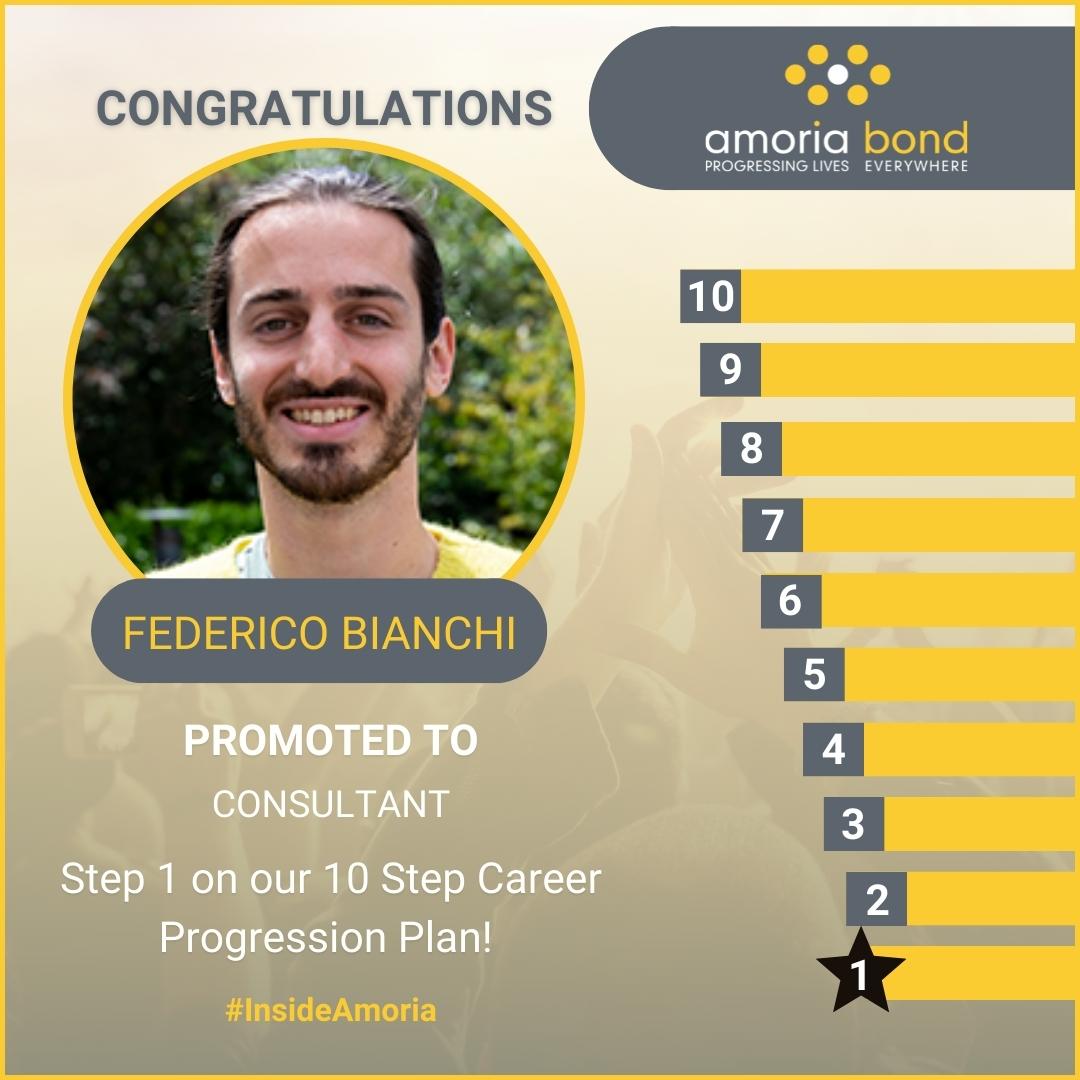 And last, but not least, congratulations to Federico Bianchi who has earned his first promotion just 5 months after he started at Amoria Bond. Making his first few placements earned him his promotion to Consultant and with his positive attitude and determination, we're sure it will be the first in many to come.
If you want to be part of a company culture that rewards collaboration and provides everyone with clear goals and a ten step progression plan that takes you from trainee to board director, get in touch with our friendly talent attraction team or check out our latest opportunities today.