Once again, Amoria Bond is celebrating the progression of our people - this time six at once! Congratulations to Paul Francis from our Manchester Office as well as to Pierluigi Gaeta, Tizian Halstrick, Lena Tesmer, Luisa Schmielewski and Thomas Uttecht from Cologne on their well-deserved promotions!
Paul Francis – Associate Director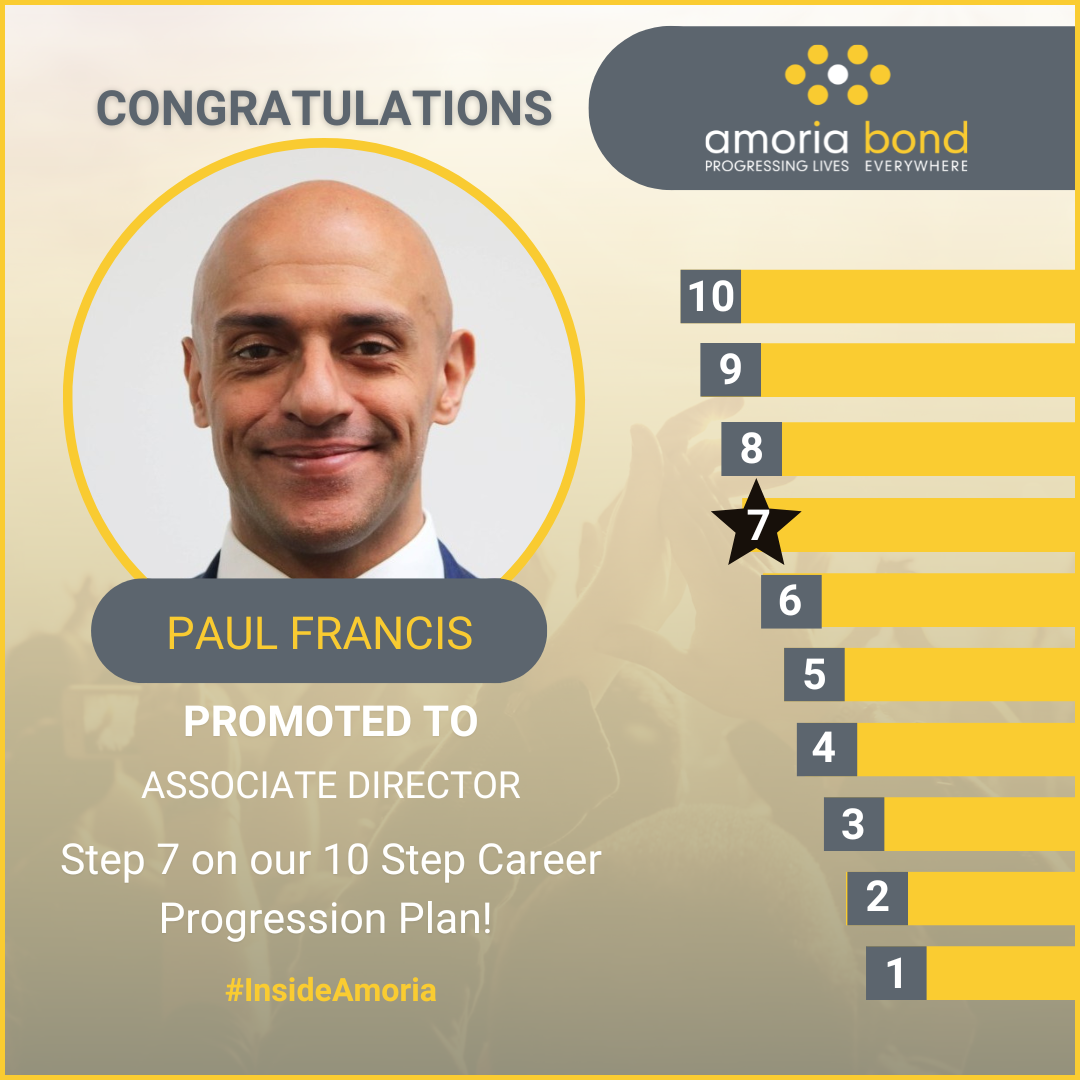 Two weeks ago, during the Advanced Engineering Leadership Conference at Shrigley Hall, Matthew Roebuck had the pleasure to promote Paul Francis to Associate Director!
3.5 years ago, Paul took a leap of faith and joined Amoria Bond, after spending 12 years at another big recruitment company.
He took a step backwards from his role as Associate Director, to join us as Business Manager for UK Perm, which in itself required courage & belief.
Over the last 3.5 years, Paul has had to demonstrate the following characteristics in order to get to where he is today:
Resilience – He has re-built the UK Perm team pretty much from scratch after COVID, growing from 4 people to 13 people
Adaptability - Moved away from old markets (Rail & Infrastructure all over the world) and Diversified into new markets - Renewables / Electronics Development in USA & EMEA
Persistence by driving a sales model in AHCM (Add the right data / Hit the right data with the right information / Call the right data / Meet the right people)
Patience - to hire, train & develop people from rookie level all over again
Role Model – Client Development, Client meetings & helping to negotiate terms in new markets / territories
Vulnerability - surveyed his own team to get feedback on development areas and taken action on those
Well done Paul – it's a pleasure to have you as part of the Senior Leadership team!
Lena Tesmer – Consultant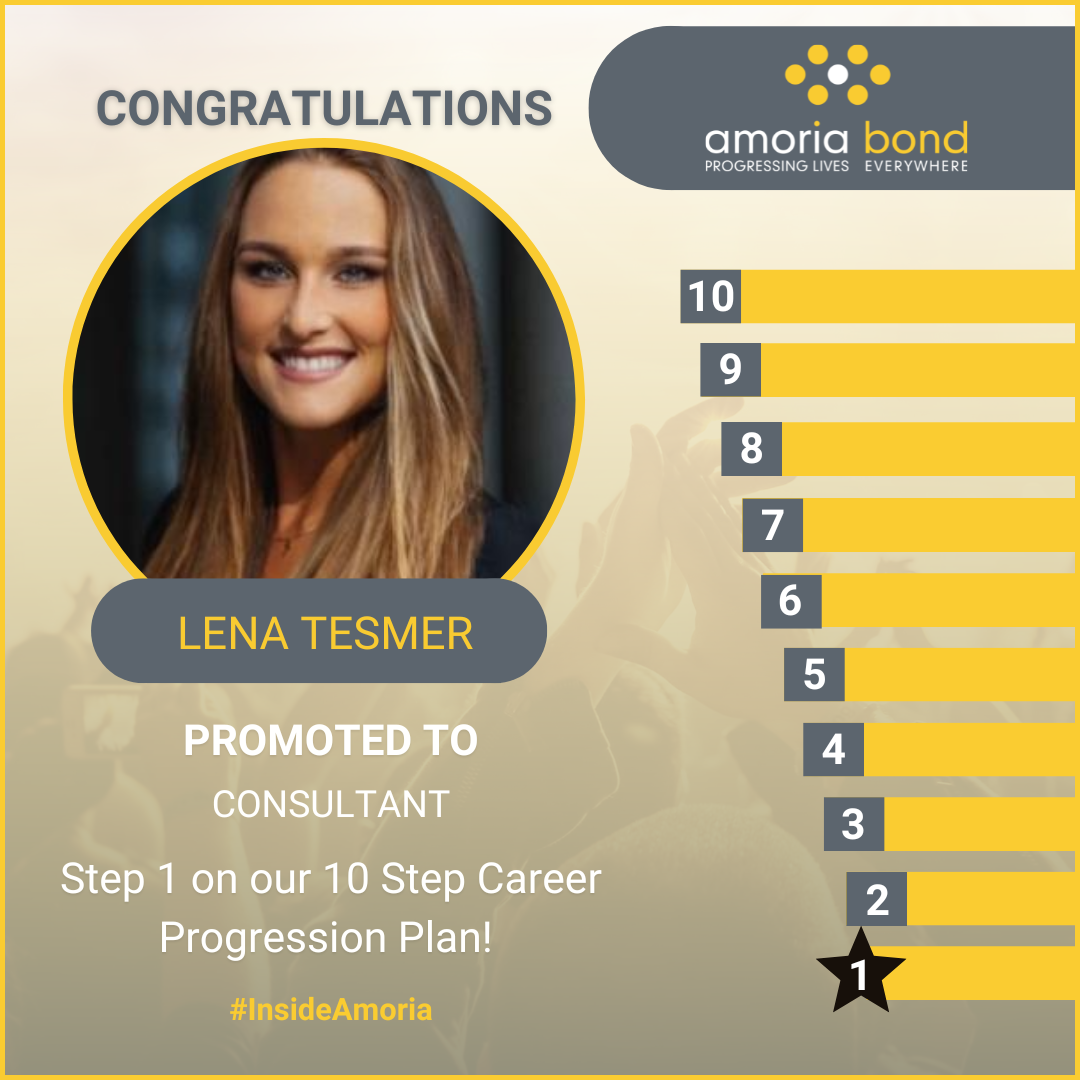 Another promotion was recently achieved by Lena Tesmer! After only starting with us in Cologne in May 2022, she was ceremoniously promoted to Consultant in the brand new local office a few days ago.

During the announcement, her manager Mariano Mei particularly emphasised her gift for booking meetings and closing deals quickly and efficiently. Through her motivation and resilience, she was able to work her way up so rapidly within a few months that Mariano is confident that she will not have to wait long for her next step to Senior Consultant!
Tizian Halstrick - Consultant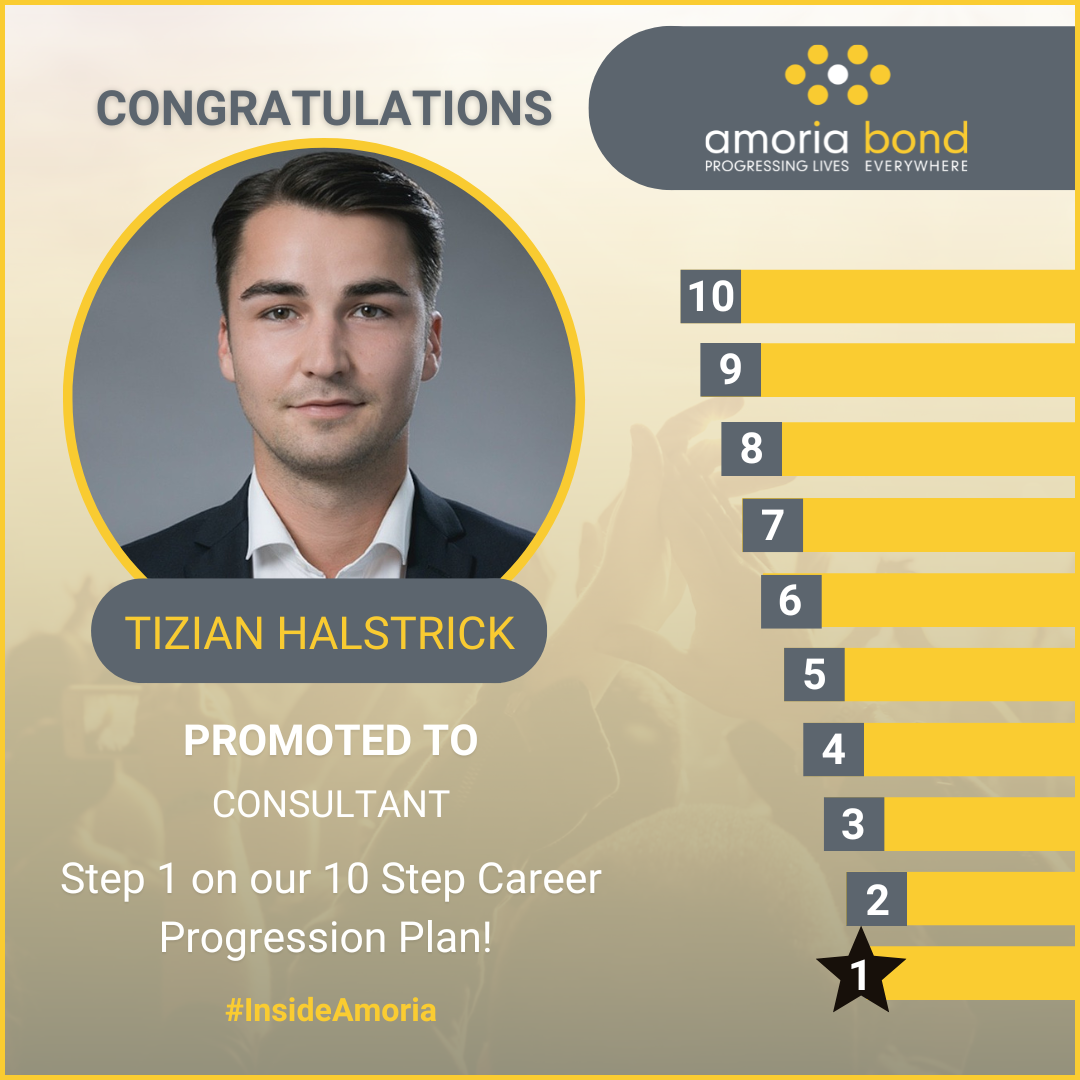 A short time later, Alina Ferrante's IT Development team also had something to celebrate. Her trainee Tizian Halstrick was promoted to Consultant!

How did he achieve this? Alina emphasised above all his discipline, which he displays on a regular basis. Although he has a commute of 1:20h, he is often one of the first in the office - as well as one of the last to leave it in the evening. With a lot of determination and motivation, he has already built up two key clients, is always open to new things and always goes beyond limits. In the market, he always presents himself for long-term relationship building.

Alina ended the announcement of his promotion with the words: "Thank you for making my entry into leadership so pleasant!

Pierluigi Gaeta - Senior Principal Consultant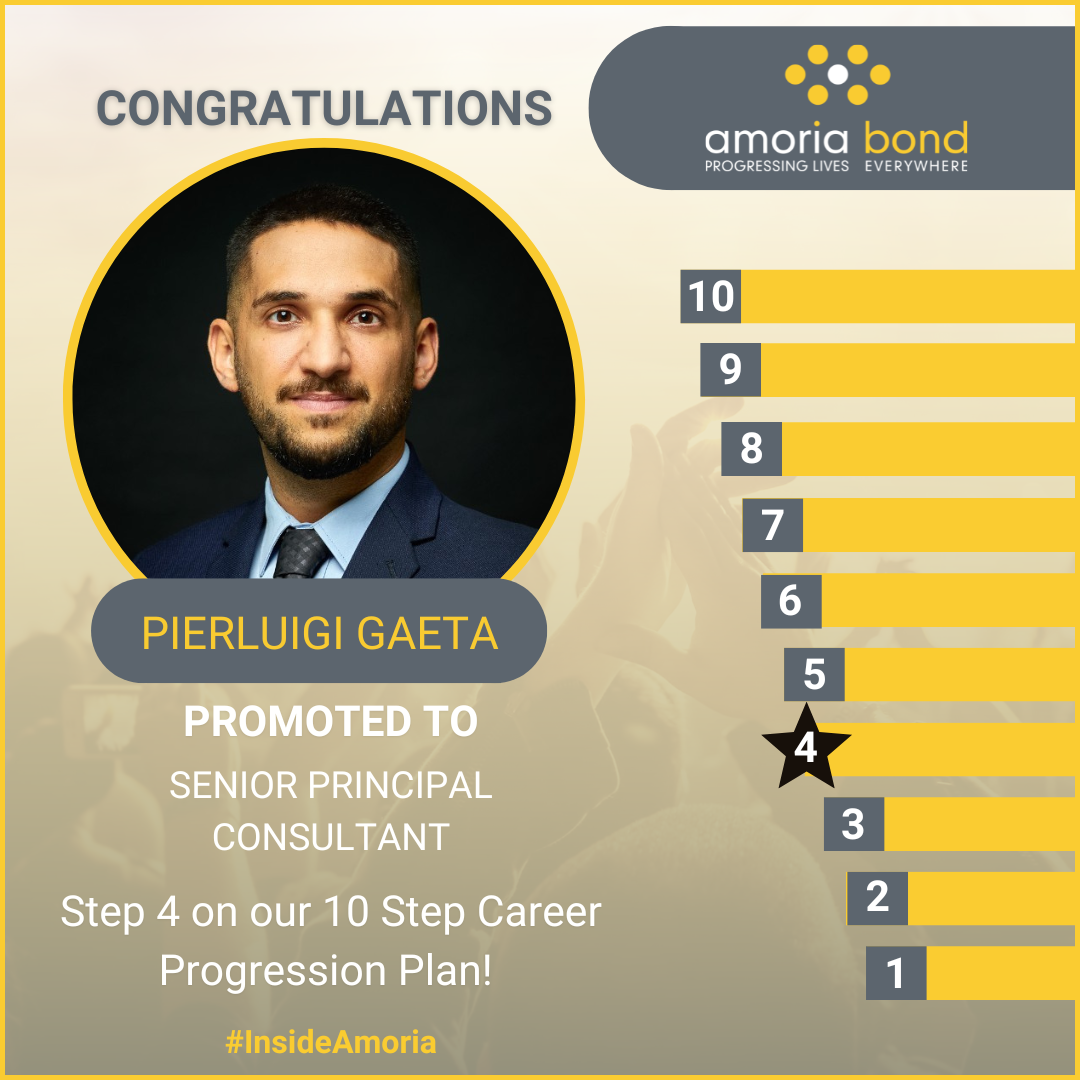 More great news from the Cologne office: Pierluigi Gaeta was promoted to Senior Principal Consultant at the Advanced Engineering Leadership Summit in Manchester.

In the words of his manager Matthias Günther:

"I am sure everybody who knows Piero enjoys his positive energy – that is also one of the things I appreciate the most about him. He always has a smile on his face and is down to have a good time whilst still doing everything possible in order to win!"

"He joined my team in January 2020 just before the Covid crisis hit us hard. So whilst we were all sent home to work remotely, this guy was asked to do his first steps in recruitment most of the time by himself without lots of guidance. And now, not even 3 years after he joined the business, this is his 4th promotion - he thus is on level 4 of our 10 steps programme now! Through progressing the life of so many of his candidates and clients, Piero most of all progressed his own life by being fully committed to Amoria Bond, our team and his individual goals."

Luisa Schmielewski - Talent Attraction Specialist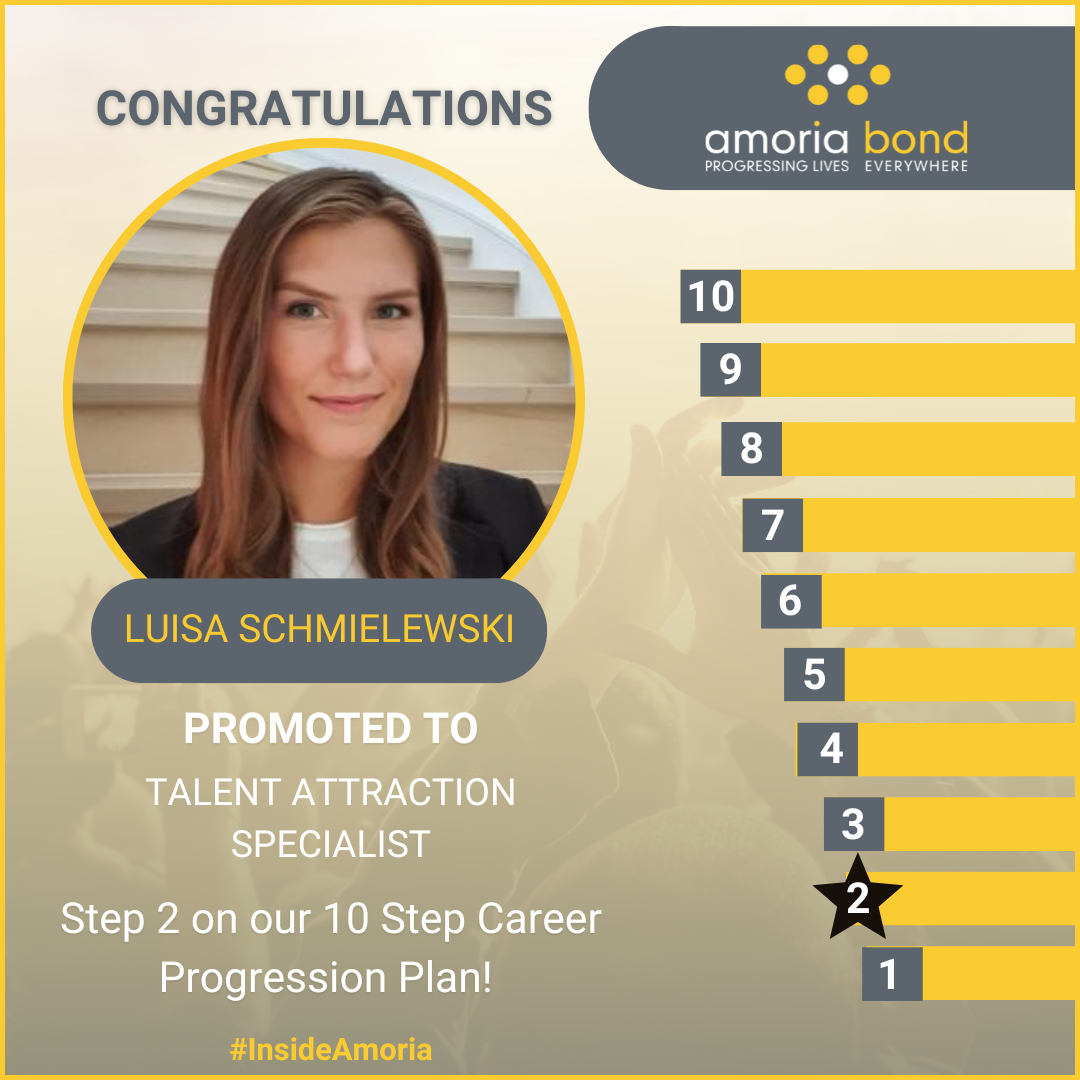 Congratulations also to Luisa Schmielewski, our colleague from the Cologne Talent Attraction Team. She was ceremoniously promoted to Talent Attraction Specialist by her manager Yasmin at the Lunch Club in November and has thus reached level 2 of the TA "10 Steps" plan.
Although Luisa is doing her Masters and therefore working part-time, she has managed to make her own first hires for our Amoria Bond teams in a very short space of time - and has helped maintain our phenomenal company culture with great new personalities.

How has she managed this, despite studying alongside her job? Lu is always motivated and very ambitious - even when she had an exam the next day, she kept calm and went into the interviews in a good mood. She likes to go the extra mile for her candidates and even stays longer in the office for interviews!

Thomas Uttecht - Consultant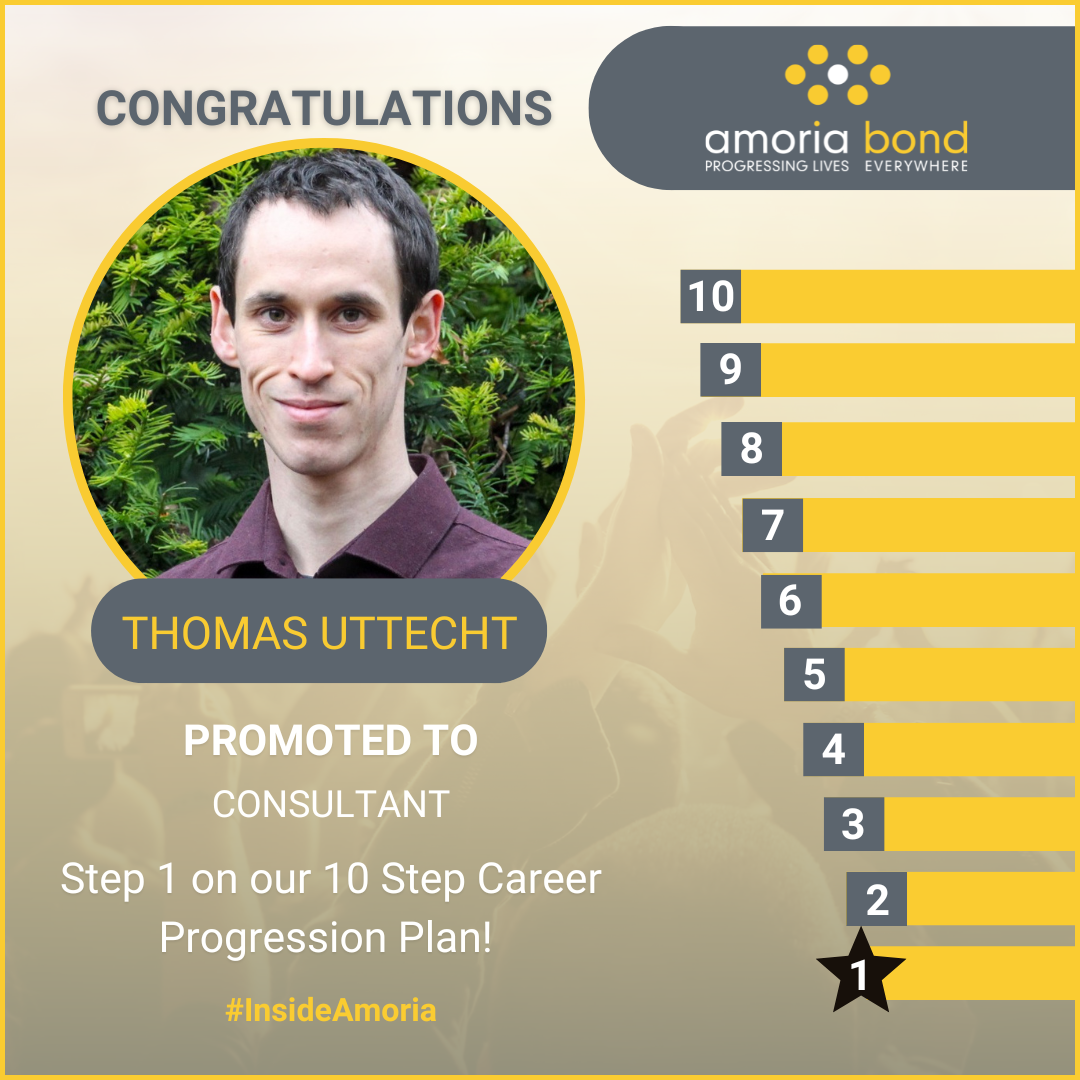 Last but not least: Congratulations to Thomas Uttecht who was also promoted during November Lunch Club in Cologne and hence reached the step of a Consultant!

The fact that he has now reached the first level of our ten-level development programme is mainly due to his discipline, motivation and hard work. Even in difficult situations, he always convinces with his calmness and charm. So it's no wonder that his manager Johannes Morgen promoted him with a few drinks on Friday!
We look forward to celebrating your next promotion with you soon, Thomas!

We love to celebrate progress within our business and we're lucky enough to do this regularly thanks to our great, ambitious teams and our development culture, including our 10 Steps to the Top programme and award-winning training.
If you want to find out how you can progress your own career, check out our current opportunities or contact our friendly Talent Attraction Team:
UK – Jenny.Walsh@amoriabond.com
DE – Yasmin.Schroeder@amoriabond.com
NL – Marc.Danielski@amoriabond.com