Our company is known for its commitment to creating a positive work environment and rewarding our employees for their hard work, dedication and progression. This month, Amoria Bond celebrated the promotions of several employees who have gone above and beyond in their roles: Congratulations to Fee Gade, Fabian Frohloff, Floris Peereboom, Lisanne Bleeck, Marc Broda, Andrew Beard, Daan Fokkema and Bibianne van Latum!
Andrew Beard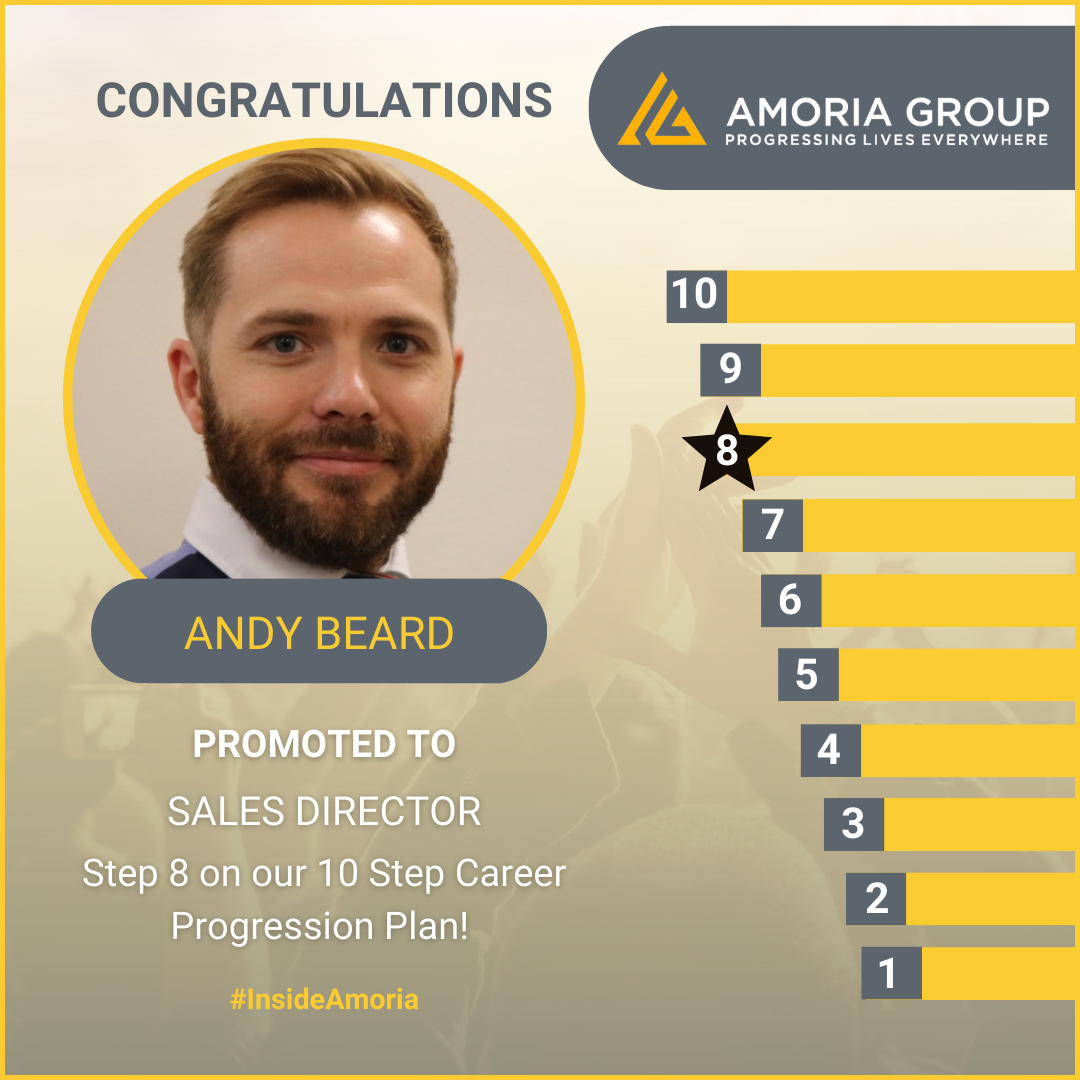 Andy Beard, a recruitment veteran with almost 20 years of experience, has been promoted to Sales Director! This is a well-deserved promotion for Andy, who has spent the last decade building and rebuilding teams across various offices in the company.

During his time at Amoria Bond, Andy has taken on a number of challenges, from starting a Perm Engineering team in Amsterdam to rebuilding a Contract Engineering team in the same location. He has also supported growth of the office in Cologne, building an SAP Perm team while commuting weekly before settling there for a period. Andy's most recent achievement was growing the Contract Engineering team into a powerhouse within the company, with AB and CMC Brands under his stewardship.
In the last 18 months, Andy started the CMC Brand in EU from scratch, and it now boasts the company's largest client in its portfolio, with the potential to become one of Amoria Bond's biggest divisions in the next 12 months.

Andy's strengths as a leader are many. He is a self-developer and became an Executive Coach dedicated to improving leadership effectiveness around the world. He is not afraid of a challenge or the hard work that comes with it, and his team has commented on the positive influence he has on mindset, motivation, and leading with positivity and consistent encouragement that enable them to be successful.
Daan Fokkema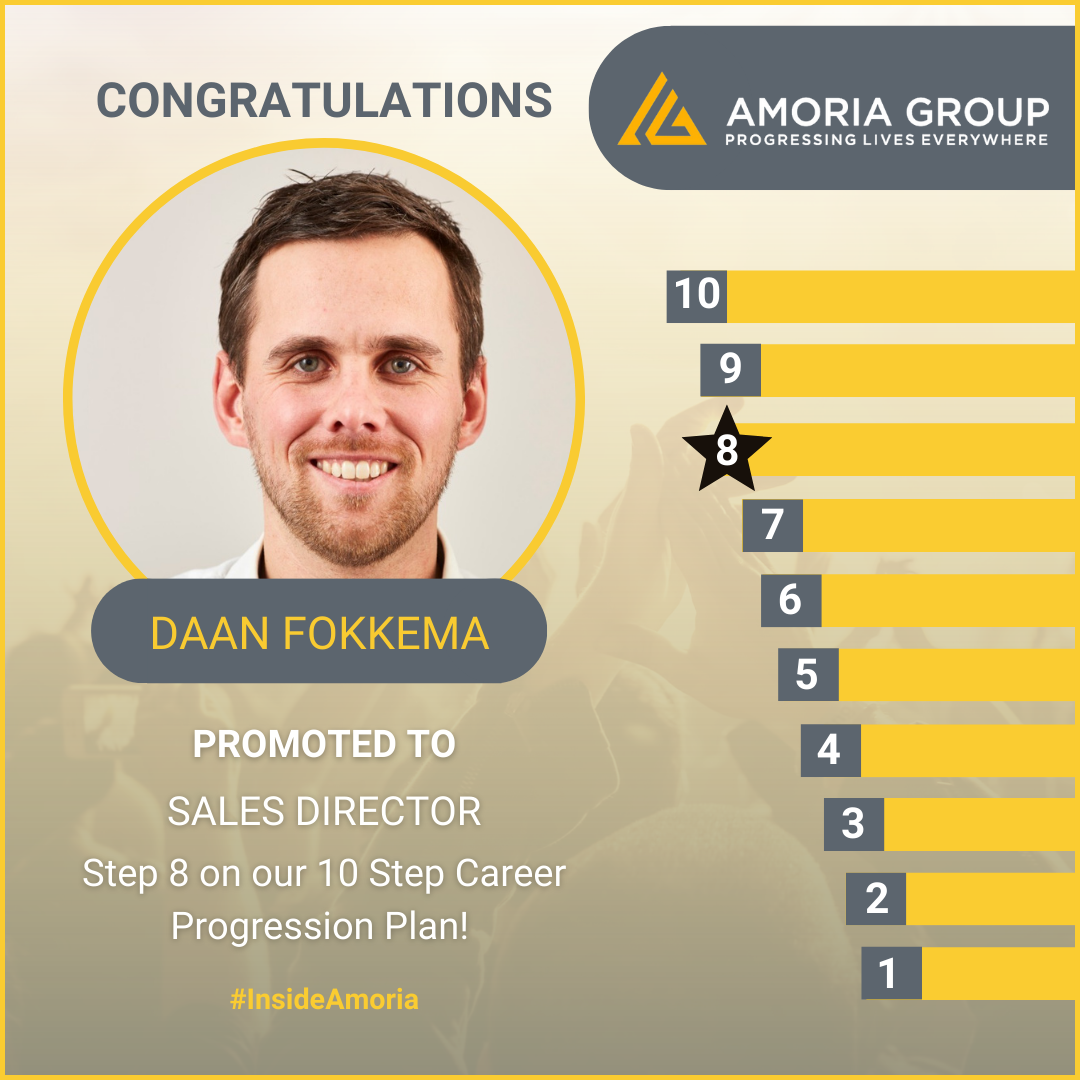 Furthermore, Amoria Bond's Dutch IT Contract team has recently achieved great success, with Daan Fokkema being a driving force behind it. Daan, who has been with Amoria Bond since 2011, has been instrumental in growing the team to become the Team of the Year and Leader of the Year multiple times. His journey to Sales Director has been filled with challenges, but he has taken them in stride and viewed every setback as an opportunity to grow and improve as a leader.

One of Daan's strengths is his ability to balance the needs of his experienced team members with those who are just starting their careers. He is always at the forefront of process and is a driving force for progression.

Daan's humble and calming presence has been a great asset in navigating the growing pains that come with developing a team to this size. He is focused on helping those around him be the best version of themselves and takes any guidance offered as an opportunity to grow himself - Congratulations, Daan!
Bibianne van Latum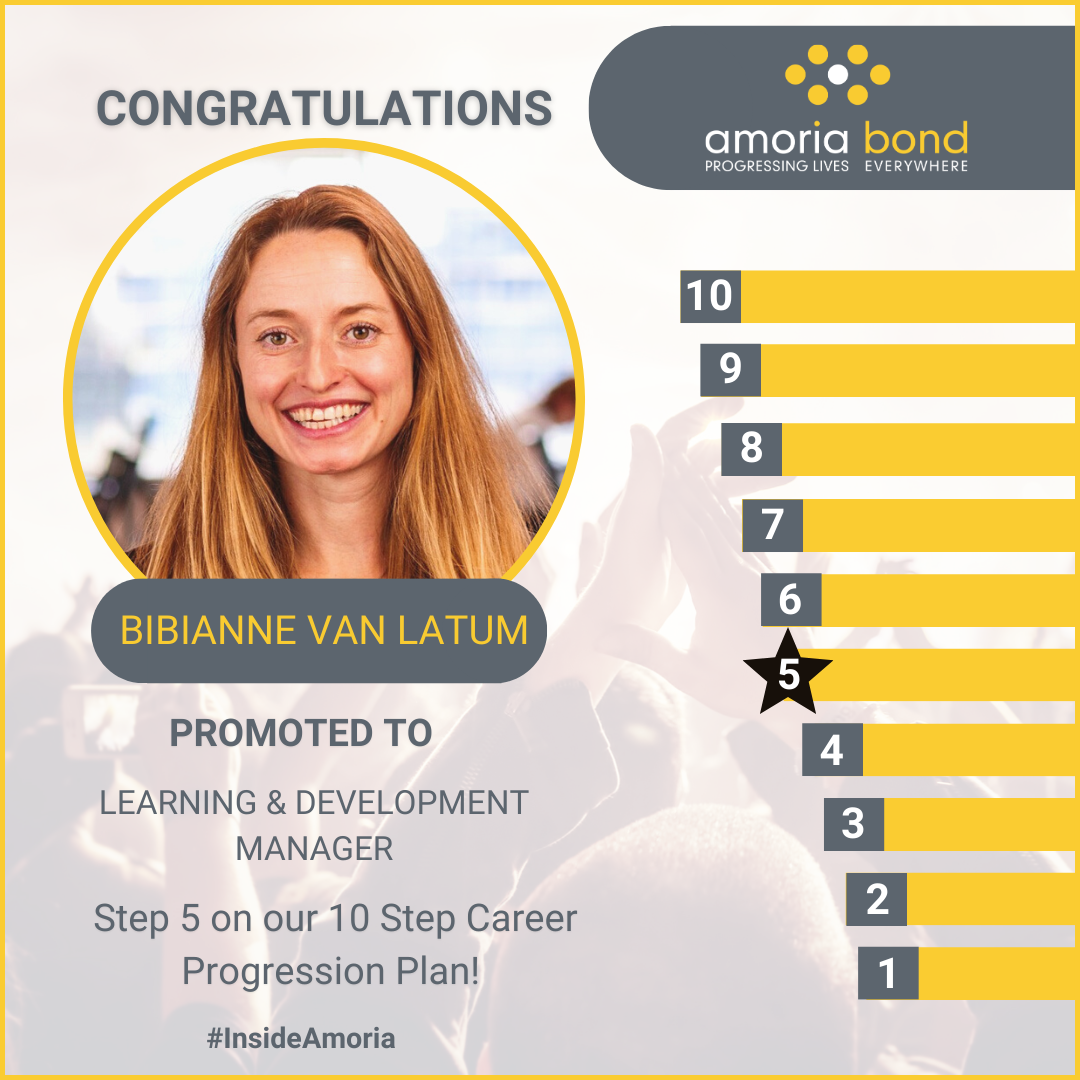 Also, massive congratulations to Bibianne, who joined the company in September last year and has quickly become an invaluable member of the team. With a wealth of recruitment knowledge, Bibianne has been a breath of fresh air for the business, bringing her extensive experience to the table.

Bibianne's biggest attribute is her can-do and just-do-it attitude, which has made her a standout learning & development team member. She has been instrumental in delivering a revised onboarding plan, completely refreshing the content and creating new training sessions. Bibianne has also been coaching senior consultants on the art of being better coaches, creating new LMS content with the rest of LD, and helping the board with the translation from newly identified projects to training programmes. Bibianne's contributions to the company have been immeasurable, and the list of her accomplishments goes on and on!
Floris Peereboom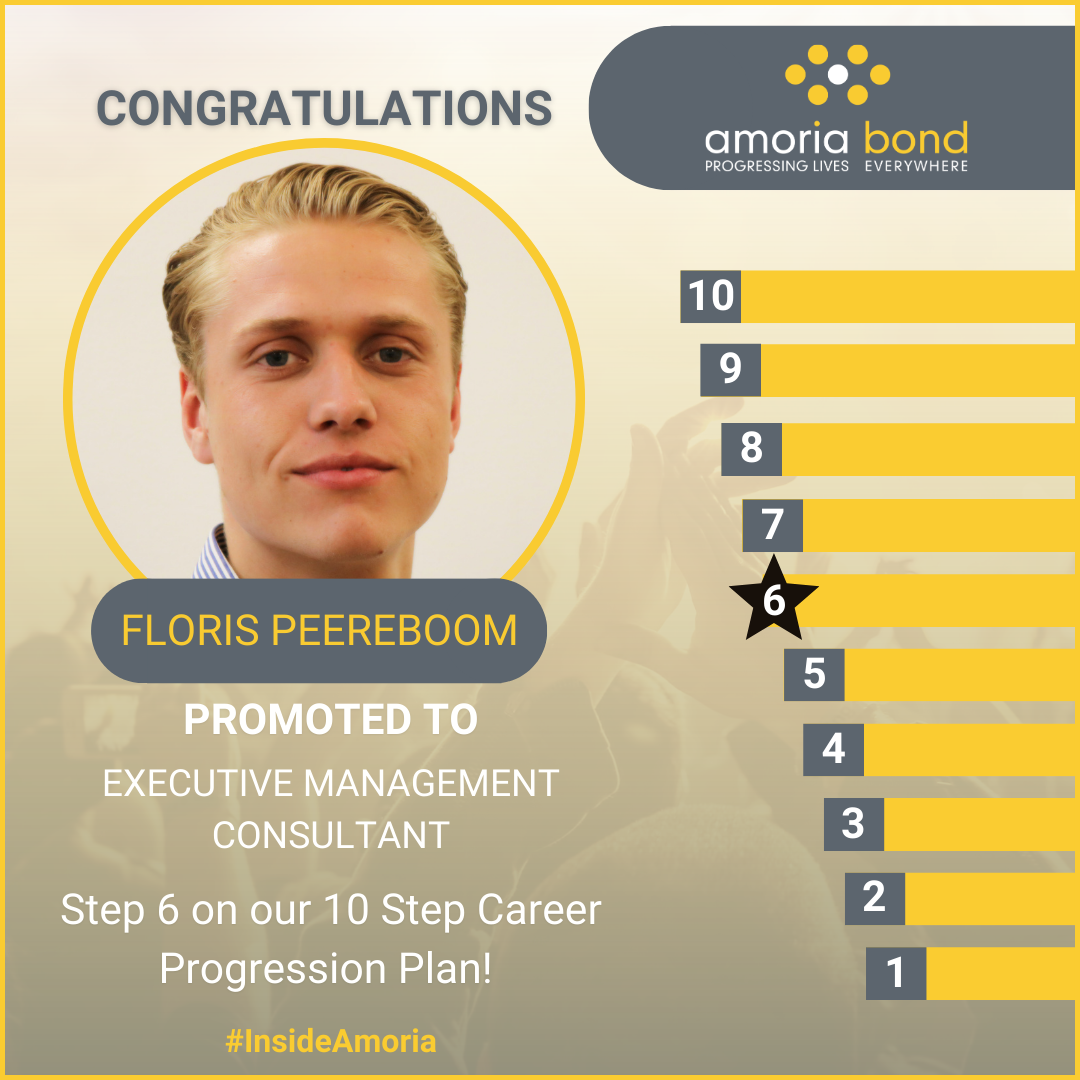 Floris was promoted to Executive Management Consultant after demonstrating his consistency, level-headedness, and process-driven approach. Floris is known for his calm under pressure and easy-going nature, which allows him to handle difficult contractor calls with a can-do attitude. He is a supreme communicator and believes in using numbers to his advantage. Floris is always helpful, professional, funny, and ready for a laugh. He is a great asset to the company and a pleasure to work with. Congratulations, Floris!
Fee Gade
Fee Gade was promoted to Senior Candidate Consultant. Fee has been with the company for some time and has earned a reputation for being a "magic fairy" (Fee = Fairy in German) and an outstanding candidate consultant. She has a talent for building strong relationships with her candidates, and her approach is truly integrated into the company's mission of "Progressing Lives Everywhere."
Fee has successfully placed several candidates in the last months and has an average of three deals per month, making her an absolute consistent superstar. In addition, Fee has been instrumental in onboarding new employees, showing them how the candidate sourcing world works, and creating social media training for the company's L&D Academy. She is also known for delivering candy packages to her placed candidates, which has led to more than 15 candidate testimonials within the last 12 months!
Fabian Frohloff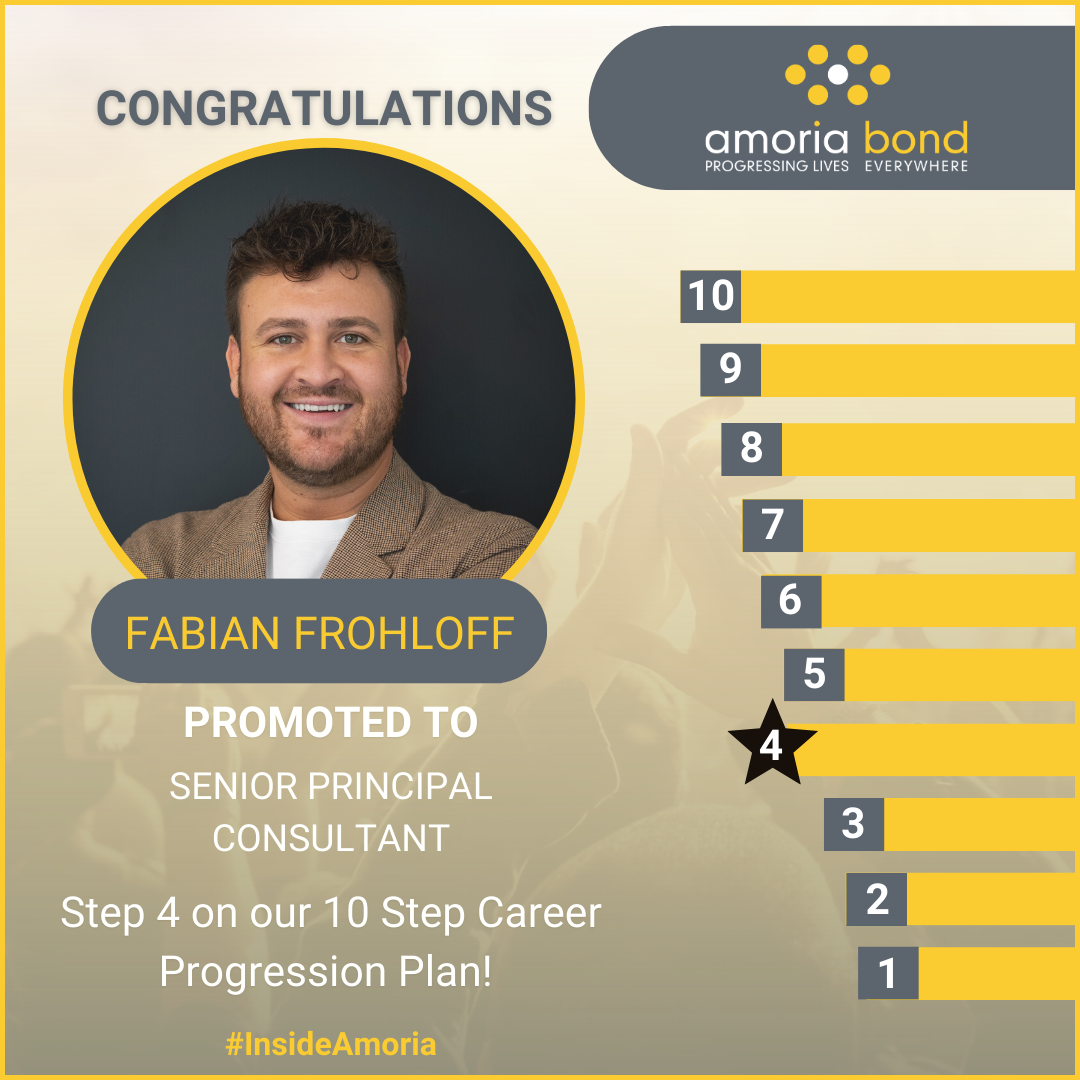 Fabian Frohloff was promoted to Senior Principal Consultant after being with the company for six years. During his time with Amoria Bond, Fabian has experienced the highs and lows of the recruitment industry but has always shown the right behavior to be successful in his role. He is full of energy, sees the glass half full, and is willing to go the extra mile for the company, the job, and himself if needed. Fabian has grown his team to four heads and has done many deals in the last six months. He is known for building and maintaining relationships with clients and candidates and is a key player in the office of Cologne.
Lisanne Bleeck
Moreover, we are proud to announce the promotion of Lisanne Bleeck to Lead Consultant, a significant milestone in her career progression within our organisation. Lisanne has been with Amoria Bond for over five years and has consistently demonstrated her commitment and dedication to our company's values.
As a team leader, Lisanne has proven her leadership skills by motivating and guiding her team towards achieving their targets. She has been instrumental in developing a positive work culture, ensuring that her team members are fully equipped with the skills and knowledge necessary to deliver exceptional results to our clients. Lisanne's strong work ethic, excellent communication skills, and ability to think outside the box will be an asset in her new role! Congrats, Lisanne!
Marc Broda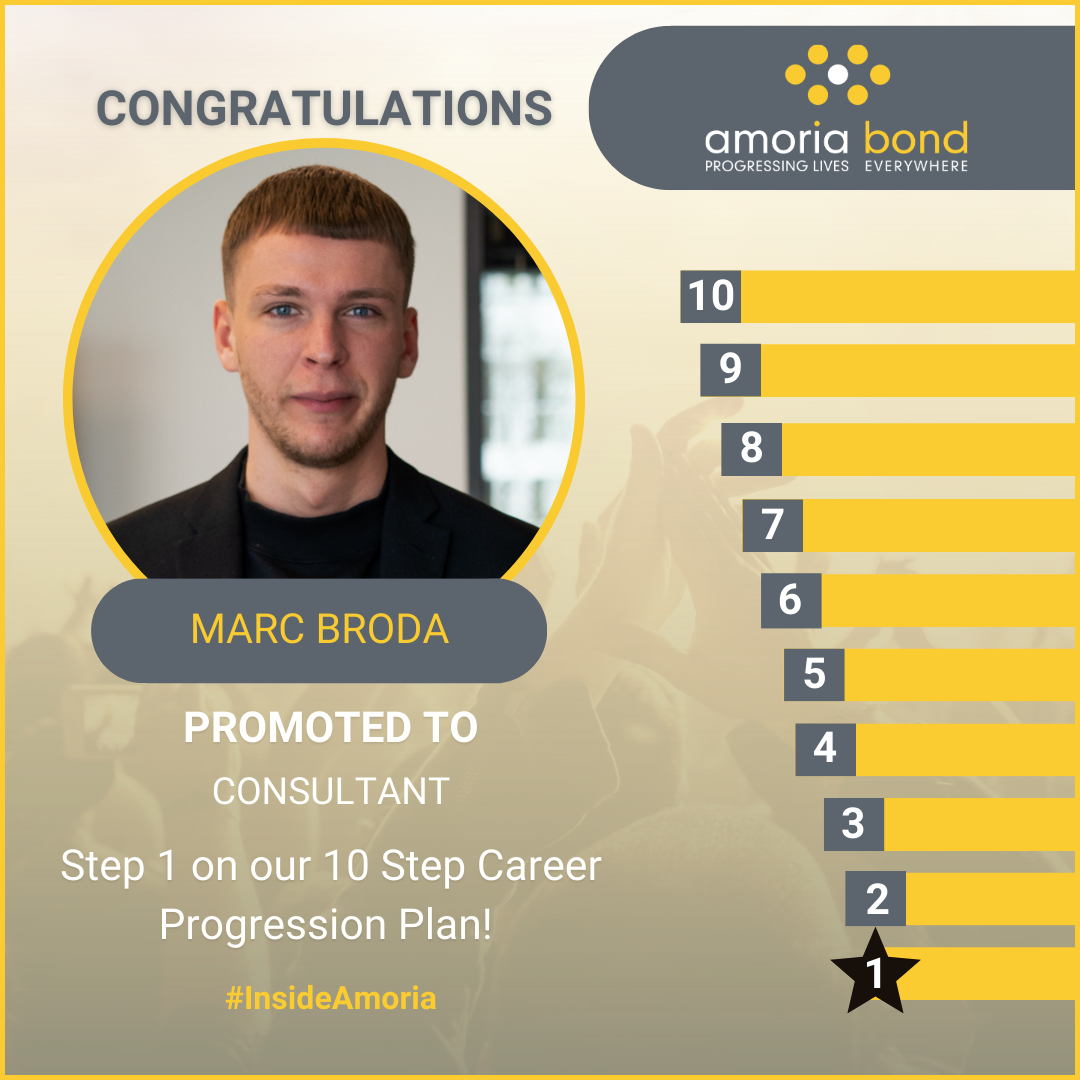 Amoria Bond has furthermore announced the promotion of Marc Broda to the position of Consultant. Marc joined Fabian Frohloff's team in November 2022 and in just 120 days, he has shown exceptional results that have earned him the promotion. Marc started as a trainee with the company, and his promotion is a testament to his hard work, dedication, and trust in his team leader.
Apart from his impressive work performance, Marc is also a huge cultural fit within the company. He supports the team, and his positive attitude has made him well-liked among his colleagues. Keep up the good work, Marc!
If you're looking for a company that offers excellent progression opportunities and a mindset for success, Amoria Bond is the perfect choice. We pride ourselves on our commitment to training and development, ensuring that our employees have the skills and knowledge they need to excel in their roles and achieve their career goals.


Join our fantastic team
If you're looking for a company that offers excellent progression opportunities and a mindset for success, Amoria Bond is the perfect choice. We pride ourselves on our commitment to training and development, ensuring that our employees have the skills and knowledge they need to excel in their roles and achieve their career goals.
If you're passionate about delivering outstanding results, working as part of a dynamic team, and making a real difference in the world, we'd love to hear from you. Join Amoria Bond today and take the first step towards a rewarding and fulfilling career. Get in touch with our friendly Talent Attraction team: Helen Cassin & Paul Jones.