While many of us are making plans for the festive season, there are some people across our local and global communities who are struggling to survive day-to-day, and for whom 'Christmas' celebrations are a luxury they can't afford.

'Help The Community' is a core pillar of our business GROWTH strategy, and we recognise our responsibility to help and support those less fortunate than ourselves. Every December, each of our offices around the world nominates a local charity to support through raising funds, giving their time and/or donating much needed items.
This year was no exception, and saw employees making the biggest effort and impact yet through their end-of-year charitable activities to do good and help people in need, including auctions, raffles, volunteering, collecting and packing donations and much more to progress lives across the world.
For example, our Manchester end of year party raffle raised a whopping £1,455 in less than 2 hours for Perry's Pantry, a Manchester-based food bank. Employees also volunteered to help with packing and delivering essential care packages to support the charity's annual Christmas Appeal.
Meanwhile, our Amsterdam office raised €1,500 for they nominated charity 'Netherlands for Ukraine Foundation' - through some brilliantly creative and generous fundraising activities such as auctioning homemade tiramisu, team pizza nights and customised canvases! Our Dutch teams also donated items for and packed boxes this week for local orphanages, old people's homes and hospitals. These included essential items such as hygiene products, canned food, breakfast items and blankets/generators for heat and electricity.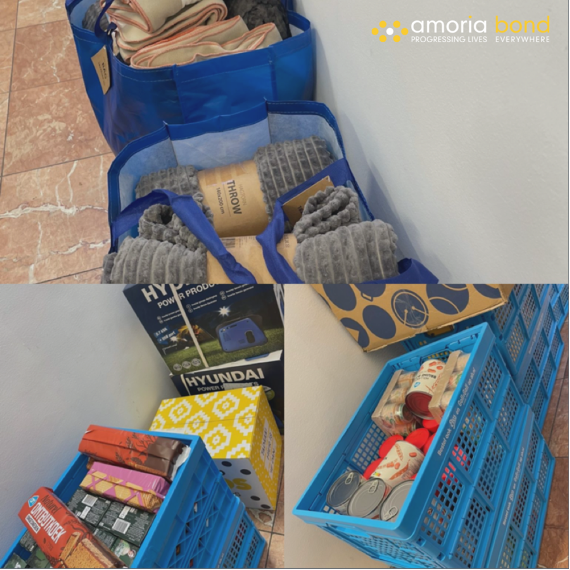 Moreover, our end-of-year charity raffle saw employees once again digging deep to buy a whopping 612 tickets to be in with a chance of winning some incredible prizes gifted by the company including a trip to Dubai alongside our high-performers and more PROFES colleagues at 2023's first Sales Conference of the year! Together we raised more than £5,000 thanks to the awesome generosity of our teams… this truly is reflective of our 'PROFES values in action' in a company where giving back is engrained in our culture. Put in perspective, this year alone we have raised and donated over £80,000 to charitable projects through the Amoria Bond Charitable Trust, thanks to our employees, Founders, and network of families, friends, clients, contractors and suppliers. This comes on the back of a history of generosity thanks to the guiding belief long established in the business that the secret to living is giving which has seen the Amoria Bond Charitable Trust donating almost £350,000 to charities and non-profit organisations since 2006.

The funds raised in our AGM raffle will be shared between the local offices nominated by each of our offices, in addition to the two aforementioned charities, in Cologne, funds will be donated to support "Schumaneck", a children's home in the region our German teams have supported for a couple of years. And in Singapore, a donation will be made to Willing Hearts, a soup kitchen that prepares, cooks and distributes about 11,000 daily meals, 365 days a year.
As we do every year, the company once again funded delivery of 170 gift hampers for those most in-need within the community of Las Laderas Peru - an impoverished but inspiring community we have been supporting and working closely with for over 10 years and with whom we have become long-term friends.
Our AGM ended with an exciting progress update from our charity partner Project Peru that the children's refuge extension funded entirely by us is now ready to open its doors to welcome the first group of youngsters for whom it will become home!
The building looks fantastic, and the children are delighted that they are now able to stay at the refuge for longer to complete their education which gives them a real chance to break the very real poverty cycle. A special thank you to our 11 colleagues who travelled to Peru in June to help build the extension - as well as building a soup kitchen, decorating the refuge, and working with the children and staff - find out more about our Peru 2022 project here which was recognised in November when we won REC's Community Impact of the Year award.
Finally, it was my pleasure to share with the business at our AGM that we had planted another 42,074 trees in 2022, taking the total trees planted by the business since July 2020 to 75,8k !!!! Our trees will absorb around 31,680,000 pounds of carbon dioxide and produce around 374,400,000 of oxygen over the next 20 years, as well as helping to protect biodiversity, create jobs and clean water!
On behalf of the entire Amoria Group Board, I would like to thank everyone who has contributed to making these remarkable achievements possible, and I am already excited about our 'Help the Community' plans for 2023 and beyond!
If you have any questions or would like to learn more about how we can help your business make a difference in the world, contact us today!