Amoria Bond are thrilled to have been shortlisted for TWO TIARA Recruitment Awards by TALiNT Partners.
For 2022 we have been named finalists for:
International Recruitment Company of the Year
Best Recruitment Company To Work For (£50m-£100m)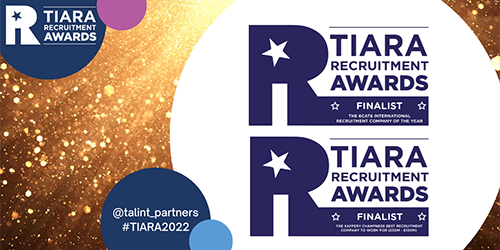 The Best Recruitment Company To Work For category is one that is particularly close to our hearts, having already brought home this award in 2021 and 2020 thanks to our incredible, inclusive workplace culture. We are delighted to be in the running for a third year and truly believe that our commitment to progressing the lives of our colleagues and creating an environment that allows everyone to succeed as their authentic selves, gives us a great chance at making this a hat trick.
To be shortlisted once again for "International Recruitment Company Of The Year", is a massive testament to our ongoing successful global growth. Our ambitious G.R.O.W.T.H strategy has seen our Manchester HQ double in size, our Cologne office preparing to move to the largest recruitment offices in the city and the upcoming opening of our first US office later this year. As we grow we help more clients and more candidates in the pioneering sectors of Advanced Engineering and Technology, helping us fulfil our purpose of Progressing Lives Everywhere.
We're truly proud to be shortlisted for two awards at the prestigious TIARA's against some very well-deserving competition, and we can't wait to hear the judge's final results on the 19th October.
Find out more about our past awards, or learn why our culture makes us the Best Recruitment Company To Work For.