This month we can once more celebrate three new, very well deserved promotions within the Amoria Bond Group. Congratulations to Christof Schäfer from our Cologne office as well as Eduard Turganov and Michiel Holtkamp from Amsterdam!
Eduard Turganov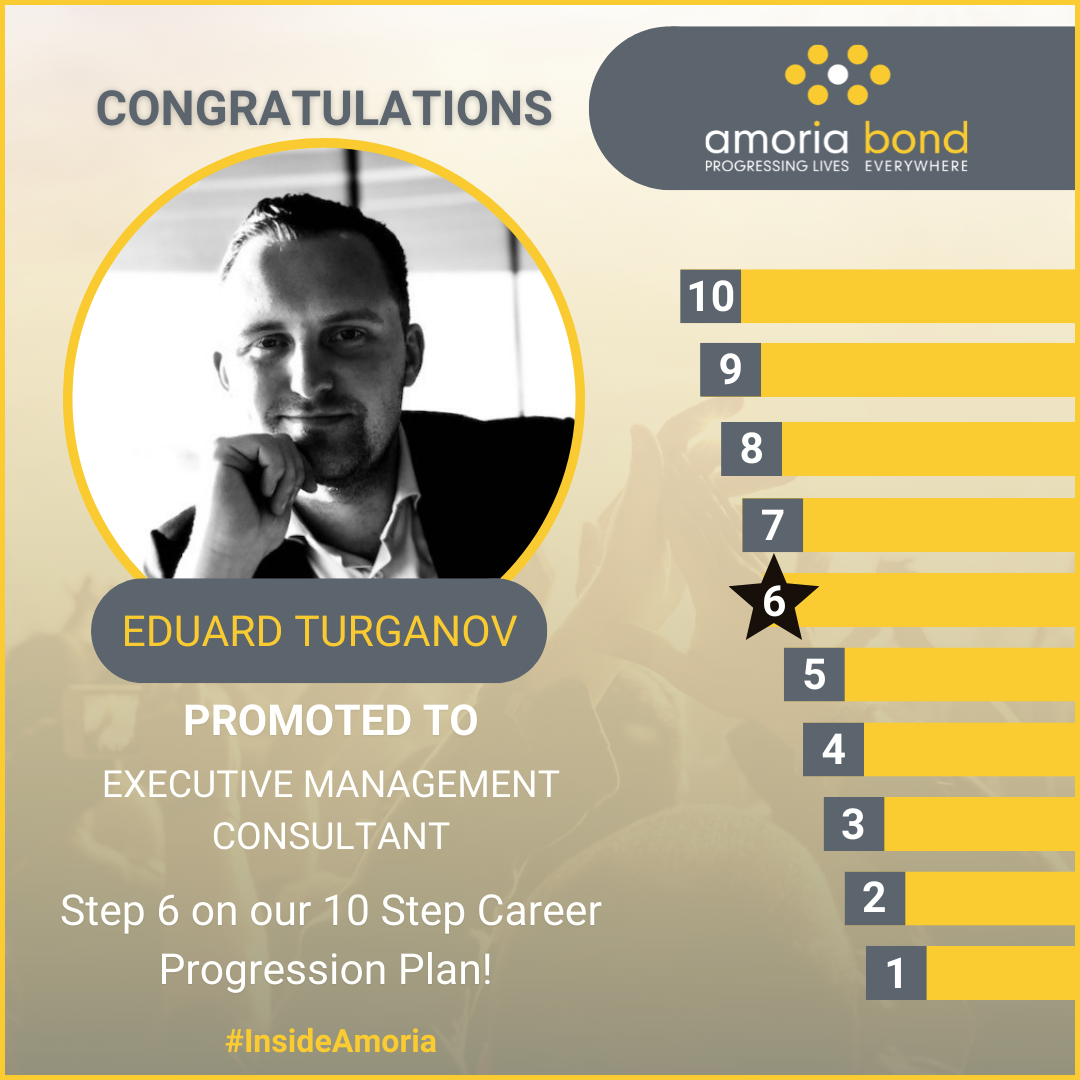 Congratulations to Ed, who was promoted to Executive Management Consultant in September, reaching Step 6 of our "10 Steps to the Top" ladder.
After having a rough start after joining in 2015, he became a top performer in 2017, leading to an in the Amsterdam office famous quote: "Oh my god, we created a monster". That year got followed by big heights, but also some disappointing lows. He went from achieving well deserved promotions and being top biller of the company to blanking for 6 months in a row in 2020. As Daan shared: "After this period he picked himself up and it's now for the first time I can confidently say he has became consistent - but really consistent." This already led to his promotion to Management consultant in November last year and now to his well deserved promotion to Executive Management consultant!"
Christof Schäfer

Congratulations also to Christof Schäfer, who was promoted to management consultant!

Chris started with us in March 2018, so he has worked his way up to where he is now in just 4.5 years. That in itself is a great example of perseverance, commitment, and hard work. These are some of the qualities that have helped him succeed. He is smart in spotting deals and business opportunities, works hard and expeditiously on the jobs when they come in, and ensures that he maximises the opportunities of the deals.

As his manager Jorn said, "Chris focuses on performance through consistency and has done so at every step of his career. This is a good path for his future success."

"Furthermore, he is already building a team with some of the best people working under his wing and he has just added two more heads to his squad. He is not afraid to work on himself and I am sure he will develop into one of our future directors in the industry!"

Michiel Holtkamp

Last but not least: Congratulations to Michiel Holtkamp who was promoted to Senior Consultant this month!

Andy Barrow shared with the group, "Anyone who knows him is well aware that he is friendly, engaging, hard working and willing to learn.... Willingness to learn is a 1-2 punch combination though.... It is part 1, but he also implements what he learns quickly! The 2nd part of this combination is almost more important. He takes the information and applies it quickly to benefit his business. Michiel's rise to senior in 11 months is a strong achievement!"

"It is also a testament to the support and mentoring Maaren provides him on a daily basis. He always asks questions, observes and listens to the team. He is a great fit for us and the office.... He is always up for a drink, always has a smile on his face and is a great guy!"

At Amoria Bond, we work with our staff to help them reach their full potential and progress in their careers. Join our award-winning team and find out how you can progress your own life: We have amazing recruiter jobs in Manchester, Cologne and Amsterdam!